Following an activity-packed morning, including swimming relays in lovely Lake Oshbegosh, and an hour of friendship-bracelet-weaving and puffy paint projects in the open-air Arts & Crafts studio beneath a shady canopy of maples, Vice-Presidential nominee Sarah Palin and the other campers from Cabin 14 boarded a bus for a field trip to Politicsland, the theme park just up the highway from Debate Camp. While there, the giddy campers rode several roller coasters–including The XLR8R, Constitution Of The United States Of America–The Ride!, and Turbo Force MAXXX–but also made time to walk through some of the park's educational attractions, including The Verizon Wireless™ Room Of Newspapers And Magazines, and the C-Span Lounge. But the highlight of the trip to Politicsland was the outdoor Vice-Presidential Debate Zone, where visitors can have their picture taken behind a podium, pretending to answer questions–just like real candidates!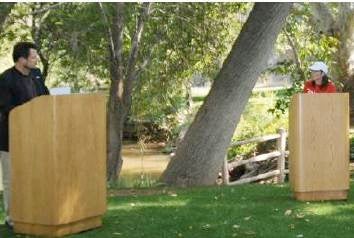 The next day, Cabin 14 (green) totally killed Cabin 12 (orange) in the mock debate–winning Green a total of 210 points in the ongoing, summer-long color war!

Of this photo, a McCain spokesperson said:


"The serenity and beauty of this setting has contributed to what can be characterized as a relaxed environment."


Which is an extremely convoluted, and thoroughly irritating way of over-saying, "The Ranch is relaxing."

I don't know how Joe Biden is preparing for the debate (Hey, did you know there's a debate tonight? Apparently, an election coming up as well. That you have to vote in. The guy from Maroon 5 told me.), but Palin looks like she's going to relax her way through it. I can't wait to see the look on her face when she finds out the debate is indoors.