It's not much of a spoiler to reveal that I'll Be Gone In The Dark: One Woman's Obsessive Search For The Golden State Killer, the late Michelle McNamara's bestselling blend of true-crime investigation and poetic memoir, ends on an uncertain, deeply tragic note. Not only is the Golden State Killer, as McNamara dubbed him in a 2013 article for Los Angeles magazine, still at large, but McNamara will never see the serial rapist and killer she devoted her life to exposing brought to justice. McNamara died on April 21, 2016, of a combination of prescription medication and a previously undiagnosed heart condition.
I'll Be Gone In The Dark was finished after McNamara's death thanks to the efforts of researcher Paul Haynes, journalist Billy Jensen, and McNamara's husband, comedian Patton Oswalt. And now the latter is bringing the story to television, executive producing a docuseries based on the book that is currently being developed by HBO. In a Deadline story about the series, Oswalt says, "HBO taking on this story will advance the passionate pursuit that Michelle shared with dozens of men and women in law enforcement – to solve the mystery of one of California's most notorious serial killers."
Another key element of McNamara's research—and, indeed of the current true-crime craze in general—was crowdsourcing, as hundreds of amateur sleuths on sites like Reddit and WebSleuths parse out details like tracking down objects stolen from victim's houses and combing through photos from town hall meetings about a serial rapist on the loose held in Sacramento in the late '70s. (One popular—and unproven—theory about the case is that the perpetrator was in the crowd, as a man who spoke at one of these meetings and his wife were the next victims to be attacked.) With those fresh eyes, as well as the increased pressure renewed publicity has brought on local and federal law enforcement alike to solve these decades-old cold cases, perhaps by the time I'll Be Gone In The Dark makes it to HBO there will be an end to the story—even if Michelle McNamara isn't around to tell it.
Aside from McNamara's book, which is recommended and out now, you can hear more about the Golden State Killer (a.k.a. the Original Night Stalker, a.k.a. the East Area Rapist), the perpetrator responsible for more than 40 sexual assaults and 10 murders up and down the California coast throughout the 1970s and '80s, on the HarperCollins podcast about the book, as well as on the April 5 episode of My Favorite Murder, which has Oswalt, Haynes, and Jensen discussing the case with hosts Georgia Hardstark and Karen Kilgariff. If you're in the mood for something a little pulpier, Investigation Discovery also just ran a series called Golden State Killer: It's Not Over last month.
G/O Media may get a commission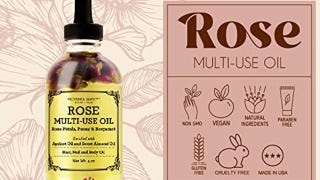 Provence Beauty Rose Multi-Use Oil