On Tuesday night, Tiffany Trump appeared before the Republican National Convention to join her assorted half-siblings in assuring voters that her father is a human being, capable of inspiring affection and devotion in all his legally binding beneficiaries. For many, it was their first introduction to the younger Trump sister, who's spent most of her life on the West Coast with her father's ex-wife/placemat Marla Maples. But aficionados of vanity pop songs already met her in 2011, when the then-17-year-old followed in the footsteps of Paris Hilton, Rebecca Black, CoCo Austin, and assorted Real Housewives to assume the mantle of all wealthy women and record the club track that is theirs by birthright.
"Like A Bird"—not to be confused with Nelly Furtado's 2000 hit, nor anything akin to birdsong—represents the full extent of Trump's musical career, which she told Oprah in an interview that year was "more of a hobby right now, but we'll see in a couple of years if I actually do want to take it to the next level—to a professional level." She didn't. Instead, Trump followed her Plan B of "focusing on school" by double-majoring in sociology and urban planning at the University of Pennsylvania, leaving the promise of "Like A Bird" unfulfilled (while still collecting 99 cents a download on Amazon). But with her father now officially in the running to be president, now is as good a time as any to reflect on the banal evils that money can buy and have a listen.
Seeing as Tiffany uses Auto-Tune the way her father does gold plating, there's not much left of her actual voice on "Like A Bird," a gauzy, anesthetized synth-pop number that's seemingly made for clubbers who just had their wisdom teeth removed. What does remain is pleasant enough, however, as Trump wraps her delicate, baby-robot voice around layers of acoustic guitar, synth, and a deeply buried pulse of a beat. All in all, it's the perfect song for swaying dispiritedly to while you contemplate a dystopian future ruled by fear. There's also a rap break about jeans.
But those bars by featured artists/ProTools plug-ins "Sprite" and "Logic"—hot as they are—exist to solely provide the necessary street grit to Trump's more poetic musings about her inner self. And it's here that "Like A Bird" takes shape as a song about the wistful yearning to find meaning within the emptiness of high society. Or, as Trump puts it:
Diamonds are so shimmery
Special things uncover me.
You know whatcha say
Baby baby, don't you go
Everybody's partying
Obsessing over crazy things
I just want serenity
While living it up!
G/O Media may get a commission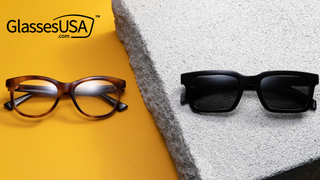 60% off frames
GlassesUSA.com Back to School Sales
Trump finds a glimmer of that peace in a new love interest, who may also be some sort of mechanical spider with a Twitter account:
I see you like that spot above
Crawling through the liquid love.
You're cute and you're tweeting me!
Baby you go beep, beep, beep!
Yet the song ends with Trump reaching the bittersweet conclusion that the only way for her to find serenity now is to emulate the bird, whose ability to stay grounded while still enjoying their social life is the envy of the animal kingdom.
(Like a bird like a bird like a bird like a bird)
Need to escape this place.
(Like a bird like a bird like a bird like a bird)
Wanna fly away, take me away.
Same, Tiffany. Same.
[via Vanity Fair]