Here's what's up in the world of TV for Thursday, April 10. All times are Eastern.
TOP PICK
The Challenge: Free Agents (MTV, 10 p.m.): Spring must be in the air, because The Challenge is back. For the past 25 years, this show has greeted the end of winter with a cadre of 20- and 30-somethings, all C-list stars from Road Rules and The Real World, to compete against each other and also drink, for our amusement. But it's been a long time since The Challenge was just about MTV's other reality shows—just as it's been a very long winter. Tonight The Challenge starts off its 25th season with a new conceit: All of the contestants will be free agents, meaning there are no teams, and a lot more chance.
---
ALSO NOTED
Community (NBC, 8 p.m.): Subway returns to Greendale tonight, as the school angles to buy everyone's favorite community college and rename it—well—Subway University. The specter of corporate sponsorship rears its ugly head again! Todd VanDerWerff would like to offer you a five-dollar footlong.
Shark Tank (ABC, 8 p.m.): This show airs in a special timeslot tonight. ABC promises some kind of battle of the sexes, because the men and women on the show are split. Also, tonight's episode promises butt-lifting pants and tights. So that is fascinating.
Scandal (ABC, 10 p.m.): Last week, we were left with a cliffhanger. Tonight, we ask: What's going to happen to the president? And, you know, do we care anymore? Sonia Saraiya thinks Scandal should FedEx red wine to its viewers, every week. She's been sacked for this suggestion, so Phil Dyess-Nugent is taking over her duties for the evening.

G/O Media may get a commission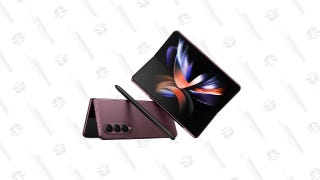 Save Up to $300
Galaxy Z Fold4
---
REGULAR COVERAGE
The Big Bang Theory (CBS, 8 p.m.)
Parks And Recreation (NBC, 8:30 p.m.)
Suits (USA, 9 p.m.)
Reign (The CW, 9 p.m.)
Elementary (CBS, 10 p.m.)
Parenthood (NBC, 10 p.m.)
Vikings (History Channel, 10 p.m.)
Portlandia (IFC, 10 p.m.)
---
TV CLUB CLASSIC
Star Trek: Deep Space 9 (11 a.m.): Zack Handlen's Outer Space Fictional Space Station Support Group will meet at the usual time and place. Please remember to bring the chips, but no dip. We have all the dip we need. (And those of you looking for Friday Night Lights—Sonia's sick this week. Get at her next week for the fallout of Jason Street's accident.
---
ELSEWHERE ON TV CLUB
Erik Adams has a review of the Showtime documentary Years Of Living Dangerously, which makes climate change look like an action-movie—and stars Arnold Schwarzenegger and Harrison Ford, to boot. And for Gateways To Geekery, Todd VanDerWerff delves into the wide world of Ken Burns' documentaries—which will, all on their own, take you on a journey through time and space.
---
NEW SHOWS TO KEEP AN EYE ON
Saint George (FX, 9 p.m.)
Surviving Jack (Fox, 9:30 p.m.)
Sirens (USA, 10 p.m.)
Review (Comedy Central, 10 p.m.)
---
WHAT ELSE IS ON?
Under The Gunn (Lifetime, 9 p.m.): This Project Runway spinoff is ending its first season tonight. The three finalists present their designs in a runway show; Heidi Klum and Neil Patrick Harris guest-judge.
The Millionaire Matchmaker (Bravo, 9 p.m.): "Patti's clients include a New York City socialite, plus an owner of a Las Vegas PR firm."
The Bletchley Circle (PBS, 9 p.m.): In anticipation of the second-season premiere, which airs Sunday, PBS is airing the first-season finale of The Bletchley Circle tonight.
Drive (Esquire, 8 p.m.): A REAL MO-VIE ON TEE-VEE / AND A RE-AL HEE-ROO
Robin Hood: Prince Of Thieves (Starz, 9 p.m.): No joke, we here at What's On Tonight are obsessed with this movie, largely because of Alan Rickman. Also because you can get "No blades, no bows, leave your weapons here" stuck in your head on loop, forever.
The 2014 Masters Tournament at Augusta National (ESPN, 8 p.m.): Golf is a sport that exists, and tonight if you want to watch several hours of it, you could. Tonight, the opening night, is first-round play. Reigning title holder Adam Scott will compete, along with golf stars Rory McIlroy and Phil Mickelson.
---
IN CASE YOU MISSED IT
Survivor: The remaining contestants go on a "mad treasure hunt" for immunity idols, which are stashed in various places all over the island. It's getting a little Lord Of The Flies up in here, don't you think, Carrie Raisler?