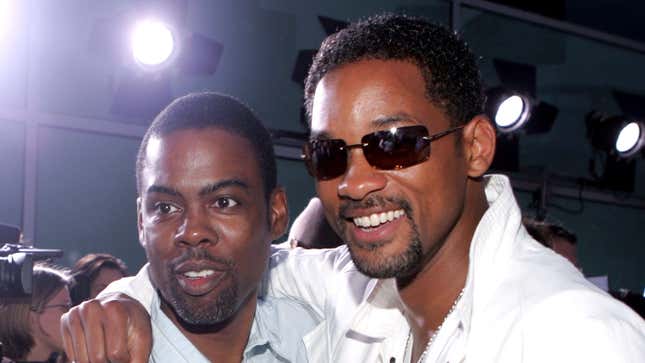 Chris Rock has a new comedy special coming out this weekend on Netflix, a rare live-streaming event for the video company. The stream is set to be Rock's biggest public performance since, well, his last one—i.e., his stint as a presenter at the 2022 Academy Awards, during which eventual Best Actor winner Will Smith took the stage and slapped the comedian, after he made jokes about his wife, Jada Pinkett-Smith. And while Rock has been relatively quiet about "The Slap" in the intervening year, it's also been pretty clear that that was as much about wanting to preserve potential material as anything else, telling audiences back in March of last year that he was "still kind of processing" the event.
Is "Wednesday" turning The Cramps into the next Kate Bush?
Said processing appears to have run its course, though, as multiple outlets are reporting leaked jokes that Rock has been trying out in front of audiences in shows leading up to the Netflix special. And, no, in case you were wondering, Rock doesn't seem to be in an especially forgive-and-forget mood.
Per The Wall Street Journal: "The thing people wanna know … did it hurt? Hell yeah it hurt. He played Muhammad Ali! I played Pookie (in New Jack City). Even in animated movies I'm a zebra, he's a fucking shark." CNN reported that Rock also said, "Will Smith is a big dude. I am not. Will Smith is shirtless in his movies. If you see me in a movie getting open heart surgery, I'm gonna have a sweater on." And, of course, there's a widely reported bit in which Rock says he watched Smith's movie Emancipation "just so I could watch him getting whipped." (That's to say nothing of Rock's treatment Jada Pinkett Smith; although he apparently hasn't mentioned her by name—apparently as a nod to Smith's yells to "Keep my wife's name out of your mouth" at the Oscars—he has apparently been bringing up "Will Smith's wife" and the revelation of the pair's open marriage in derogatory ways.)
Anyway: It's not clear how much of this material will appear on the Netflix special, which goes live on the service at 10 p.m. Eastern on the evening of Friday, March 4. But if you were wondering if Rock was going to address the elephant in the room: Absolutely. And it doesn't sound like he's going to be pulling any punches.