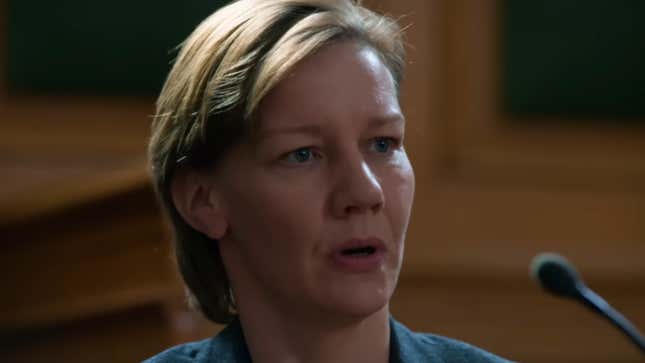 Although a few prizes have already trickled out over the last few days, today marked the big awards celebration for the Cannes Film Festival, where the Palme d'Ors are separated out from the Palme d'Nors. (Sorry.) The festival's jury got together today to highlight the best films from the fest, with the top honor ultimately going to Justine Triet's Anatomy Of A Fall, one of two films starring Toni Erdmann's Sandra Hüller to win big at this year's festival.
Anatomy received the prestigious Palme d'Or today, having previously drawn strong reviews for its courtroom drama depiction of a marriage that was already falling apart before the husband died in somewhat mysterious circumstances, leaving the wife (Hüller) to stand trial for his death. Jane Fonda presented the award to Triet, who becomes only the third female director (after Jane Campion and Titane's Julia Ducournau), to receive the honor.
Hüller also starred in this year's Grand Prix winner—typically thought of as "second place" for the films in competition: Jonathan Glazer's Holocaust drama The Zone Of Interest, the director's first film since 2013's Under The Skin. Based on the book by the late Martin Amis, the film focuses on the day-to-day life of the family of the commandant of the Auschwitz concentration camp—who live in bland denial of the horrifying evil standing in the literal background of their supposedly idyllic lives. Christian Friedel co-stars as real-world Nazi Rudolf Höss.
As for the Jury Prize, the jury, having run out of Hüller to celebrate, instead gave it to Aki Kaurismaki's Fallen Leaves. As for the directing and performance awards, Best Director went to Tran Anh Hung for The Pot Au Feu, Best Actor to Kōji Yakusho in Perfect Days, and Best Actress to Merve Dizdar for About Dry Grasses. Sakamoto Yûji won Best Screenplay for the Japanese drama Monster.