Note: This article was originally posted on 9/24/20 at 10:14 AM CST.
Time is kinda funny these days. It feels like it was only yesterday that we were cowering at Taco's soul-penetrating eyes, steaming at Fox's attempt to humanize Sarah Palin, and crowning performing veteran Kandi Burress the queen of season 3. That could have a lot to do with the fact that last season of The Masked Singer began to wind down just as the pandemic was ramping up, with the finale airing back in May. But consider this: The hiatus between seasons three and four was four whole months while the break between the two previous seasons was only half as much. That's long enough for viewers to forget the costumed horrors of yore (though we're sure we'll meet Night Angel again at the gates of hell) and make room for fresh ones, like the show's first duo in the form of Snow Owls. Must there be two?!

Shudders aside, it's kind of nice to return to this slice of unabashedly odd television for a bit of pre-pandemic normalcy. And while some shows are finding ways to virtually create remote "live" audiences through LED screens and stitched together in-home clips, TMS is using a very small group of real people, tricky camera angles, and stocked reaction footage to recreate the feel of a full studio. And... it's shockingly effective. It doesn't feel like much has changed, even though things are obviously wildly different. That's great, because we'd much rather focus all of our energy on guessing this year's crop of secret performers than succumbing to the sadness of seeing another fuzzy Zoom shot.
Speaking of guesses, our in-house Masked Singer sleuths Angelica Cataldo and her dad are taking another keen look at this season's clues and unmasking the cloaked performers, one-by-one. Stop by their post to test your own theories, then come here each week to see who sings (or raps) their final note.
---
Week 1: Dragon
We'd say that rappers tend not to do well on TMS, but that would technically count as Bow Wow erasure, since he did manage to make it to the final three last go-round. So we'll say this: Rappers with super distinct voices tend not to last. Just ask season 3's Lil Wayne, who was the first to go home after the Super Bowl, and this year's Week 1 cast-off Busta Rhymes. Mere seconds into his performance of LL Cool J's "Mama Said Knock You Out," his signature growl was instantly recognizable. Also, dragon imagery has played a major part in Busta's personal branding since early in his career, so it was a rather potent mix of "duh" details. The clues get incrementally harder as the season rolls on, so we're grateful for this gimme.
G/O Media may get a commission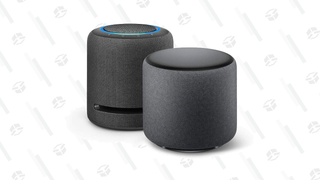 25% off - Prime Exclusive
Echo Studio + Echo Sub Bundle
---
Week 2: Gremlin
Usually this show just bumbles along without deviating from the routine: Contestants rattle off clues, they sing, the judges toss out a few guesses that defy all common sense, there's an elimination process, and then the castaway does that dumb Unmasking Tussle with host Nick Cannon before the big reveal. However, tonight went a little differently when Oscar-nominated actor Mickey Rourke decided to skip the pageantry and just unmask himself. There was no voting or final guesses, which makes this the first self-elimination in the show's history. His reason? "It's too damn hot," Cannon relays to the judges before Rourke lifted his fuzzy Gremlin head (with some help). According to Variety, the actor and former boxer also refused to do any post-elimination coverage, so nobody could really press him on his decision to exit early.
We're hesitant to get too swept away in the inherent drama of this development. The hoopla surrounding his reveal seemed a little put-on, including Cannon's cries of "We've lost control!" It was all a little much, and none of the judges seemed sufficiently taken aback by this unexpected, historic turn of events after Rourke—who was recently cast in the Isaac Walsh thriller Mammon—was revealed. But it did shake things up, if only slightly.
---
Week 3: Giraffe
Original 90210 star Brian Austin Green wasn't exactly at the top of anyone's list of guesses (even our inside sleuths thought it was Lin-Manuel Miranda for a quick moment), but judge and longtime friend-slash-neighbor Robin Thicke should feel especially embarrassed. "I told the producers early on, if there's anybody on this panel that's going to guess me, it's him because we know each other so well," Green told EW after his elimination. "He knows the way that I speak, and the timbre of my voice." But despite performing in a band together during their youth, Thicke remained just as clueless as everyone else on the panel. To be fair, Green's performance of Kool & The Gang's "Get Down On It" (complete with unsettling, towering CGI giraffes that are just...walking ominously???) wasn't the most distinctive. It could have been worse, though: He could have performed "You Send Me."
---
Week 4: Baby Alien
"Everybody was WAAAAY OFF!" Well yeah, Cannon. Honestly, who would have guessed that retired NFL quarterback Mark Sanchez was a puppeteer on his down time, or that he was a bit of a songbird? We sure didn't. His rendition of "It's Time" by Imagine Dragons wasn't about to sweep the competition, but it was pleasant! Oh well. There really isn't much to say here, y'all. At the very least, we hope this is the end of the puppet hybrid costume.
---
Week 5: Lips
We know it might be a little hard to really focus on this abundantly silly show as the world rapidly erodes. Trust us, we get it. But we're in too deep now, folks. So after a week off, we're back to talk about last night's elimination. Based on lher song choice ("Native New Yorker" by Odyssey) and total failure to mask her voice, we're almost positive that TV personality Wendy Williams gave up any attempts at mystery from the moment she first stepped on stage. To be fair, there's no real way to hide that iconic, raspy New York accent and crowd-pleasing energy. Of course, it could also have something to do with the fact that she kind of outted her involvement back in September when she wore a Masked Singer-issued visor, which some fans instantly recognized. She's crafted an entire career out of revealing Hollywood's secrets, so it's no surprise that she'd be terrible at keeping one of her own.
---
Week 6: Squiggly Monster
Your mind may be otherwise occupied these days, and that's way more than fair. But if you've been submerging yourself in perfectly mindless escapism, then you may be one of the few who took a brief doomscrolling break and witnessed Full House star and comedian Bob Saget take his final bow on The Masked Singer last night. Continuing this season's trend of unsurprising reveals, Saget was one of the personalities that both our in-house sleuths and the general public guessed pretty early on. Unfortunately, his bulky costume may have sabotaged his chances of sticking around at least one more week. "I did a move that was unplanned because of some differences in choreography," Saget told EW, "and it's live to tape, so you can't go back and say stop. And I jumped and the head kind of moved and the foam core — it's like a 30- or 40-pound head — was under my chin. It's hard to sing when you're constrained in a diving helmet. So I was ready to sing another song the week after, which would have been 'Folsom Prison Blues' by Johnny Cash." At least he took the ouster in great stride.
---
Week 7: The Snow Owls
Only a visit from Niecy Cash could ease a spirit jostled by the haunting, icy gazes of the Snow Owls. Wednesday night, the pair took the stage one last time to croon a little Celine Dion before ultimately taking off into the night. Judge Nicole Scherzinger was the only person to guess the identity of one songbird: Country luminary Clint Black, who was joined by his wife, actress and singer Lisa Hartman. Their ouster signals a slight shift in the competition, where seriously delightful performers are no longer safe. We're actually fine with that. Maybe things will begin to get a little interesting. (Though we will say: Their rendition of A Great Big Wind's "Say Something" was quite stirring.)
---
Week 8: The Whatchamacallit
This week served up a double elimination—that is, two chances to reveal at least one marginally exciting participant to possibly punch up this rather sleepy season. We didn't quite get that with either of the departed, but there was one notable element to the unmasking of Whatchamacallit: Judge Ken Jeong actually managed to correctly identify a contestant. In fact, he was the only one to guess that the blue monster was actual New Orleans Pelicans player Lonzo Ball. To Ball's credit, he was at least able to convey that he was having a decent time throughout his performance of Terror Squad's "Lean Back," even if that's not the best choice of a song meant to show off any real stage presence.
Serpent
The Masked Singer isn't just a place for veteran stage acts and antsy athletes. Viral figureheads like singing orthopedic surgeon Dr. Elvis Francois also have a shot at weird greatness. On top of risking his life in the middle of a pandemic, the mellifluous medical professional has been administering little moments of joy with videos of him sharing a humble song at a piano. At the end of last season he even performed a distanced duet with Scherzinger in honor of the essential workers. Turns out he didn't need any help from the Jonas Brothers to be totally "Cool," which he performed before taking his final bow.
---
Week 9: Broccoli
Welcome to the Thanksgiving Leftovers Edition of our Masked Singer reveal recap! And what an appropriate ouster this one turned out to be: Much like us, the competition decided to just toss that remaining broccoli out. We mean that respectfully, as the performer underneath the Broccoli exterior, singer songwriter and self-proclaimed health nut Paul Anka, is a bit of a legend. The "Put Your Head On My Shoulder" artist took a break from his upcoming album to appear on the show—a development that was a secret to everyone but his son. "Oh no I told him," Anka recently told EW, "because I live with my son. I spend a lot of time with him. So to break away — we have a very good, honest relationship. I'd rather tell him the truth and say, "Be quiet." He didn't even tell his friends; it was pretty cool."
---
Week 10: Jellyfish
We've reached the point of the competition where, like us, The Masked Singer team is just ready to get this over with. Purging three contestants in one night is just about as cumbersome as it sounds, so we're going to follow its lead and speed right through this trio of somewhat surprising reveals. First we have Jellyfish, a.k.a. Olympic gold medalist Chloe Kim. This was another instance where Jeong actually managed to guess correctly (twice in one season!), but this time we'll actually remember her sweet singing voice above all else. If you're going to go out on a Rihanna song, "Stay" is the best and only correct choice.
Popcorn
And so it goes, another legend is popped right out of the competition. Taylor Dayne is not only a decades-tested singer-songwriter, she was a nice jolt of energy to a fairly lax competition, as evidenced by her parting performance of Tina Turner's "Better Be Good To Me." Guest Craig Robinson took the opportunity to ask if he could one day play piano for her. Now that we'd like to see.
Seahorse
And here is where the competition finally gets a little unbelievable because in what goddamn world does Grammy-winning singer-songwriter Tori Kelly not absolutely sail through The Masked Singer? Totally recognizable and a consistent powerhouse, Kelly's ouster is a the sign of a competition getting much tougher. "I am gutted that you're going home because we thought that you could take the entire competition," Scherzinger said. Yeah, so did we!
---
FINALE
After last week's holiday sing-along, we have finally reached the end of the road for season four of The Masked Singer, and not a moment too soon. This go-round wasn't quite as exciting as season three, but we can appreciate their attempt to carry on as close to normally as possible under extraneous circumstances. Still, we're eager to wrap this thing up, so let's get down to the final reveals, which brought a lot of the star power that was seemingly missing from parts of this season.


Crocodile
The blushing Crocodile had some pretty killer moments, especially when it came to his wailing rendition of Aerosmith's "I Don't Want To Miss A Thing." The rocking moment didn't quite align with his boy band roots, but that didn't stop Backstreet Boys fans from identifying the man underneath all that pink as Nick Carter. Considering who he was up against in the final round (and who he managed to beat from the previous competing week), third place isn't too shabby.
Mushroom
Mushroom's costume might have been the most chill of the bunch, but Grammy-nominated singer-songwriter Aloe Blacc had a lot of difficulty with it, according to his conversation with Variety: "When I'm on stage I like to dance and I like to be physically active and groove with the audience and get them to sing along and clap. But in this particular case, I was restricted by this Mushroom head, and the Mushroom has a stem so my legs weren't free to move around. I had to kind of shuffle around in the skirt. And it definitely reduced my mobility." To his credit, he did what he could in his performance of Amy Winehouse's "Valerie" and while he didn't sweep the competition, he definitely made the winner work for it. Speaking of the winner...
Sun
In the grand tradition of The Masked Singer, the winner is a performer with a voice that is virtually impossible to truly mask. Grammy-winning country legend LeAnn Rimes couldn't fool Scherzinger, who had guessed her identity twice, nor could she really trick the general public. But nobody was complaining about her recognizable voice when she was belting Lizzo's "Cuz I Love You," so what can you do? "I never thought I would do anything like this and I don't think I'll ever do anything like it again," Rimes told Variety. "It's such a unique show. I had no idea what I was getting myself into and I'm so glad I did." Rimes joins previous winners T-Pain, Wayne Brady, and Kandi Burress.
Do you think you know who sings beneath the mask? Check your guesses against The A.V. Club's here.