Horror movies seem to take up a considerable amount of real estate in Hollywood's Development Hell, a netherworld that has so many levels it would make Dante blush. Banished to the industry's depths by fickle creative executives and constantly changing studio politics, these stalled adaptations and sequels to beloved horror properties litter the bleak landscape.
With this time of year inspiring many a scary movie marathon, we decided to peer into the Development Hell darkness in search of these shelved or abandoned horror projects. Our quest uncovered five yet-to-be-resurrected films that we wish fans could add to their watchlists, including titles that have been attached to the likes of Guillermo Del Toro, Tom Cruise, Peter Jackson, and Alex Garland.
---
1. Guillermo Del Toro's At The Mountains Of Madness
In the late 2000s, we were thisclose to having an R-rated horror epic from the director of Pan's Labyrinth, produced by James Cameron, and starring Tom Cruise. So what prevented Hollywood from giving this big-budget adaptation of H.P. Lovecraft's At The Mountains Of Madness a green light? Hollywood itself.

Guillermo Del Toro's long-in-development dream project became a nightmare once Universal Pictures came on board. The studio hired Del Toro knowing that, to bring to life his take on a perilous voyage through Antarctica with tons of terrifying Lovecraftian monsters, it would require a significant budget (close to $150 million) and an R rating. Even though GDT partnered with Cruise and Cameron, two of the most successful Hollywood talents ever, to help protect the studio's investment, Universal kept pinching pennies. The studio feared R-rated horror at this scale would struggle at the box office.
G/O Media may get a commission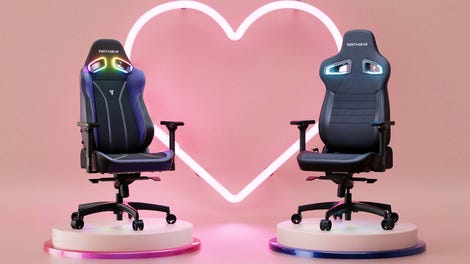 Up to $150 off
Vertagear Gaming Chairs
When Del Toro refused "to censor his vision for the film," Mountains was shelved. But, in a recent 2021 interview with The Kingcast podcast, Del Toro revealed Mountains could come back to life—albeit with the director taking it in a much "weirder direction." Sign us up.
2. Freddy Vs. Jason Vs. Ash
Conceived after the success of 2003's summer team-up, Freddy Vs. Jason, but long before Hollywood figured out how to franchise crossovers that could mint money at the box office, Freddy Vs. Jason Vs. Ash was poised to reinvigorate three of modern horror's most iconic characters and, in turn, revitalize their respective film series.

Sadly, that didn't happen, but Jeff Katz's treatment for the movie—a sequel to both F Vs. J and Army Of Darkness—was turned into a popular 2007 comic, which gave fans their first glimpse at a very promising and inventive horror movie set at Christmas time (with a bloody, snowbound-teaser set around a frozen Crystal Lake!). As the town of Crystal Lake prepares to rechristen itself as Forest Green (a nod to Friday The 13th Part VI), Ash fights a battle-damaged Jason, whose dark brain is home to what's left of Freddy. Here's hoping a studio or streamer can negotiate the complicated rights surrounding these three classic characters and bring their slash-happy conflict to live-action.
3. 28 Months Later
28 Days Later writer Alex Garland and director Danny Boyle have an idea for a threequel to their unique take on a zombie apocalypse, which started back in 2002 with the release of the first film. It's just too bad development on this sequel doesn't move as fast as Rage Virus victims.

Boyle's 28 Days Later spawned a successful-ish sequel, 2007's 28 Weeks Later. In the 15 years since Weeks' release, audiences have been inundated with zombie horror to the point where a return to the Rage Virus may be a moot point. But that hasn't stopped Garland and Boyle from kicking around ideas.
"It's possible," Garland said in a recent interview with Yahoo. "Everybody needs to want to do it, and every now and then—partly because I think about paying off the mortgage or something like that—I think, 'Hmm, that might be a good idea.'" While Garland wouldn't say what his storyline is for a proposed third film, he did tease that he has "a really cool idea for [a sequel] but it's a much bigger movie […] But me and [Boyle] speak about it, every couple of years it comes up."
With Garland in need of a hit after the lackluster box office of his 2022 horror movie Men, perhaps the writer will be more inclined to pay off his mortgage soon.
4. Stephen King's The Jaunt
The Jaunt, a short story published in 1981, is one of Stephen King's most popular tales. But the story has eluded Hollywood's efforts to adapt it for so long, it must by now have a whole circle of Development Hell all to its own.

An unsettling take on teleportation across the stars, with a gut-punch Twilight Zone-style ending, The Jaunt almost found its way to the big screen in 2015 with the help of director Andy Muschietti. Instead, he decided to make another King adaptation, the horror hit It. But with The Jaunt now being developed for television, with Fear The Walking Dead co-creator Dave Erickson writing, it seems the story's long journey to live-action may finally cross the finish line.
5. Peter Jackson's Nightmare on Elm Street 6: The Dream Lover
The Lord Of The Rings movies owe a lot to Freddy Krueger. Before making his LOTR film trilogy, a co-production between New Line Cinema and Miramax, Peter Jackson worked with New Line in the late '80s/early '90s on the sixth Nightmare On Elm Street film after 1989's The Dream Child was rushed into production and disappointed at the box office. New Line, worried that Freddy and their crown jewel franchise no longer appealed to audiences, turned to Jackson (fresh off his feature-film calling cards Bad Taste and Meet The Feebles) to revitalize the series with an inspired sequel.

Dream Lover—which Jackson co-wrote with Feebles screenwriter Danny Mulheron—is a very meta take on Freddy, who has lost much of his power and his potential teenage victims no longer find him terrifying. In fact, teens purposefully take sleeping pills so they can enter the dream world to taunt and attack the razor-gloved killer. The movie's hero, a cop in a coma, eventually confronts Freddy in the dream world in a way that could have made for one of the most terrifying and inventive Nightmare sequels.
Despite Dream Lover having its fans at New Line, the studio ultimately abandoned the project in favor of Freddy's Dead: The Final Nightmare, written by New Line exec (and future studio head) Michael De Luca. If you've seen Freddy's Dead, then you are among those who wish Jackson's Nightmare made it to the big screen instead. But the filmmaker's brief tenure on Elm Street would pay off years later, when New Line tapped him to take audiences on a trip to Middle-earth.