Here's what's up in the world of TV for Tuesday, July 26. All times are Eastern.
Top picks
Ice Sharks (Syfy, 9 p.m.): Syfy is in the middle of the run up to the latest Sharknado movie, which means every other shark-themed B-movie is airing this week. And, yes, they are pretty much all terrible, and most of them in a way that isn't even enjoyably terrible. But! Whatever their deficiencies as actual, tangible works of entertainment, they can still be a lot of fun as titles and synopses, because then you can just go ahead and imagine the wildest, most absurd version of the film, which is more fun anyway. So then, let's hear it for Ice Sharks: "An interdisciplinary team of scientists is sent to the Arctic Ocean to study the effects of climate change on marine life under the ice. Suddenly, a new breed of aggressive, ravenous sharks, with the ability to pierce ice (à la Tremors), crack the frozen floor and begin devouring all who fall through. As the ice breaks apart and the research station sinks into the frigid waters, they must fashion whatever weapons are available before they are all eaten alive." We appreciate the mad braggadocio of just straight-up inviting that Tremors comparison.
Bermuda Triangle: Science Of The Abyss (Science, 9 p.m.): Hey, here's a fun question: Which is going to have more hard science in it, a Syfy movie called Ice Sharks or a documentary about the Bermuda Triangle? We'd certainly hope it's the latter, but unless this thing is basically an hour of people saying, "Yeah, there's really nothing to this, though we can sort of understand why people might think there is, we guess," it's going to be closer than it ought to be.
Democratic National Convention Coverage (PBS, 8 p.m./CBS, ABC, and NBC, 10 p.m.): The highlight of day two is a speech from former president and potential future first gentleman Bill Clinton. He figures to talk about whatever he damn well pleases for however long he damn well wants, assuming his nearly hour-long epic from the 2012 convention is any indication. Hell, he may try to go 80 minutes, just to one-up Donald Trump's acceptance speech.
Premieres and finales
MADtv (The CW, 9 p.m.): Presumably building off January's well-received 20th anniversary special, MADtv returns to the airwaves for the first time since 2009 with an eight-episode 15th season. We can't honestly pretend we're familiar with new cast members Carlie Craig, Chelsea Davison, Jeremy D. Howard, Amir K., Lyric Lewis, Piotr Michael, Michelle Ortiz, Adam Ray, but that may not be a bad thing. After all, MADtv has built up what in retrospect is a damn good track record of identifying people who would become stars in five or so years.
G/O Media may get a commission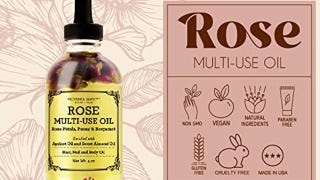 Provence Beauty Rose Multi-Use Oil
Married At First Sight (A&E/FYI, 8:45 p.m.): We mostly note this season premiere because it's so rare to see a show start at 45 minutes past the hour. But then we guess that's just what happens when you've got a 75-minute episode and shows to air immediately afterward. We can only imagine the mad episode start times if Sons Of Anarchy's Kurt Sutter ever started working on this show.
Hotel Hell (Fox, 9 p.m.): Gordon Ramsay's third or fourth Fox show—honestly, we lose count—wraps up its third season with an episode in which "Gordon persuades a man to take over his mother's hotel after she worked endless hours to keep it afloat." So a lot of heartfelt yelling and badgering in this one, then. Actually, we now realize there's a smidge of grammatical ambiguity there, and we earnestly hope the episode is about a hotel that Ramsay's mother used to run and him screaming at some random poor soul to go run it on his behalf. Anyway, this is pretty much what we always think of when we think of Gordon Ramsay.
SmackDown! SmackDown! SmackDown! (Previously known as Regular Coverage)
WWE SmackDown Live (USA, 8 p.m.): The blue show kicks off its half of the brand split holding two major titles, as the damn good Battleground pay-per-view saw Dean Ambrose and the Miz defend the WWE Championship and Intercontinental Championship, respectively. Now we're just trying to work out who from this roster could conceivably challenge either man at SummerSlam, considering A.J. Styles is busy beating up John Cena, John Cena is busy being beaten up by A.J. Styles, and Randy Orton just booked a non-enhanced ticket to Suplex City. Ah, crap, it's just going to be Kane going after both titles, isn't it?
Maybe let's just let LaToya Ferguson sort it all out.
Regular Coverage: Netflix Edition
BoJack Horseman (Netflix)
Streaming pick
"Independence Day," Young Justice (Netflix): Another show we just started a rewatch of on Netflix. An animated Batman not voiced by Kevin Conroy is always going to sound wrong to us, but it's still got a hell of a lot going for it as DC Comics cartoons go. Plus René Auberjonois has a guest voice in this episode, and everyone better recognize the eternal greatness of Constable Odo.