1. Phil Collins, Face Value (1981)
When flamboyant frontman Peter Gabriel left Genesis in 1975, the prog-rock outfit found an unlikely replacement: its own drummer, Phil Collins. The unassuming percussionist led the group to new heights of popularity in the late '70s and early '80s—due mostly to the everyman accessibility of his voice and lyrics. When Collins went solo with 1981's Face Value, though, a new side of the singer was revealed: pop star. The album bore hit singles like the peppy "I Missed Again" and the brooding "In The Air Tonight." As subsequent solo albums became even more radio-friendly and successful, Collins began to neglect Genesis; between 1983 and 1997, the group released only four albums. The final one, Calling All Stations, doesn't even feature Collins, who has since retired from music—a luxury that all his platinum records, solo and with Genesis, have afforded him.
2. Justin Timberlake, Justified (2002)
The end was probably nigh for N'Sync in 2002 anyway: The millennial boy-band wave that birthed the group had already crested, and its most recent—and to this point, final—album, Celebrity, had sold a paltry 5 million or so copies in the U.S., a shadow of the group's former double-digit platinum certifications. But Justin Timberlake provided the nail in the group's coffin, preventing it from reanimating for greatest-hits/reunion cash-ins like former rivals The Backstreet Boys. While technically N'Sync only went on "hiatus" so that Timberlake could record his solo debut, Justified, that album's multiplatinum success pretty much negated any chance of his returning to the group, in spite of Chris Kirkpatrick's nightly prayers. Timberlake's career has only gotten hotter while N'Sync's fortunes have cooled to pretty much zero, to the point where the group is basically a footnote on Timberlake's résumé now, so don't expect that hiatus to end any time soon. Sorry, Chris.
3. Beyoncé, Dangerously In Love (2003)
N'Sync's TRL-bred contemporary Destiny's Child followed a similar progression, with its three members going on "hiatus" to embark on solo careers. Only one of those solo careers, that of Beyoncé "King B" Knowles, had any real traction, and like Timberlake—or, perhaps more aptly, Diana Ross—Knowles' career as a solo artist quickly eclipsed the legacy of her original group following the success of her solo debut, Dangerously In Love. But unlike Timberlake, Knowles hasn't completely shrugged off her former groupmates (probably because one of them, Kelly Rowland, has been her close friend since childhood). She reunited with the group for its so-so final album, 2004's Destiny Fulfilled, whose title pretty much marks it as a final album. Knowles went on to even greater solo success in the ensuing years, the sort of success that made people speculate whether she would actually deign to appear with her former groupmates during her 2013 Super Bowl performance. Turns out she would, but only if they agreed to sing backup on her monster solo hit "Single Ladies."
4. Michael Jackson, Off The Wall (1979)
The wheels were already coming off the Jackson juggernaut in 1979 when the group's most popular member, Michael Jackson, released his fifth solo album, Off The Wall. Following a defection from Motown and a name-change from The Jackson 5, The Jacksons had a hard time credibly translating their boyish bubblegum into the sultry, sophisticated grooves of the disco era. But Jackson did all that, and then some, with Off The Wall. Packed with intricate yet immediately gripping tracks like "Don't Stop 'Til You Get Enough" and "Rock With You," the disc stands as a soulful yet effervescent masterpiece. It filled discos, but it also made disco obsolete; aided by producer Quincy Jones, Jackson established a more precise, sculpted, youthful dance-pop that paves the way for much of '80s music to follow—Thriller included. The Jacksons would do their best to piggyback on that success, mostly by trying to mimic the sound of Off The Wall. But the album spelled the beginning of the group's end.
5. Sting, The Dream Of The Blue Turtles (1985)
In the years leading up to The Police's fifth album, 1983's Synchronicity, each member of the new-wave power trio worked to forge his own identity outside the group, with guitarist Andy Summers recording an arty instrumental album with Robert Fripp, drummer Stewart Copeland composing movie soundtracks, and singer/bassist Sting trying his hand at acting, in between the occasional solo track. Then Synchronicity became a massive hit, and Sting took advantage of the success to indulge his love for jazz, recording a batch of softer-edged pop songs with up-and-coming jazzmen Branford Marsalis, Kenny Kirkland, Darryl Jones, and Omar Hakim. The resulting album, 1985's The Dream Of The Blue Turtles, generated four Top 20 U.S. pop hits: "If You Love Somebody Set Them Free," "Russians," "Fortress Around Your Heart," and "Love Is The Seventh Wave." The record also went multiplatinum, garnered an Album Of The Year Grammy nomination, and spawned a tour that won over even some of The Police's staunchest critics with its swinging take on Sting's back catalog. The Police returned to the studio in 1986, but reportedly couldn't overcome the tension between Sting and Copeland, the latter of whom had been more of an equal creative partner in the band when The Police started. Copeland didn't want to be Sting's sideman, and Sting had proven he no longer needed The Police name to sell records.
6. Annie Lennox, Diva (1992)
The Eurythmics burned super brightly throughout the '80s, releasing seven albums that spawned a solid number of hit singles. But that work ethic seemed to split the duo, sending Annie Lennox and Dave Stewart hurtling toward solo careers. Lennox found out pretty quickly that she could do just fine without Stewart, as 1992's Diva proved, going double platinum in America and quadruple-platinum in the U.K. The Eurythmics' hiatus became more or less permanent, though the two reunited for an album in 1999 that didn't come close to matching Lennox's solo success.
G/O Media may get a commission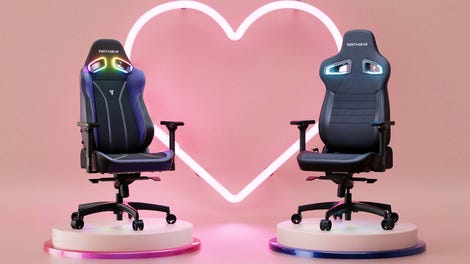 Up to $150 off
Vertagear Gaming Chairs
7. Lionel Richie, Lionel Richie (1982)
By the time Lionel Richie wrote the 1981 hit "Endless Love" for Diana Ross—and served as her duet partner to boot—he'd already established himself as the gentle balladeer within Motown's funky Commodores, responsible for softer songs like "Easy," "Still," "Sail On," and "Three Times A Lady." (He'd even written and produced a pop-country smash for Kenny Rogers: 1980's "Lady.") Richie's self-titled 1982 solo debut followed the lead of Michael Jackson's blockbuster solo albums, bringing together some of the era's best pop, rock, and soul session men to help Richie achieve his ideal sound. It turned out that Richie's preferred mode was fairly funkless, inclined more toward smooth adult contemporary like the top-five Billboard singles "Truly," "You Are" and "My Love." Richie no longer seemed like the kind of guy who'd be comfortable belting out "Brick House" with The Commodores—not that he ever really was.
8. Björk, Debut (1993)
Though the members of Icelandic group The Sugarcubes are still friendly enough to have played a one-off anniversary show in 2006, it seems unlikely that they'll ever do anything beyond that. That's at least partly because one of the group's two singers, Björk, came out of the solo gate with an album that blew everyone away. (It didn't help that the group's other singer, Einar Örn, sort of yelp-talked on their records. It got old.) And as good as the first Sugarcubes album was, it didn't impress people in the way that Björk's Debut did; the album, produced by Nellee Hooper, busted genres and showcased her voice and songwriting skills in a way no one expected. And she's never looked back.
9. Jenny Lewis, Rabbit Fur Coat (2006)
Los Angeles indie-rock band Rilo Kiley is scheduled to release the rarities compilation RKives next month, and co-leader Blake Sennett has backtracked more than once on his claims that the group is officially defunct. But even though Rilo Kiley released one album after Sennett's musical partner, Jenny Lewis, went solo, Lewis' 2006 debut, Rabbit Fur Coat, was so assured—even beyond Rilo Kiley's best album, 2004's More Adventurous—that the end seemed inevitable. Even Rilo Kiley's 2007 swan song, Under The Blacklight, sounded like a band at war with itself, exchanging much of its earlier twang for something slicker and poppier, as though Sennett and Lewis were playing the part of rock stars (like the child actors they once were). Rabbit Fur Coat didn't just push Lewis out of the shadow of Rilo Kiley; it made her seem like her old friends were holding her back. They wouldn't be much longer. 

[pagebreak]
10. Billy Idol, Billy Idol (1982)
Generation X never got many props from the punk scene. It's not surprising; the English band's self-titled debut from 1978 was full of bouncy, perfectly crafted pop gems, the type of bubblegum punk that Green Day would popularize years later. Then again, from his stage-name on down, the band's frontman, Billy Idol, never made his mainstream ambitions a secret. Those ambitions led Idol to take an outrageously anthemic (and presciently titled) Gen X song, "Dancing With Myself," and remake it for his 1981 solo EP, Don't Stop, which was released almost concurrently with the Gen X version. It was as if Idol wasn't just dancing with himself, but competing with himself. His loyalties came down solidly on the side of his solo career, though, when 1982's Billy Idol—which contains the sneering breakthrough hit "White Wedding"—hammered a final, hard-rock nail in Gen X's pop-punk coffin. By 1983, the album was revised to include "Dancing With Myself," as if to flaunt Idol's newfound solo supremacy.
11. Steve Perry, Street Talk (1984)
Although Journey made some limited inroads before Steve Perry joined in 1977, the golden-throated singer revolutionized the band, turning it into one of arena rock's most reliable hit machines. Perry has since said he never felt truly a part of the group, though, and the cracks began to show after Journey's massively successful 1983 album, Frontiers. At that point, Perry was readying his solo debut, 1984's Street Talk—which wound up sounding only slightly slicker than Journey. Street Talk sold well, and Perry was emboldened to further soften Journey's already slushy sound, which resulted in the group's lackluster full-length from 1986, Raised On Radio. It would be a decade before either Perry or Journey released another studio album, neither of which matched their earlier success. Nursing a hip injury and likely a bruised ego, Perry quit the group for good in 1998, leaving it to rock the nostalgia circuit with a series of Perry sound-alikes.
12. Busta Rhymes, The Coming (1996)
It takes a lot of chutzpah to title a solo debut The Coming, but in the mid-'90s, Busta Rhymes had ample reason to be cocky about his future. The rapper debuted as one of the animated young men behind Leaders Of The New School, but while the group's popularity flat-lined, Rhymes' star rose thanks to a series of explosive, attention-grabbing guest turns on iconic smashes like A Tribe Called Quest's "Scenario" (where Rhymes' star-making verse destroyed everyone else's) and the remix of Craig Mack's "Flava In Ya Ear." A live-action cartoon character overflowing with manic energy and raw charisma, Busta Rhymes quickly outgrew and outshone Leaders Of New School. The massive success of The Coming's first single, "Woo Hah!! Got You All In Check," all but spelled the end of hopes for a Leaders reunion (though its members appeared on the Coming track "Keep It Movin'"). The album, single, and especially music video established Rhymes as a solo star. Tellingly, after Leaders Of The New School disbanded, Rhymes started another clique in Flipmode Squad, only this time there was no doubt that Busta was the leader.
13. Natalie Merchant, Tigerlily (1995)
Natalie Merchant's departure from 10,000 Maniacs in 1994 didn't kill the band, but permanently crippled it. After waging a legal battle to keep the name, the group continued with a new singer but never regained its footing commercially, while Merchant went off to record Tigerlily, which spawned a pretty massive hit in "Carnival." Any doubts she may have had about leaving (okay, the notoriously self-assured singer probably had none) were surely dashed with that shot of commercial and critical success.
14. Ryan Adams, Heartbreaker (2000)
Whiskeytown didn't end solely because Ryan Adams released Heartbreaker, but that certainly didn't help things. The group, which formed in 1994, had released two full-lengths by 1999, Faithless Street and the excellent Strangers Almanac. It had even completed a third, Pneumonia, but its label, Outpost Records, closed during the merger between Polygram and Universal, putting the record into industry purgatory. While Whiskeytown struggled, Adams recorded his solo debut, Heartbreaker, which was released by Bloodshot Records in 2000. While the record wasn't as big a hit as 2001's Gold, it did well enough to encourage Adams to stay the course, with tracks like "Oh My Sweet Carolina" and "Come Pick Me Up" making minor waves in the indie and alt-country communities.
15. Rod Stewart, Every Picture Tells A Story (1971)
Rod Stewart first found fame in The Faces, but he'd always been a journeyman. Prior to joining that group in 1969, the hungry, gutsy vocalist had sung with just about anyone who would have him, most notably The Jeff Beck Group. But he found his footing in The Faces, quickly becoming famous for his soulful, gravelly delivery and unrepentant sexiness. His first two solo albums were released in 1969 and 1970, but they failed to catch fire; his stars finally aligned with 1971's Every Picture Tells A Story, which features the rambling, rambunctious title track and the worldwide smash "Maggie May," the poignant ballad of a May-December romance that helped propel the album to the top of the charts in the U.K. as well as the States. From there, Stewart's solo career went on an upward spiral, leaving the rest of The Faces to serve as his part-time backup band. The Faces released two more excellent albums, then broke up after Stewart departed in 1975, leaving the singer free to ditch rock 'n' roll almost entirely and head in an even more pop-oriented direction.
16. Ice Cube, AmeriKKKa's Most Wanted (1990)
N.W.A. wasn't officially done when Ice Cube released his solo album in 1990, but the future didn't look good. An acrimonious dispute over money sent Cube packing at the end of 1989, barely 16 months after N.W.A. released its seminal Straight Outta Compton. He wasted no time getting to work on a solo album while N.W.A continued without him, bitterly dissing him at every opportunity. His former bandmates had reason to be jealous: Released in May of 1990, AmeriKKKa's Most Wanted was gold by August, then it went platinum a few months after the release of N.W.A.'s little-loved swan song, Niggaz4Life, in 1991. Taking care to burn any remaining bridges, Niggaz4Life baited Ice Cube in several songs, even sampling AmeriKKKa's "Turn Off The Radio" on "A Message To B.A." (short for Benedict Arnold). Cube, who had refrained from doing the same on his debut, responded in kind on 1992's Death Certificate and the infamous song "No Vaseline." The animosity would continue to escalate until N.W.A. broke up, when everyone turned on Eazy-E—including Dr. Dre, whose massive solo debut, The Chronic, nailed N.W.A's coffin shut.
17. Lauryn Hill, The Miseducation Of Lauryn Hill (1998)
Born out of both the singer's growing frustration with her group, The Fugees, and her pregnancy, The Miseducation Of Lauryn Hill is Lauryn Hill's masterwork. It's also her only solo record. The rise of The Fugees and the intense popularity of Miseducation (10 Grammy nominations and 8 million copies sold in the U.S. to date) seem to have sullied Hill on playing the record-industry game. Whether she's afraid of the scrutiny or just a little bit crazy is anyone's guess, but the record's success—coupled, she says, with her desire to raise her six children—left Hill not all that interested in making music anymore, whether with The Fugees or by herself. She's made a few choice appearances in recent years, like a scattered MTV Unplugged in 2002 and a few solo dates here and there, but fans shouldn't really hold their breath for anything from Hill, solo or not.
18. George Michael, "Careless Whisper" (1984)
Imagine the conversation that George Michael must have had with his Wham! partner Andrew Ridgeley about the release of "Careless Whisper" as a single. Perhaps it went something like this: "I know we wrote this song together, Andrew, and that it's on our album, Make It Big. But the label wants to release it as a single credited only to me. Is that cool? No, I'm not going on to a solo career after this one is a huge, huge smash. It's just a one-off." Michael's 1987 album, Faith, which was a massive smash featuring a number of huge singles, finished the job that "Careless Whisper" started.