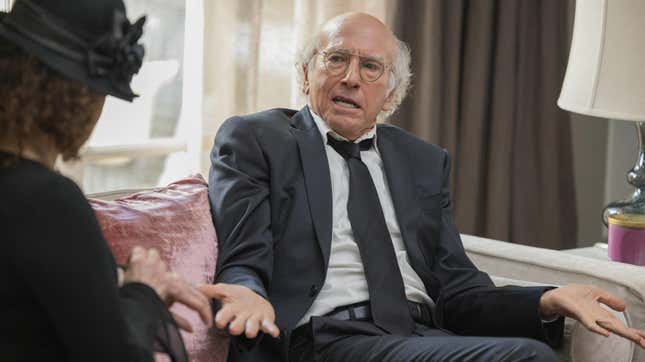 After 23 years of curbing our enthusiasm, Larry David might be ready to call it a day again. Filming has wrapped on season 12 of Curb Your Enthusiasm, and in a since-deleted tweet, writer-producer Jon Hayman eulogized the show. "Maybe you love the show. Maybe you hate the show," Schaffer wrote. "Maybe you don't give a shit. In any event, shooting the last scene of the last episode of the final season." We imagine a more formal obituary is on the way. The A.V. Club has reached out to HBO for comment.
J.B. Smoove on "Harley Quinn", "Curb Your Enthusiasm", and Larry David
As noted by The Hollywood Reporter, David's fellow ray-of-sunshine luminary Richard Lewis, who's appeared as himself on the show for two decades, also tweeted about filming. However, his words are a little less dire. "There I was a few hours ago in my trailer on location to shoot my last scene of #Curb12," Lewis tweeted. "Hard to believe we started in 2000. The cast and crew all knew we were working for a genius. When that rarity happens, no one ever takes a moment for granted. We love you LD."
The tweet doesn't exactly scream the end is nigh for the series, but rather the season. And there's also this sticking point: Every season of Curb feels like the last. This felt particularly true after 2011's season eight finale, which sent Larry to Paris to annoy Parisians about parking etiquette. Between 2011 and the season nine premiere in 2017, David told Howard Stern "the odds are against" another season of Curb" in 2015. "HBO knows the odds are against it," he said. "I'm not ruling it out. I mean, it's been a while. I don't want to go back to the show and look 10 years older than I did in the last episode."

Additionally, David  filmed a death scene for Larry in season 11, just in case he didn't want to do another. "I know I say this all the time, but every season is the last season. And I wanted to prepare as if it was the last one," executive producer and showrunner Jeff Schaffer said last year. "So Larry kept falling into that pool without the fence and banging his head [for the scene]. We actually have a shot after he'd fallen in, of the still pool with just the envelope floating in the middle, and maybe adding one bubble."
"This one lent itself too perfectly. We just got high and wide on the pool, with one light shining on it and the envelope floating in the middle. And we said, 'OK, if this is how we go, this is how we go!'"

What can we say, Larry David is a human being, and human beings change their minds. We'll see if history repeats itself. Again.