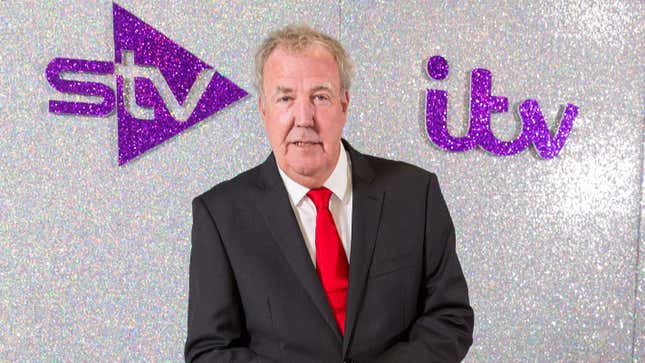 A few months after former Top Gear host Jeremy Clarkson wrote a deeply misogynistic column about Meghan Markle in British tabloid The Sun, the famous TV guy is kind of facing repercussions from it. We say "kind of" because British celebrities tend to enjoy a staggering amount of leeway in terms of what they can get away with (for example: the monarchy and everything they've ever done), but there does appear to be a tangible impact to what he said—and, lest we forget, how he said it, which involved a public apology addressed exclusively to Prince Harry and not Markle herself.
We covered this all recently at The A.V. Club as a tie-in with the new season of the Prime Video series Clarkson's Farm, in which Clarkson moves on from the regular topics he ostensibly knows about—car stuff, as seen in Top Gear and his follow-up series The Grand Tour—to detail his life as a terrible farmer trying to raise livestock and grow crops even though he has no idea how to do it. The basic appeal of the show, as we explained previously, is that Clarkson gets to goof around with his usual oaf persona (though it's probably not a persona) while people who do know what they're doing can poke fun at him and teach him (and the viewers!) about the plight of the modern British farmer.
The problem is that it becomes harder to buy that appeal when Clarkson insists on being so… unappealing, which Prime Video implicitly acknowledged in January when it reacted to Clarkson's Markle column by saying that it would still air a previously commissioned third season of Clarkson's Farm and four final Grand Tour specials that had also already been ordered, but that the streaming service's relationship with Clarkson would probably end there. Some would probably argue that he wasn't really "canceled" in any way (and therefore hasn't actually been punished), since Prime Video is still obligated to release a bunch of stuff that he's in, but it seems pretty clear that it is just that: an obligation.
And now, pretty much the exact same thing has happened with one of Clarkson's other TV projects. Clarkson, a man who famously presents himself as very dumb, has been the host of the British version of Who Wants To Be A Millionaire? on ITV since 2018, but now Variety says that relationship is also coming to an end… after a previously made obligation, of course. ITV boss Carolyn McCall told Variety that they're "contracted" to do this season, "so we will do that," adding, "and then we have no future commitments."
Again, it's pretty obvious what that means, but Clarkson is denying that these words mean what they clearly mean, posting on Twitter that he has "not been sacked." On top of that, a spokesperson for ITV told Sky News that "neither Who Wants To Be A Millionaire? nor Jeremy Clarkson have been canceled." Once again: The meaning is very clear. The show will continue on without him, but he gets to save face by saying his contract ran out and that he therefore wasn't fired.
It's not quite what happened to the Dilbert guy, but a man who used to be on TV and then publicly said a bunch of terrible things about a woman will now be on TV less often. Until someone inevitably comes along and gives him a new TV show, which should take 10 or 15 minutes.