In We're No. 1, Steven Hyden examines an album that went to No. 1 on the Billboard charts to get to the heart of what it means to be popular in pop music, and how that concept has changed over the years. In this installment, he covers Jimmy Buffett's License To Chill, which went to No. 1 on July 25, 2004, where it stayed for one week.

One of the strangest, most dubious ideas for an album in 2012—and, given the sales, also one of the best—had to be Lionel Richie's head-scratching smash Tuskegee. A collection of Richie hits re-recorded country-style with stars like Shania Twain, Billy Currington, and Little Big Town, Tuskegee casts the Alabama-born and Motown-bred Richie in the unlikely role of down-home crooner. It starts with the cracker-barrel cornpone of the cover, which depicts the singer leaning back on an old chair in front of what's presumably a palatial Southern home stocked with pitchers of lemonade and apple pies cooling on the windowsill. Before its March release, Tuskegee might've seemed like a last-ditch attempt to remake Richie's moribund recording career, though if it was, it was a quite successful bit of desperation. Tuskegee debuted at No. 2 on the Billboard album chart—thanks in part to an aggressive push on the Home Shopping Network—and a few weeks later moved up to No. 1, eventually going platinum.
Richie wasn't the first (and won't be the last) artist to inject new life into his career by recording a country duets record. Eight years earlier, a journeyman singer-songwriter whose recording career peaked in the '70s scored his first No. 1 album, thanks to the assistance of Music Row superstars such as Kenny Chesney, Toby Keith, Alan Jackson, and George Strait. Not that Jimmy Buffett's appeal has ever truly been represented by his record sales. Like The Grateful Dead or Kiss, Buffett is a man best appreciated live, and preferably under the influence of a wicked cocktail of various chemicals. At least that's what his fans say; personally, I've never understood what makes Parrotheads so obsessive about this otherwise unexceptional man with the bank president's hairline and the impossibly generous assortment of DayGlo shirts and cargo shorts.
It's not like I haven't been exposed to Buffett's music. Like most American men born in the late 1940s or early '50s, my dad loves Jimmy Buffett, and he played his tapes constantly when I was kid. So I have heard more than my fair share of songs about fantastical cheeseburgers and latitude/attitude adjustments and, sorry, I remain unmoved. I get that Buffett presents a fantasy of a carefree life in a beach paradise that's common among aging white men who wish they could untuck their golf shirts and de-pleat their khakis. I just don't see how you can't get that sort of escapism at a Senor Frog's, or whatever the equivalent of Senor Frog's is in your town.
Anyway, you don't have to be a Buffett fan to recognize that the success of his 2004 duets album License To Chill confirmed the sizeable influence he's had on contemporary country music, nor do you have to be a Parrothead to appreciate the roundabout way he took to get there. Before License To Chill—and the No. 1 hit single "It's Five O'Clock Somewhere," a 2003 collaboration with Jackson that won a CMA award and paved the way for Chill—it's possible that even many of Buffett's fans weren't fully aware of his background in country. Buffett has long been associated more with steel drums than steel guitars, but his country roots run deep. A Mississippi native raised in Alabama, Buffett arrived in Nashville in the late '60s as an upstart songwriter in the outlaw mold of Kris Kristofferson and Jerry Jeff Walker. He released his first album, Down To Earth, in 1970, and seemed to be pursuing a career as a post-hippie, socially conscious country-folkie. But Buffett changed course after re-locating to Key West, Florida, developing a new persona as a wandering, party-hearty beach bum with a melancholy streak.
G/O Media may get a commission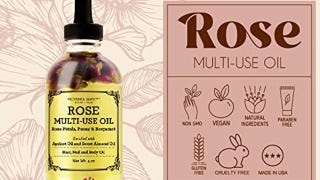 Provence Beauty Rose Multi-Use Oil
Buffett's new sound was dubbed "gulf and western," and it would be extremely good to him, even after his records stopped selling in the '80s. By then, Buffett realized that he was selling a lifestyle as much as songs, and he branched out to writing books and, in 1985, his chain of Margaritaville restaurants (which has since expanded to retail stores, hotels, and casinos). There were also his annual tours, which emerged as the conservative and more corporate-friendly alternative to Deadhead culture. Going to a Jimmy Buffett show is like checking into to an all-inclusive resort for two hours: You get the sun and the buzz of a tropical retreat with none of the risk.
By the early '00s, Buffett was one-quarter musician, three-quarters brand. It's not that his music was unimportant to the overall experience, just that new music was no longer vital to Buffett's bottom line. Buffett's '70s material had serious legs: With the emergence of Kenny Chesney, the biggest male country singer of the 21st century, Buffett's vaunted place in modern country could not be denied. While Chesney's music was a product of the Nashville mainstream, it was equally based in the easygoing mythology of sand and bland that Buffett popularized. Fittingly, Chesney is featured on License To Chill's title track, a shopping-mall-blues number that repeats its wincing title far too many times. Chesney also pops up on the album-opening cover of Hank Williams' "Hey Good Lookin'"—which offers everything bad about Buffett condensed down to three minutes and three seconds: the faux-reggae-isms, the "who gives a shit?" vocal delivery, the coked-up studio-hack instrumentation, and the emotional impact of a Corona Light.
What's surprising about License To Chill is that once you get beyond the opening songs, it turns into a solid, even traditional country record. One of my favorite tracks is the pretty "Someone I Used To Love," a duet with the eternally lovely Nanci Griffith, a singer-songwriter whose cult status suggests that Buffett's grasp of this music isn't just skin-deep. The Martina McBride duet on the jangly "Trip Around The Sun" is also nice, demonstrating a level of tenderness and nuance that Buffett has largely set aside as his image has become broader and more beer commercial-like in his later years.
I don't want to give License To Chill too much credit. (It is a record named License To Chill after all.) It's still a transparently opportunistic attempt to capitalize on the fame of Buffett's co-stars. But it appears that Buffett at least tried to re-engage with the music he started out his career playing, and he does successfully work some of those old, un-used muscles again. I wish his collaboration with George Strait on the standard "Sea Of Heartbreak" kicked a little more ass (a la Johnny Cash's version with Tom Petty And The Heartbreakers on 1996's Unchained), and the jokey "Simply Complicated" leans on Jerry Springer references that were dated even in 2004. But there are large swaths of License To Chill that are pretty tolerable, particularly the pleasant likes of "Coast Of Carolina" and "Window On The World."
Purists might scoff at the idea that Buffett has become as much a touchstone for new country singers as Johnny Cash. But with License To Chill, Buffett pretty much made his case. Not only was the album his biggest hit in years, it attracted three other country artists—Chesney, Jackson, and Strait—who also had No. 1 albums in 2004. In his own way, Buffett personifies all the old clichés about country legends: He's been around forever, he sings a lot about drinking, and he's stubbornly forged his own path, living the kind of life that most people only dream about—or turn to country songs to live vicariously. Buffett came to Nashville as an outsider, but more than 30 years later he had become a paragon of the establishment.
Coming up: Elton John's Goodbye Yellow Brick Road