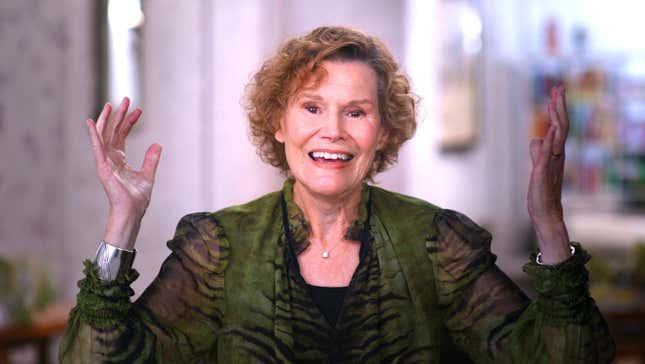 One of America's most beloved writers has never stopped being controversial, but you'd never know it from her thick blue Windsor glasses. Judy Blume's work, which taught countless children that their bodies and emotions weren't Satan's plaything, tempting them toward damnation, continues to face book bans and court condemnation. Despite this, no matter how many adults pressure libraries and school administrators to get rid of books that teach kids about being kids, children worldwide continue to gobble up books like Are You There, God? It's Me, Margaret. Thankfully, a new documentary about Blume and her impact aims to remind audiences how vital Judy Blume continues to be.
In the trailer for Judy Blume Forever, a new documentary by Davina Pardo and Leah Wolchok, the readers (and Judy) have their say.
With help from Molly Ringwald, Samantha Bee, Anna Konkle, Lena Dunham, and readers of all ages, Judy Blume Forever celebrates the woman and the work. And who better to get the story from than the source? The trailer starts with Blume giving a thesis statement for her career. "My daughters said, 'Mother, couldn't you write a book about teenagers who fall in love and do it and nobody has to die,'" says Blume. "And I thought, 'Yes!'"
The Judy Blume spirit is all over the trailer as they tease elements of her past, present, and the impact her books have on the future, speaking to young readers about Blubber, Deenie, and Tales Of A Fourth Grade Nothing. At a time when books about sexuality, gender, anatomy, and biology are, as usual, facing bans across the nation, it's always nice to remember that there are Judy Blumes out there, writing for those who need it most.
Judy Blume Forever hits Prime Video on April 21.