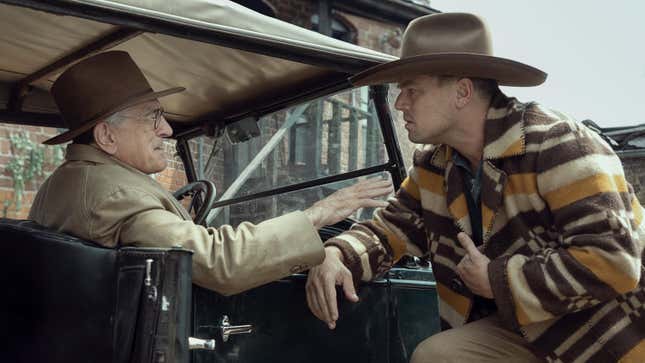 With just about a month until The Killers Of The Flower Moon hits theaters, the good people at Apple took time away from releasing another incremental iPhone upgrade to release a more substantial final trailer for Martin Scorsese's latest. His adaptation of David Grann's bestseller recently received a wide theatrical release, thanks in part to studios' unwillingness to settle the SAG-AFTRA strike pushing several tentpole movies to evacuate to the fall calendar. The new trailer gives an even deeper and more sinister look at the plot.
Based on the latest spot, Ernest Burkhart (Leonardo DiCaprio) returns from war to Osage County, Oklahoma, to live with his uncle William Hale (Robert De Niro), a cattleman and millionaire. Hale lets Burkhart in on a little scheme, encouraging his nephew to marry into the Osage Nation and stake a claim on the Nation's oil, which made the tribe unspeakably wealthy. At the time, the Osage Nation was among the most prosperous and richest people in the U.S. thanks to that oil, and white interlopers wanted a piece. But the real conflict begins when Ernest falls in love with Osage woman Mollie Kyle (Lily Gladstone), complicating the plan. The two marry as a series of murders against the Osage begins, bringing the primordial FBI to their doorstep.
More than in previous spots, this final trailer foregrounds the sinister atmosphere and atrocious violence of this true story. Instead of playing Jesse Plemons' "see about these murders" line for laughs, like in the initial clips, the trailer uses it to set up the Reign of Terror that plagued the Osage from 1921 to 1926. The trailer permeates dread through the screen.
Killers Of The Flower Moon opens in theaters everywhere on October 20. However, despite the movie being a co-production between Apple and Paramount, there is no date set for the film's Apple TV+ premiere.