As former Top Chef contestant Spike Mendelsohn (season four) describes it, "it's awesome being a celebrity chef." That sentiment is central to the suggested appeal of Life After Top Chef, which chronicles Spike, Richard Blais (Winner, Top Chef: All Stars), Jen Carroll (Finalist, Top Chef: Vegas), and Fabio Viviani (season five) as they juggle the responsibilities of representing the Bravo reality series and leveraging that connection in their personal careers. The show represents Bravo's attempt to do with Top Chef what it has done with the Real Housewives franchise, building out individual participants from the flagship series to continue to build the brand (which is in need of some serious rehabilitation after that disastrous Texas season).
Yes, Justice Smith played D&D with "Dungeons & Dragons" castmates
Of course, while Spike emphasizes the benefits of celebrity status, Life After Top Chef isn't without struggle and conflict, given its auspices of Housewives-style docudrama. Jen is struggling to open her own restaurant after funding fell through with her investors, while Richard finds his work and family lives coming into conflict as he prepares to open a new fine dining restaurant. Spike's confrontational relationship with his business partners—who are also his family members—plays out like a workplace reality series, while Fabio's life as a cooking personality leverages his charming ladies man reputation as he teaches cooking classes and rages against the tyranny of shirt buttons.
As someone who has seen every season of the show, these four contestants are fine choices for a show of this nature. I actually believe Richard to be incredibly self-involved, and found him almost wholly unlikeable on All-Stars, but he's a decent guy whose ambition and family make him unique among the four chefs featured. Fabio, meanwhile, is the definition of the 21st century chef, tweeting, endorsing, and making a brand for himself in ways that the other chefs are comparatively resisting. And while Spike is incredibly self-centered, there's something interesting about seeing his "celebrity" status broken down in a power hierarchy where he's the youngest member of the family with the least say in decision-making. None would realistically be interesting enough to be a reality show on their own (although Fabio's probably affable enough to make The Fabio Show watchable), but they each provide their own distinct situations that can offer insight into the life of a chef.
Or, rather, it offers insight into the life of a former Top Chef contestant, which isn't even close to being the same thing. Jen's trials and tribulations while trying to open her own restaurant are the closest the show comes to suggesting that life after Top Chef isn't just a struggle to decide how many new restaurants you want to open, but that she had investors in the first place is probably a step up from what most chefs would experience trying to do the same. She doesn't seem to be having any major financial problems (she suggests she can wait a year before working for someone else, suggesting only her ego is really at stake), she's invited to serve as a guest chef at a friend's restaurant, and she still ends the episode walking the red carpet and dining with her fellow former contestants at the Aspen Food and Wine festival. Her concern over becoming that person who's about to open a restaurant for a long period of time is perfectly valid, but it's also the definition of a "Top Chef problem" as opposed to a "Chef Problem." There's something sad about Jen noting that she's the only person who doesn't have a restaurant to return to after leaving Aspen, but she's still far better off than most chefs—and most Top Chef contestants—would be.
G/O Media may get a commission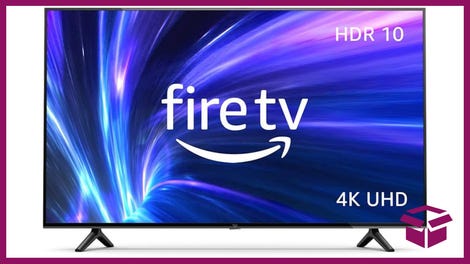 42% Off
Amazon Fire TV 50" 4K Smart TV
Accordingly, I wonder if Life After Top Chef isn't a misleading title, given how much Top Chef continues to define their lives. These aren't contestants who finished 10th in their seasons and whom Bravo has effectively scrubbed from existence: These are the reality television celebrities whom Bravo has chosen to represent the brand, who have connected with fans in ways that make them marketable for the channel. This show in and of itself is another example of the way Top Chef has defined their careers, suggesting that any post-Top Chef claims are disingenuous. When Jen's protein somehow disappears before an event in Aspen, it's noted that she's suddenly in a Top Chef competition working with the hotel's frozen shrimp, and I wondered if the producers had misplaced her food on purpose to ensure that this still resembled a typical episode of the flagship series.
It would be unrealistic to expect Bravo to actually explore this kind of territory, but the more interesting Life After Top Chef show would be about the chefs who aren't in demand across the country or selling cookbooks. As someone who knows these chefs well through their appearances on the show, I didn't mind spending 40 minutes checking in to see how they're doing, and wouldn't mind spending another 40 seeing them go about their own careers. However, by forcing them together and using this as an opportunity to reinforce the immense power of Top Chef within the culinary community, Bravo ignores the real stories in favor of arbitrary interaction between the chefs that is forced and uninteresting (and which unfortunately seems as though it will recur throughout the season). Top Chef might be a show about food and the people who make it, but Life After Top Chef needs to be a show about people first and foremost; as it stands, however, it's a show about Top Chef, which might be a logical brand extension but fails to create a compelling reality series.
I do, however, look forward to the upcoming reality series Real Life After Top Chef, which looks at Bravo's struggles to regroup after driving Top Chef into the ground.