The actor: After a few small roles playing a teenager in various high-school comedies, Linda Cardellini found mainstream success playing Lindsay Weir, the smart yet conflicted star of Paul Feig and Judd Apatow's short-lived but beloved Freaks And Geeks, which was the subject of a retrospective in Vanity Fair's January comedy issue. Since then, Cardellini has played a variety of roles, often portraying a young woman who's lived a hard life, but she has frequently returned to the character of the crush-worthy, intelligent high schooler in her voiceover work.
Russell Crowe is pretty chill about not being in that "Gladiator" sequel
Out There (2013-present) — "Sharla"
Linda Cardellini:  I got a really nice letter from Ryan [Quincy, star/creator], and he said how happy he would be if I joined. I was intrigued by the project and liked what he had to say and what I read. Sharla is a sweet high-school girl who is the object of Chris' [Quincy's character] affection. She's spirited, she has her causes, and she's pretty optimistic compared to some of the quieter, quirkier characters. It's a great group of people, and it's great for me because I was incredibly pregnant at the time [of recording]. So I stepped away from the camera to become a mother, and it was a really wonderful job to have during that time. It was less demanding than being on camera, but still just as creative.
The A.V. Club: This show seems like a much darker animation project than Gravity Falls.

LC: It is. Gravity Falls has a totally different tone. I also play a high-school object of affection in that show. But the shows are for two different audiences. Out There has more of a Freaks And Geeks feel to it, while Gravity Falls has more of a Scooby Doo feel.
Bone Chillers (1996) — "Sarah"
LC: Oh my God. [Laughs.] My first job!
AVC: What did you learn from that experience?
LC: I learned that on kids' shows, you have to eat a lot of stuff. A lot of the humor comes from food and gross-out humor. My first week on set, I had a pile of cold, dirty lasagna, and I learned what a spit bucket was. We had to pile it in our mouths as fast as we could. The storyline was that there was larvae growing in it, and the woman who was cooking the food was a giant fly. When you ate her food, these cocoons would grow under your skin. I had to learn to deal with prosthetics and a spit bucket during that job, and I could not have been more thrilled. I had my birthday on set and people said, "I can't believe you have to spend your birthday here." It may have been my 21st birthday. I thought to myself, "If I spend every birthday like this, working as an actress, it would be the best birthday ever."
G/O Media may get a commission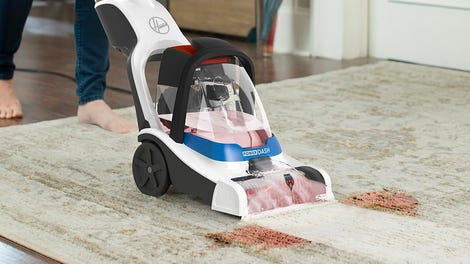 26% Off
Hoover PowerDash Pet Compact Carpet Cleaner
So that was my first experience in show business. I had done a couple other little things like non-union commercials, but that was how I got my Screen Actors Guild card. I was in college in Los Angeles at Loyola-Marymount University, and on the weekends we'd go out all night on Fridays, then on Saturday mornings everyone would get breakfast and we'd all sit there and watch it. I'm really proud of that show, and it had a lot of really talented, fun people involved with it. I, to this day, have stayed friends with Laraine Newman, who I idolized. She was on the show with me, and she came to my baby shower.
Good Burger (1997) — "Heather" 
LC: That's my sister's favorite role that I've ever played!  It was so much fun. It was my first film, and it was a fantastic part. I got to play crazy! Nobody knew who I was, and I got the part from the table read.
3rd Rock From The Sun (1997) — "Lorna"
AVC: Was that your first experience doing a show in front of a live audience?
LC: That might have been, but I had done theater up in Encino until I started acting in television and films. I really loved the idea the idea of a live audience. The people on that show were so great. I also did an episode of Step By Step where I played a tomboy who was great at shooting pool, and they had a pool shark come in and show me pool tricks. I was nervous because it was in front of a live audience, and I had to do this complicated pool trick. And then I just banked it twice and hit three balls, and the crowd went wild. It was fantastic. That was probably the only thing that I ever did in my career that impressed my brother.
Strangeland (1998) — "Genevieve Gage" 
AVC: What was working with Dee Snider like?
LC: He's a family guy and a joy to be around. We went hiking up Pikes Peak in Colorado Springs and had a great time. That was my first time on location. It's like summer camp! They give you money to live there, and you get paid to be an actress. It was like a dream, but the poster was kind of creepy.
AVC: Your character gets her mouth sewn shut not once, but twice.
LC: I remember having that appliance on and I thought, "This is so creepy." Then they took my picture and it ended up being on the cover of the DVD. I was so excited because I had never been on the cover of a DVD before, and then my parents framed the giant poster and put it in their hallway. Every friend I ever had that came over thought it was the creepiest thing that my parents displayed a picture of my mouth sewn shut and tears rolling down my face. But they were so proud!
Boy Meets World (1998-1999) — "Lauren"
LC: That was the first time I was given something where people from my hometown recognized me. I was at my hometown carnival and about eight kids ran up to me—they couldn't have been older than 8 years old—and yelled, "Homewrecker!" [Laughs.]  I thought, "Oh, my goodness. They hate you for a job you were so excited to get!" I didn't realize what I was doing was so damaging to the foundation of that show with [Cory and Topanga's] relationship.
Freaks And Geeks (1999-2000) — "Lindsay Weir"
LC: I'm so grateful that the Internet and the DVD came along because, otherwise, something like Freaks And Geeks would have been dead. At the time we made the show, those avenues weren't really available, and the idea of the show carrying on after it was canceled was something that didn't really happen. Now the landscape has changed so much that I was at a restaurant literally two hours ago, and the guy serving me said, "I know I'm late to the game, but I just discovered Freaks And Geeks and I love it!" It's amazing what's happening with IFC and Netflix where all these people who weren't around or didn't know when the show came out can now find it. And it sort of keeps it living forever.
Freaks and Geeks - Lindsay dancing to "Box of Rain" by Grateful Dead from Juan Montero on Vimeo.

AVC: Does the show take on a different meaning now that you're a parent?
LC: I have not watched it since I've become a parent, but I have a feeling it'll take on a different meaning. Everything seems to take on a new meaning when you become a parent and you put yourself in the shoes of the parent, not the shoes of the child. The relationship with Lindsay's parents was the most difficult relationship that she had to deal with. It was about breaking away while still loving them and rebelling in a way that makes you feel, at times, like you hate somebody when you really love them more than anything. I think the closeness of Lindsey and her parents was really important because that's something I had in my own life. I was extremely close with my parents. Breaking away from that is a double-edged sword: It's something you need to do, but it's hard to cut the apron strings.
AVC: In some ways, it illustrates the dangers of raising a smart girl. She can turn around and use your intellect against you.
LC: Or the dangers of raising a dumb girl. You never know what they'll turn out like. Now being a mother, Busy [Philipps] and I joke that there's going to come a time when we have to show my daughter the episode where I get high.
Legally Blonde (2001) — "Chutney"
LC: I thought the script was hilarious. I remember at the time, I was looking into it and my agent said, "It's kind of a cameo. I don't know if you want to do something like this." And I said, "I love it. I think it's hilarious, and I get to be the murderer. I've never been the murderer." Spoiler alert! So I had a great time, and I got work with a lot of fun people. That movie has such a following as well.
Scooby Doo (2002) / Scooby Doo 2: Monsters Unleashed (2004)—"Velma"
LC: When I was a kid, Scooby Doo was, hands down, my favorite cartoon. Even when I was older, when I was in college studying and I needed to tune out for a while, I'd watch Scooby Doo. It was always on, and it's been on for 30-plus years. I'd heard a rumor that it was supposed to be Mike Myers and Janeane Garofalo, and I was like, "I'll never get a chance to be in a movie like that." And then it came around that I had an audition for it. So I was like, "I'll probably never get this part, so I'm going to play it exactly like I thought it was while I was watching the cartoon." I went in there with the costume and I had this voice, and I did this gag where I lost my glasses and I made my eyes look like tiny slits because I remember watching the cartoon and seeing the animation and it just looked like Velma had no eyes, which you can't really do. In my mind, it was brilliant. Nobody laughed at that. I don't think anybody got that joke. So I thought, "Ugh, I was horrible. I've just embarrassed myself." I went home, and I was just beyond upset. But Raja [Gosnell, director] later watched that tape—he wasn't in the room—and he thought was one of the funniest things I did, and I went on to get the part. That was one of the first times that I ever really traveled with a film. I had never been around a movie that had that much behind it.  I got to take my parents to Greece and Japan to do publicity. When I was shooting in Australia for six months, all my family wanted to visit, but I have this gigantic family.  So they gave us these two first-class tickets, and my dad and I figured out that we could take however much these two first-class tickets were worth and divide it into 14 tickets. So I brought over my aunts, my mother, my father, my sister, my best friend, her family. It was great.
AVC: You did the voice for the Scooby Doo video game in addition to a few other games. How does video-game voiceover compare to animation voiceover?
LC: For the video games, you get a list of about 1,000 sounds you have to make. "Dying slowly," "impact with sword," "falling," "fainting," "magical spell." You have to create those sounds, which, half the time, sound like the soundtrack to an adult film. It's challenging, but you have to do similar things in animation as well. With animation, it's fun because the characters are more drawn-out, since there's an actual story. Pretty soon, I'm going to step back in front of the camera, but it's been a wonderful experience and interesting ride. I have to watch out; I don't let my kid watch cartoons yet because she's too small, but I love them so much. I try to keep the TV off in the morning, so I don't subject her to too much.
ER (2003-2009) — "Samantha Taggart"
AVC: It's different when watching it in real time, but looking at Sam's comprehensive story, it's hard not to think, "That poor woman has been through so much!"
LC: Well, that's an interesting thing. There's 22 to 24 episodes in a network season, and a character can go through so much. But when I was meeting with [ER producer] John Wells he said, "I have a couple of roles coming up on a few different shows, but I think this role is really interesting because she's a single mother, she has problems she's trying to run away from, and she's trying to make ends meet." At that point, I hadn't really matured as a woman on-screen. That part became fascinating to me once I was on set. I didn't intend to stay as long as I did. I figured I'd stay for a year and a half. But with the community there and the people I was able to work with both on and off camera, it was a beautiful place to spend time. I still keep in touch with those friends.
Brokeback Mountain (2005) — "Cassie"
LC: I'm a huge Ang Lee fan and a huge Larry McMurtry fan. That script is so beautiful. I remember spending 45 minutes auditioning and thinking, "I may not get this part, but it doesn't matter because I just spent 45 minutes getting directed by Ang Lee." When I got the part, to work with the talent that was in that film, including Heath Ledger, it was really a gift and privilege.
Grandma's Boy (2006) — "Samantha"
AVC: This movie won a lot of awards from High Times.
LC: [Laughs.] Wow! Well, it's not for nothing. We laughed so hard making that movie. It was so much fun to go to work every day. Nick Swardson is hilarious, Kevin Nealon is hilarious, Peter Dante is hilarious. We just had the best time. Nobody wanted to go home because we just laughed so much. It has a very distinct and very passionate following.
Return (2011) — "Kelli"
LC: Return is really exciting for me. It came out around February of last year, and it's managed to get a fair amount of attention for being a small independent film. It's going to the Independent Spirit Awards on February 23, which will be the first time I've even been nominated on my own. We were nominated as an ensemble for Brokeback Mountain for the SAG Awards. It's the first time anybody has given me such a hefty role in the film. The film means a lot to me, and so many people worked so hard on it. It's really a labor of love, and to have people recognize it just feels incredible.
AVC: You've said in addition to director Liza Johnson, there were a lot of women on set. Does that lend itself to a different kind of feel?
LC: It does. I love to work on a set whether it's mostly men or mostly women, but there's something about being in a community of women that changes the energy. There was a woman director of photography, a woman director, a woman producer on set. It was really fantastic for that reason. And Liza Johnson, who wrote and directed it, had a network of people she'd worked with who really believed in her and were willing to give anything to make the film. She really pounded the pavement to get financing for this thing. We got to do research together for a year while we waited for the money to come through, which it finally did. Every step of the way, she championed the project, and I was really fortunate that somebody trusted me with that role. It's been nothing but rewarding for me. It was a really great time in my life personally because I had just finished ER and I wanted to do some small, personal, character-driven films. I found this, and during that time I fell in love and had a baby. We think my baby might have been conceived in Cannes while we were there for the film.
Gravity Falls (2012-present) — "Wendy"
AVC: This is one of those rare kids' shows where parents seem to love it as much as their children do.
LC: It's really smart, it's really funny, and the two main characters are so endearing. Alex [Hirsch], Mike [Rianda], and everyone behind it are really smart, talented young guys who are doing an incredible job. It's got the mysterious element to it, which is why I said it was like Scooby Doo. My dad, who doesn't like anything animated, loves to watch it. And, at the same time, so do all the little kids I know. So it really spans generations. It doesn't discriminate.