"We got the highest rating in TV history—a 0.6!"

The last time Marge and Lisa teamed up on a creative co-venture, we got the lovely graphic novel Sad Girl, and the just as lovely season 29 episode, "Springfield Splendor." So the prospect of a mother-daughter collaboration on an original Springfield-centric community theater production inspired by Hamilton? Sign me up. Unfortunately, the resulting episode, "I'm Just A Girl Who Can't Say D'oh" is a listless, carelessly plotted outing, where character and narrative logic give way to plodding storytelling, a serious lack of jokes, and one of the least interesting (and yet vaguely irritating) B-plots in recent memory.
The plot takes forever to get going, as Springfield theater hack Llewellyn Sinclair (Jon Lovitz again, getting no laughs and too much screen time) botches the local production of Oklahoma. Marge steps out of Ado Annie's shoes and into a director's power pantsuit, Lisa chimes in with a Hamilton-inspired hip-hop musical ("But not real hip-hop" Marge reassures everyone) about Jebediah Springfield, and we're off. You know, after only a third of the episode has been frittered away on unfunny setup and a subplot about the Maggie-minding Homer stumbling into the local daycare center's daddy-daughter day and falling in love(?) lust(?) with the pretty nonentity teaching wiggly children's dances.
A word about that last part. Homer's dealt with temptation before, and quite memorably. (And, sometimes, infuriatingly.) Here, his impulsive infatuation with teacher Chloe takes the form of lies to Marge (who praises his fatherly dedication in spending time with Maggie), blandly rendered and limp fairytale fantasies, and, finally, a quick jump back to normal once Chloe reveals she's chosen to run off with another, recently divorced daycare daddy. There's a lot to be pissed about here. Homer's transgression might be more theoretical than in the past, but it still goes undiscovered, unpunished, and utterly un-reflected-upon by Homer. Maggie annoyedly tugs at his sleeve when he seeks to blow off the Chloe-less class, leading to a nod toward father-daughter bonding that lasts—and I'm being generous—four seconds before Homer gets caught in some playground equipment and the whole thing is forgotten. As far as unintegrated Simpsons B-stories go, this is easily one of the most inconsequentially tone-deaf.

G/O Media may get a commission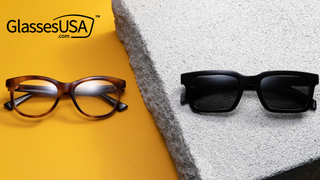 60% off frames
GlassesUSA.com Back to School Sales
And it takes away from the already rushed main plot, which would be more disappointing if either Marge or Lisa's artistic or emotional arcs in collaborating registered, even a bit. Lisa's legendarily fraught relationship with the criminal jerk who founded Springfield is well known, and her play, "Bloody, Bloody Jebediah" rings out with references to his racism, sexism, and how he died in ignominy after being bitten by a rabid beaver. Similarly, Marge's relationship with the theater has provided not only some memorable musical numbers, but also a truly affecting journey of empowerment, something that her blithe ignorance of Homer's indiscretion here highlights to this episode's detriment. Marge and Lisa are plugged into a plot whose promise is all but ignored.

Still, the idea of seeing Marge and Lisa work together to craft something ambitious, unique, and mutually rewarding could be, itself, a triumph. But it isn't, even if the pell-mell finale sees an outdoor, televised, Krusty-bankrolled production of "Bloody, Bloody Jeremiah" win not just plaudits from the audience, but a "best newcomer" award for Marge at a subsequent awards show. After the dissolution of Llewellyn's Oklahoma, the lead role in Lisa's play shifts from Mel (who ditches the production to play Prospero across town), to Frink, who, it turns out, has a crooner's pipes when not talking like Jerry Lewis. Fair enough, except that Mel and Frink aren't anything but plot devices here, and all the backstage bustle serves as a dull distraction from any sense of how Marge and Lisa are pulling off their joint venture. (They get in an F. Scott Fitzgerald quote-off right before opening night, but neither comes off as particularly invested.)

The snatches we get of "Bloody, Bloody Jeremiah" have a few clever rhymes, and showcase Lisa's uncompromising nature when it comes to sugar-coating her home town's shameful history, but, in the pantheon of Simpsons musical theater extravaganzas, this supposed showstopper is perfunctory at best. Partly that's because the episode tosses in a climactic freak rainstorm that, with narratively tossed-off speed, washes out all of downtown, leaving Frink to sing his final number to the half-submerged crowd from a rubber raft. Springfield's been summarily sunk in the past (although not very satisfyingly then, either), but never to so little purpose.

---
Stray observations
John Lithgow cameos as a largely non-speaking bear in "Bloody, Bloody Jebediah," but gets no chance to show off his legendary theatricality. Just imagining what a Kelsey Grammer-John Lithgow stage duet could do in a decent episode makes me depressed at how he's wasted here.
In addition to the full opening credits, the episode's running time is eaten up by a My Three Sons couch gag and a live-action musical number by the Flanders-inspired "nedal" band Okilly Dokilly.
I liked the runner with the Springfield thespians not understanding stage directions: "Impressed noise, you really know your stuff."
I also got a chuckle from how immediately the Oklahoma cast turns to violent destruction once Llewellyn is deposed, with one background player inexplicably taking a big bite out of a prop tree.
Take that, Judd Nelson.
"Show business is based on risk. Risk and comic books."