"Crystal Blue-Haired Persuasion" left me feeling tired. Not because it's a bad episode, necessarily—it's above average, as far as a season 30 episode of The Simpsons goes. The overall feeling left after this 30th Simpsons season finale is more one of rueful resignation that, for all the show's pedigree, its occasional flashes of former glory, and the ever-hopeful optimism of the lifelong fan, the long-awaited Simpsons renaissance is just never going to come. And that's a terrible shame.

The plot of the episode comes together from pieces of older (not to say better, but, yes, better) ones. Burns cuts his workers' child health coverage, and we think of Lenny braying "Dental plan!" Marge ponders Bart's reliance on ADD medication Focusyn once more, albeit to far less effect than the season 11 episode in which the issue was raised. (Fair is fair, that one wasn't the greatest either.) Bart lets down his mother ("The one person who still believes in you," says Lisa), and "Marge Be Not Proud" rises further in our estimation. Bart blurts "How do I make this guilt go away?," and the more Lisa-centric of us tear up thinking of Lisa's heartfelt and surprisingly gracious advice to her big brother in "Bart Vs. Thanksgiving," "The only reason to apologize is if you look deep down inside yourself, and you find a spot, something you wish wasn't there." Even Marge's central story, about her seizing upon gullible Springfieldians' crystal mania to build a temporary New Age empire, comes amplified with the echoes of better such stories of Marge empowerment. (Including, oddly enough, last week's season-best episode.)

Apart from the perhaps unfair backward-looking, criticism of "Crystal Blue-Haired Persuasion" has to focus on how the emotional beats the story shoots for are, themselves, just not very affecting or memorable. There's a perfunctoriness to the conflicts and conclusions thereof that flits by without registering as the best Simpsons episodes do. This is Marge's story, but neither her worries about Bart's health nor her empowering journey into "entrepreneuse" status carries enough weight. Meanwhile, Homer's snap decision to take advantage of Marge's newfound success (with her garage boutique, called, appropriately for her, Murmur) sees him turning into a stereotypical househusband, complete with leg warmer-ed workout sessions. It could be a satirical subplot, I suppose, but its simple comedic switcheroo never pays off. Then there's Lisa, whose obsessive quest to discover how the now crystal-sporting Bart is getting all A's turns on her being a spiteful little jerk more than anything resembling Lisa the skeptic at her best and funniest.

G/O Media may get a commission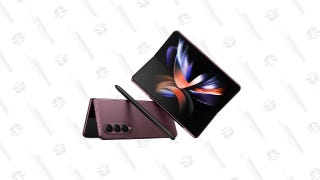 Save Up to $300
Galaxy Z Fold4
There are funny bits along the way. The script is credited to Megan Amram (her second), one of the premiere sitcom writers working today, and there are smartly observed little touches throughout that ring with Amram's signature style. Homer exclaiming in dismay, "I've got three kids, and they've all got health!" is the product of someone who truly understands Homer's voice. Bart taunting Lisa over his new crystal aid by telling her "It's made by your boyfriend, Lis, the Earth" is likewise pitch-perfect. (As is Flanders' happy description of Bart's "jiggly-wigglies" being cured by "this pagan hogwash.") 

Marge consults the website Hypochondria.edu for a list of side effects attributed to Bart's new generic ADD medication. The doctor, voiced with signature deadpan mordancy by guest star Werner Herzog of all people, runs down the escalatingly absurd list: musical flatulence; involuntary Memphis jookin'; sudden relocation (cut to Bart inexplicably in another part of the living room); and "a symptom that can only be be described as 'dolphining.'" (Concluding his presentation with a Herzog-ian condemnation of nature's amoral cruelty, the doctor then goes fetal and rolls himself into traffic.) Jenny Slate, funny as Marge's vindictive New Age rival, Piper Paisley, angrily claims that Marge can't set up her mall kiosk in the same "escalator dump-out zone." Homer's transformation sees him forming a book club for other idle men, their unread copies of The Girl With The Dragon Tattoo sending the heavily armed Cletus into a cold-eyed rage. (After ordering Lenny at shotgun-point to "dig deeper," Lenny ably gabbles out a terrified analysis of how Scandinavian neo-noir examines the disparity "between rhetoric and practice in Swedish policy.") All funny jokes that make the episode trot along with easy, enjoyable energy.

But it's not memorable. Season finales have never really been a major deal for a show as un-serialized and free-form as The Simpsons, but that this record-breaking 30th season ends with a breezy, incomplete, and forgettable outing destined to melt into the mush of the next all-weekend FXX marathon's latter two-thirds is, again, a little tiring. For all the talent still on hand—and, in Amram's case, brought in—a season-ender like this suggests, rather depressingly, that The Simpsons has simply become too much of a vaguely diverting cruise ship to ever truly navigate its way back to the exciting creative waters where it was born.
---
Stray observations
Not to pigeonhole Amram as the funny store names writer, but FAO Quartz is pretty solid.
FAO Quartz signage: "Essential Oils;" "Frivolous Oils." Plus the book, Everybody Goops.
The list of sitcoms upon which Werner Herzog has guested but almost certainly never watched continues to grow.
Homer mocks Marge for supposedly costing them the option of ACA health coverage, thanks to "those corporate tax cuts we all wanted." Grumbles Marge, "Every time Ann Coulter has a cold, you think she's me."
That's Illeana Douglas as the old lady who runs FAO Quartz. She has a plotline about joining a cult whose baffling pointlessness carries over to the final credits tag of the season, for some reason.
There's a time-filling dream sequence where Marge and Homer smooch in a all-crystal fantasy world (compete with a visit from a certain coyote). It's pretty, but no Land Of Chocolate.
And that's a wrap on The A.V. Club's reviews of The Simpsons, season 30. As ever, it's been an honor, and a pleasure. Yes, really. See you in the fall for season 31.