In more ways than one, and true to its title, Dragged Across Concrete is abrasive. It comes from the mind of S. Craig Zahler, whose last grisly, leisurely, and evocatively named genre experiment, Brawl In Cell Block 99, climaxed with some rather literal abrasion: a face being loudly scraped against the hard floor of a prison cell. This time around, it's not just the violence that's wince-worthy. Zahler has written and directed a throwback police potboiler about a couple of racist loose-cannon cops, and he's come dangerously close to sympathizing with their plight and their toxic mindset. Plenty will be repulsed, and not unreasonably: This is an ugly, borderline vile piece of work. Thing is, it's also been made with craft, wit, and a frankly exhilarating disregard for how films like this are supposed to operate, how they usually sound and move.
Zahler, who launched his career with the thrillingly eccentric cannibal Western Bone Tomahawk, has been accused of harboring a reactionary worldview. Dragged Across Concrete either confirms those suspicions or winks at them. Its casting alone is a provocation, placing two of Hollywood's most high-profile conservatives—together again after Hacksaw Ridge and stonily staring down a Meryl Streep acceptance speech—in the roles of unrepentantly brutal policemen. We meet Ridgeman (Mel Gibson) and his younger partner, Lurasetti (Vince Vaughn), during a bust that gets them in hot water—a queasily jokey encounter that begins with one of them applying excessive force to the neck of a Latino drug dealer and ends with both callously humiliating the perp's naked girlfriend. They end up suspended when cell-phone footage of the arrest goes public, though their commanding officer (Don Johnson) feels raw about it.

Does Zahler identify with these human battering rams, with their complaints about a world where "political correctness" runs amok, where men act too much like women, where being labeled a racist can ruin your career? He doesn't condemn them, exactly. They're flawed but uncomfortably "likable" antiheroes, not outright villains—in part because Gibson, flintier than he's ever been, and Vaughn, who Zahler credibly transformed into an old-school badass in Brawl, lend their characters a bruised humanity beneath the loathsome shit talk. The old-new hook of Dragged Across Concrete, which seems designed to offend, is that Zahler has inserted a couple of paradigms of '70s macho cool into a world that now recoils from them. It's as if Popeye Doyle were still cracking heads and racist jokes in 2019, nostalgically pining for the good ol' days.

G/O Media may get a commission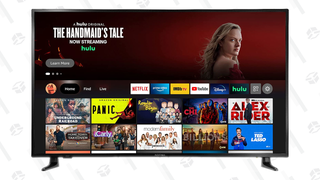 38% Off
Insignia 50" 4K UHD Smart TV
One could argue that neither are actually the protagonist. The first person we meet, after all, is Henry Johns (Tory Kittles), a black ex-convict being drawn back into a life of crime to support his struggling family. (That the film respects this rationale, and paints the character as possibly the most virtuous in a story with no conventionally "good" guys, at least complicates its #BlueLivesMatter appeal.) Henry will eventually cross paths with the two suspended cops, but not for a while. At a whopping two hours and 40 minutes, Dragged Across Concrete drags its feet, subverting the conventional wisdom that the best genre fare is ruthlessly efficient. That's the unintuitive charm of Zahler's work, which always takes the roundabout path, favoring prelude and delayed gratification. Here, the filmmaker makes a whole meal out of the "boring stuff" most thrillers dispense with on the way to the "good stuff"—ingeniously extending the standard "Are you in or out?" conversation that precedes a big job and devoting a few spare minutes to the home life of a side character (Jennifer Carpenter) about to be violently thrust into the middle of the story.

That story, incidentally, turns out to be pretty straightforward. Hard up, Gibson's Ridgeman talks Vaughn's Lurasetti into a side hustle with an indeterminate payoff, a stakeout to rip off some even shadier customers. Unfortunately, their targets are into something much bigger and deadlier than a mere drug or weapons deal. When the violence does arrive, it's stark, visceral, and harrowing—Zahler both lays on the gore and captures it with dispassionate medium-take clarity, as if trying to bridge the arthouse and the grindhouse. Part of the perverse "fun" of this postmodern, nastily nihilistic movie is the way it takes what would be a single set-piece in a normal crime picture and extends it to nearly feature length. Yet the meat of Dragged Across Concrete is the supposed downtime, the scenes in the front seat of a car, watching two characters chew the fat (and the egg salad sandwich), working out the logistics and the ethics of their predicament. Zahler, one realizes, is the rare indie hotshot to take the right lessons from Tarantino's playbook: not just to keep the dialogue hilariously flavorful but also to supply interior lives to his archetypes.

Conceptually and stylistically, it's a tour de force. All that's really required to enjoy the high-low B-movie pleasures is a strong tolerance for repulsively intolerant characters, and maybe a belief that this is one case where depiction does not equal endorsement—never mind that certain subplots, like the one involving the black kids harassing Ridgeman's teenage daughter, seriously challenge that assumption. And of course, there's also the tall order of stomaching Gibson in any role, even one that plays off his bad reputation and puts his advancing years to good use. "I don't politic, and I don't change with the times, and it turns out that shit's more important than good, honest work," his disgraced cop grumbles at one point, in a screed that must resonate with the actor delivering it. Like this new character, the one-time Martin Riggs is unapologetic. It's him you want to see dragged—out of the spotlight, at least.