In an effort to both serve our readers and help support The A.V. Club, we are going to post daily links to deals and interesting items that we find over on Amazon. If you use these links to click through and buy something—not just the thing you clicked—on Amazon, we will see a portion of that income. You don't have to do that if you don't want to, but if you do, know that we appreciate it.
While it's important to know your roots, it's almost as important to know the roots of your favorite TV shows. Amazon's Prime streaming service is pretty into digging into that sort of background material and offers a number of different classic TV shows that we, The A.V. Club, fully endorse. Take, for instance, Cheers. The first nine seasons of Cheers are available on Amazon for free, provided that you either pony up for the yearly Prime membership or sign up for a 30-day trial. While Prime might seem expensive up front, at almost $100, it includes free Amazon shipping, access to Audible Channels, and a whole library of both music and video to stream. Why pay for Pandora or Spotify, for instance, when Amazon's got all your favorite tunes included in something you're already paying for?
G/O Media may get a commission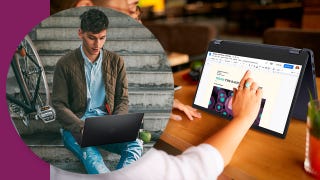 Ends August 15
Best Buy Anniversary Sale 2022
Ends August 15
Best Buy has a number of different promotions happening all for its Anniversary Sales Event. Laptops, tablets, TVs, you names it. Whether you're heading back to school or just trying to fill your home with some new tech, there is something here on sale that you've likely been waiting for.
With The Magnificent Seven set to hit theaters next weekend, Amazon has put a bunch of classic westerns on sale on its site. Some, like Broken Lance and The Gunfighter, are free to stream with a Prime membership, while others, like The Undefeated are available with a Starz streaming subscription. If you don't want to go the subscription route, though, you can also pony up $3.99 to rent The Undefeated, The Comancheros, and more flicks, thus widening your base of cowboy knowledge.
Don't you need a nicer keychain?
Haven't you always wanted to make your weekly Euchre games even nerdier?
According to the listing, this set "features iconic design" and boasts an open cockpit, blaster pistols, and four different minifigures.
This 14-DVD set spans Carlin's entire 30-year career and includes a number of his live shows and best bits.
Sure, you could just cook bacon on a paper-towel-covered plate in the microwave, but wouldn't it be more fun to have a special kitchen accessory that took a little of the work out of the whole process?