I joke a lot about various sitcom plots being Three's Company-worthy, but one of Modern Family's escapades this episode actually was straight out of that silly '70s sitcom. Jay has to pretend to be gay for Cam's bowling team, the Britney Spares. Fortunately, Ed O'Neill, whose Jay is newly shaken by a bad I.D. photo at Costco, gives this farcical plotline its necessary weight. He has wonderful chemistry with guest star Oliver Platt, another one of Cam's arch-rivals who sweetly nurses a crush on Jay. Somewhere between Kevin Costner and Channing Tatum, how could he not?
The expected route would be for Jay to get all indignant and refuse to play along ("You tricked me into coming here, you made me gay, now I have a boyfriend!"). Instead, Jay respects Cam's competitive streak. He also has some really warm scenes with Platt's Martin, the assistant manager of a Michael's. Jay is flirty without menace, so endearing that poor Martin is of course compelled to ask him out in a stammering invitation. Jay turns him down so graciously, it's lovely to witness. He even respects Martin enough to come clean at the end of the (really long) bowling tournament, losing Cam's trophy in the bargain.
Modern Family so often starts with the standard sitcom trope, but the show really excels when it rises above the norm and takes a different turn. This happens in two out of three of the shuffled-character plots in this episode. Claire and Phil have battled their trashy neighbors (Steve Zahn and Andrea Anders) before. But after bonding over a disdain for a tasteless statue on the neighborhood, the couples share a dinner out. The Dunphys discover that the Ronnie and Amber have better taste than they realize, with good choices in expensive wine and restaurants, and a kid that's going to Juilliard. Claire even gets schooled on drinking cabernet with fish.
No one pulls off physical comedy in this show like Phil, so the aftermath of the dinner out—the decision to use Ronnie's truck to get rid of the statue—is appropriately hilarious. Only Ty Burrell could make the most of straining to talk through the cracked window, as well as pealing out after knocking over the statue. Phil and Claire indulge their rebellious sides enough here to vandalize personal property and lie to the cops afterward, but there are limits. Ronnie and Amber, for all their exemplary qualities, still exist outside of those limits on the outskirts (in a land that features group sex with the neighbors).
G/O Media may get a commission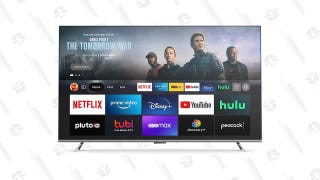 Save 46%
Fire TV 55" Omni Series 4K UHD Smart TV
The clunker plot this episode: A possibly potent combination of Haley, Gloria, and Mitch fizzles out on the couch as they battle to head out for a late night of dancing. Sarah Hyland, as usual, does her game best, offering them the cocktails of their relative peoples, mojitos and cosmos, and suggesting that they go dancing in the daytime instead.
Everyone is fighting their age and convention here: Jay's Costco picture, Claire and Phil not being the kind of people who would normally vandalize a pornographic statue, Gloria's worry that if she and Mitchell don't make it out of the house to go dancing, it will mean that they're really old. Of course, everyone reverts to type at the end: Jay comes clean, Mitch and Gloria bolt from the club, and Phil's boy-scout status actually gets the foursome out of trouble with the cops. We may rage against going "gentle into that good night," which is about the darkest interpretation I could come up with here, but in the end, we still are what we are. Exhausted parents (even of invisible children) Mitch and Gloria are not going to be able to party the way they used to. Cam will rarely beat out his many arch-rivals. For all their conventionality, Phil and Claire will continue to support a rebellious streak. Even Ronnie and Amber, despite their pricey wine and symphony-writing kid, are still a couple with flames on the side of their truck who appear to be down with wife-swapping. And no matter what his age is, Jay is going to be a grumpy man who turns out to be rather nice in the end.
Stray observations:

"You go to bed right after you get mad at the news!"

SNL director Beth McCarthy-Miller, who has helmed several Modern Family episodes (including this one), also directed the best Kimmie Schmidt outing, "Kimmie Rides A Bike!" She shows her knack here with some exemplary comic timing, like Ronnie bragging about hiding in plain sight just as the flashlight hits his face.

I am a horrible bowler, so was very impressed by the fact that it looked like Ed O'Neill and Eric Stonestreet were really bowling strikes.

Jay worries that Martin doesn't think he's gay because he's not handsome enough. Cam has a great response: "Perfect. Insecure and superficial, that's a great start."

I will always be happy to see Steve Zahn in anything, and I'm including the Diary Of A Wimpy Kid movies.

Cam's all-time top four moments: Adopting Lily, marrying Mitch, high-school football championship, and sitting behind Sarah Jessica Parker at Wicked.
That last scene of Alex and Luke was such a throwaway as to be painful, as well as exceedingly awkward.

So, I guess Joe and Lily are old enough to just stay at home by themselves now?

I totally laughed at the bad-boy gag.

What a world it would be if people would just learn to hate more.

Next week: David Kallison will be here to cover Modern Family's look at "Integrity."