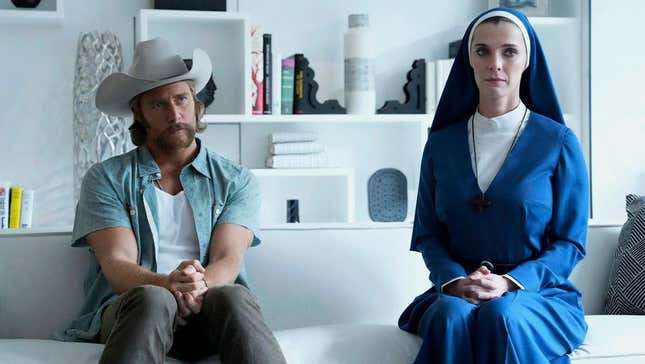 Stop us if you've heard this one before: A cowboy, a nun, and her mother go on a quest to destroy the Holy Grail. Along the way, they encounter a secret society of militant lady bankers, Schrödinger's cat, a sneaker-hoarding priest, and the Prime Minister of Spain. And that's just the tip of the iceberg.
Ryan Reynolds and Rob McElhenney are doing the race car thing now
Mrs. Davis, Peacock's freewheeling series from Damon Lindelof and Tara Hernandez that premieres April 20, takes the overused term "genre-defying" and turns it into a meta-commentary on the nature of faith, personal mythology, and the singularity. It brings to mind dozens of influences, among them Indiana Jones, The Hitchhiker's Guide To The Galaxy, Moby-Dick, and The Da Vinci Code. Bizarre, shaggy, funny, and surprisingly profound, Mrs. Davis isn't a show so much to be described as experienced. Still, we'll try our best.

The premise couldn't be timelier: In a world much like our own, an omnipotent artificial intelligence called Mrs. Davis has wormed its way into the lives of most everyone on Earth. Users claim that she—or, depending on whom you talk to, it—has effectively eliminated war, famine, and all other strife, creating a quasi-utopian society free from doubt. Its detractors, however, see the AI as an insidious force robbing humanity of privacy, free will, and faith in the unknown.

Chief among Mrs. Davis' haters is Sister Simone (Betty Gilpin, clearly having the time of her life), a nun living in a ramshackle convent on the outskirts of Reno. In her spare time, she hunts down rogue stage magicians on horseback and pays regular visits to a sweet-natured mystery man named Jay (Andy McQueen).

She avoids Mrs. Davis like the plague, believing the AI is responsible for the death of her father (David Arquette). But Simone finds her life turned upside down when the algorithm, speaking by proxy via her many followers, makes her an offer too tempting to refuse: Find and destroy the Holy Grail, and the AI will shut itself down for good.

At the same time, Simone's old flame Wiley (Jake McDorman) swans back into her life. Simone and Wiley's journey will take them from Reno to England to Italy to the high seas, never certain whether they're on an actual quest or being drawn into what amounts to a live-action RPG by the various factions they encounter along the way.

A plot this twisty and weird is to be expected from Lindelof, the man behind what-the-fuck classics Lost, Watchmen, and The Leftovers. What's surprising is that Mrs. Davis is the brainchild of Hernandez, whose previous credits amount to nearly 200 episodes of The Big Bang Theory and Young Sheldon. And thank god she's gotten the chance to give her considerable imaginative talent free rein.

Mrs. Davis couldn't be further from the mainstream, basic humor of those CBS sitcoms. For one, the series isn't afraid to bewilder and shock viewers, going from rollicking fun to dark, complicated reflection. For another, it's actually funny—hilarious, in fact. In the vein of Shaun Of The Dead and What We Do In The Shadows, Lindelof and Hernandez's series clearly loves the genres it's parodying, from Westerns to heist movies to religious parables.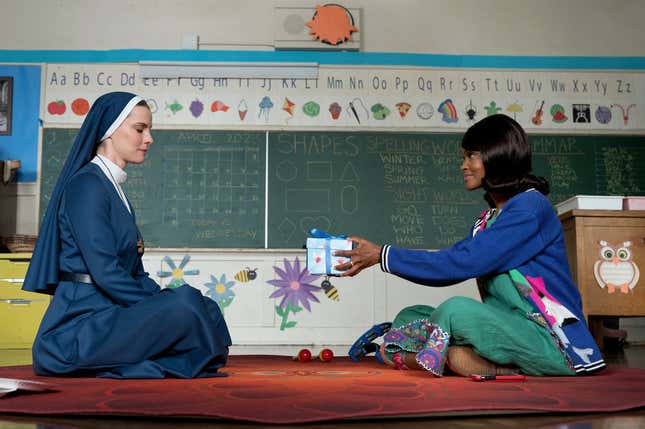 But it's also deeply committed to taking the wind out of the sails at every turn; think of that Raiders Of The Lost Ark scene where Indy shoots the guy with the scimitar mid-flourish. ("I know what you're thinking," one of the many super-intense people Simone encounters on her quest says after handing her a dangerous mission. "I have to pee first?" she replies.)

Mrs. Davis couldn't have found a more perfect lead than Gilpin, who has been outspoken about the lack of interesting, thorny roles for conventionally attractive actresses. Anyone who's seen her memorable turn in Netflix's gone-too-soon GLOW or Apple TV+'s flawed-but-fascinating Roar knows that Gilpin is one of the most audacious, interesting actors working today. Her line deliveries are always surprising, and she can move from detached sarcasm to very real tears at the drop of a wimple. In Mrs. Davis, she's called upon to make those rapid emotional shifts time and again, and she never fails to deliver. Simone is a fun, ballsy, wry character whose breezy detachment conceals a deep sense of faith and purpose—plus some heavy childhood trauma.

The series wisely pairs her with heavyweights Elizabeth Marvel as Simone's withholding mom and Margo Martindale as the mother superior of Our Lady Of The Immaculate Valley. Among the many themes Mrs. Davis explores is the complexity of mother-daughter relationships, whether that mother is biological, spiritual, or algorithmic. As Celeste, Marvel plays the formidable archetype of the toxic mother with equal parts imperious passive-aggression and carefully concealed regret. Martindale is the other side of the coin as Simone's patient, loving surrogate mom who nonetheless isn't afraid to get frank.
McQueen and McDorman are equally polarized as Simone's two love interests; though, as Wiley shouts after her at one point, "I'm not the love interest! You're the love interest!" Jay is all placid benevolence mixed with natural sex appeal, and McQueen (Station Eleven) plays him as a man for whom both seduction and devotion come easily.

McDorman (The Right Stuff), meanwhile, is dancing as hard as he can to prove to both Simone and himself that he's a fearless, dependable macho man. But really, he's just playing dress-up—never clearer than when he's chanting his resistance group's hilarious mantra, "You're a big, strong boy, everybody loves you, you're never gonna die." McDorman is charming as hell, and he and Gilpin share a crackling love-hate chemistry in the vein of Harrison Ford and Karen Allen in Raiders or Brendan Fraser and Rachel Weisz in The Mummy.

Wiley's underground resistance sends up the kind of masculine insecurity that has its seeds in everything from Fight Club to the men's rights movement. At any given moment in the group's secret HQ, there are a handful of dudes in the background deadlifting, amping each other up, or delighting in the high-tech gadgetry they use on missions as if they were playing with G.I. Joes.

Perhaps the funniest character in the show is JQ, Wiley's hunky right-hand man with an allergy to shirts. Chris Diamantopoulos (Silicon Valley) plays JQ with such performative machismo and little-boy glee that you can't help but love him. Elsewhere, Ben Chaplin balances out the series' madcap vibes with calm, world-weary energy as a scientist living on a desert island.

Mrs. Davis is a pungent flavor, and we have a hunch many viewers will find its sugar-rush energy and overstuffed plot off-putting. The series is bursting with so many ideas, characters, and locales that it sometimes threatens to topple under its own weight. But don't worry—this isn't Lost. This time around, Lindelof has a plan, and come the season finale, he and Hernandez tie up the loose ends in ways that are both existentially profound and very, very silly.

If Everything Everywhere All At Once's recent Oscars sweep has proven anything, it's that we're living in an age of maximalist entertainment, when the barriers are crumbling between so-called "serious" screenwork and weird, trippy fun. And if that brings us more shows like Mrs. Davis, thank algorithmic god for it.
---
Mrs. Davis premieres April 20 on Peacock.