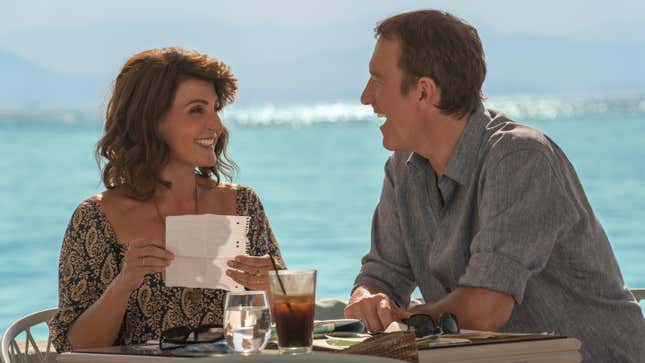 Way back in 2002, a relatively obscure little indie film achieved the seemingly impossible, capturing the imagination of audiences and racking up more than $350 million at the worldwide box office, becoming the highest-grossing romantic comedy of all time. Written by and starring Nia Vardalos, My Big Fat Greek Wedding centered on the shy, single, 30-something character of Toula Portokalos, the daughter of Greek immigrants, who falls in love with non-Greek schoolteacher Ian Miller (John Corbett). But fast forward to 2023, with the arrival of My Big Fat Greek Wedding 3, and it seems fair to question whether moviegoers really need another extended visit with the Portokalos family, especially after the underwhelming 2016 sequel, My Big Fat Greek Wedding 2.
The A.V. Club's weekly film round up
The answer to that question, for the most part, is a welcome yes, as My Big Fat Greek Wedding 3 marks a return to form of sorts for the franchise. While it's highly unlikely this installment will achieve the box office returns of the original, it's the best-crafted film in the series, thanks in part to Vardalos taking the reins as director. Leaning into her experience as a screenwriter, Vardalos balances comedy and emotion, and her familiarity with the cultural setting, as well as her affinity for the sprawling cast, reap dividends onscreen. The result is a level of authenticity and depth that wasn't as evident in the first two outings.
Shifting the location of the third film to Athens and the island of Corfu, rather than the Chicago (actually Toronto) of the previous outings, along with reuniting most of the original cast, greatly enhances this sequel's appeal, assuring that longtime fans will see new sides of the film's familiar characters and that newcomers will discover a vibrant ensemble invigorated by the island's idyllic charm.

Michael Constantine, who played Toula's father Gus, passed away before production began, so Vardalos rewrote the script to open the film as the Portokalos family gathers to honor Gus with a plan to fulfill his request for them to visit Greece for a reunion of former residents from his hometown. Gus had hoped that the celebration would also offer Toula the opportunity to deliver the journal he kept after immigrating to the U.S. to his three boyhood best friends, so they would understand his lifelong journey.
As usual, the Portokalos family would never permit one of their own to perform such a momentous task alone, so despite Toula's fervent wish to spend a carefree vacation with just her husband Ian and their college-age daughter Paris (Elena Kampouris), she instead gets most of the immediate family in the bargain. Of course, Toula's brother Nick (Louis Mandylor), along with aunts Voula (Andrea Martin) and Frieda (Maria Vacratsis) are included, although her mother Maria (Lainie Kazan), who is suffering from dementia, remains at home. Awkwardly enough, Paris' ex-boyfriend Aristotle (Elias Kacavas) also turns up, after her meddling Aunt Voula recruits him as her travel assistant.
With ample servings of souvlaki and spanakopita assured, the group sets off for Corfu and a picturesque hilltop village presided over by the local mayor, an enthusiastic young woman named Victory (Melina Kotselou), who has organized the hometown reunion to help reinvigorate the settlement, which is now almost deserted following the emigration of much of the population. One of the few exceptions is Gus' former acquaintance Alexandra (Anthi Andreopoulou), who loans them the use of a local home. As the reunion date approaches without any additional guest confirmations and Toula seemingly unable to locate her dad's childhood friends, Victory assures the Portokalos clan that the celebration will go off as planned. Meanwhile, she encourages them to enjoy the island and let Toula and Ian get some vacation time.
Victory's recommendation serves as the impetus for cinematographer Barry Peterson to show off Corfu's stunning landscapes and ample tourist attractions, including inviting beaches, local markets, and traditional dining. As with all the films, Greek food plays a significant supporting role throughout, with mouthwatering shots of glistening roasted meats, plump ripe vegetables, and tempting baked delicacies.
Over the course of the franchise, Vardalos has benefited from the enthusiastic backing of Playtone producers Rita Wilson, Tom Hanks, and Gary Goetzman (Wilson herself is of Greek descent and had a role in the second release). Their support for her to take over directing duties was clearly the right approach. Her rapport with the actors elicits some notable performances, particularly from Mandylor as Nick, who has finally shed his juvenile antics in favor of a soulful commitment to Portokalos family unity.
Corbett, meanwhile, takes more of a backseat role in what might have been a missed opportunity to deepen Toula and Ian's relationship, but Martin steals almost every one of her scenes, consistently cracking wise as the irrepressible Aunt Voula and still rocking the distinctive bouffant wig that Vardalos has provided for every one of the films. And never fear, faithful to the movie's title, there's of course a wedding celebration to cap off the festivities. Although Vardalos' initial feint early in the narrative may not pay off as expected, it's still a joyous family celebration. Opa!
My Big Fat Greek Wedding 3 opens in theaters September 8