The New York Times briefly switched its motto to "All The News That's Fit To Piss People Off" today, earning widespread ire for a profile on an Ohio white supremacist that seemed more happy to praise his good manners than condemn his hateful rhetoric. Responses to "In America's Heartland, the Nazi Sympathizer Next Door"—in which reporter Richard Fausset sits down with his subject at both a Panera Bread and an Applebee's, those two bastions of suburban fast-food normalcy—have been swift and angry, accusing the Times of running a piece about the dangers of normalizing Nazis that actively normalizes a Nazi in the process.
Some people are pissed off at the inherent hypocrisy of the piece, posting an image comparing the Times write-up today to the paper's far less sympathetic coverage of black men gunned down by police in the past:
Others cited Fausset's own words, printed in an accompanying editorial in which he essentially admits that he'd failed in his actual goal, teasing out why this fine young man whose "Midwestern manners would please anyone's mother" had adopted the kind of radical views that moved him to hop online and write things like, "At this rate I'm sure the presidential candidate they'll put up in a few cycles will be an overweight, black, crippled dyke with dyslexia" or tout "victory" at the Charlottesville rally, in which he was an active participant.
G/O Media may get a commission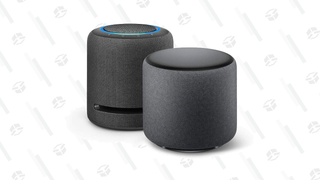 25% off - Prime Exclusive
Echo Studio + Echo Sub Bundle
And others, in the grand tradition of the internet, just dunked, powered by rage at seeing the paper of record fill this guy up with the asshole fuel that is attention, up-to-and-including directly linking to a merch page selling swastika-emblazoned armbands being marketed as "Nazi LARP."
If we squint, it's possible to see some positive intent with the Times' piece, but it seems to rely on the assumption that everybody reading it already knows that white supremacists are toxic shitheads, so the condemnation of this guy's rancid politics can be taken as read. In response, we might suggest the Times take a look at the political landscape of 2017 and see just how optimistic such an assessment of good faith in the average American actually is.