"I'm back hosting Saturday Night Live for the fourth time for no reason."

"I'm not an actor, I'm a [basketball, broadcasting, basketball] star!"
Yes, Charles Barkley has now hosted Saturday Night Live four times. Which isn't a complaint or a joke, really. Barkley has always been a charismatically outspoken guy, a trait that's served him well as he's transitioned comfortably into a post-hoops broadcasting career, and seen him lending an authoritative voice to political and social causes he believes in. During that whole "the Republican Party is backing a virulent bigot and probable child molester" thing, Alabama native Barkley's condemnation of senate candidate Roy Moore drew the wrath of the Fox News "just shut up and dribble" brigade. In his monologue, Barkley addressed Fox dog-whistler Laura Ingraham for lobbing that phrase at similarly outspoken black athlete Lebron James, praising James and other vocal athletes, and reassuring them that he's been saying whatever the hell he wants for 30 years, and that he's as big a media star as he ever was on the court. Barkley's outspokenness sees him saying some stupid shit from time to time, but the sight of him using his time on the 8H stage to shut down those who'd silence black men (he name-checks Muhammad Ali and Jim Brown) for being "just athletes" was both expected, and sort of stirring.
The thing is, Charles Barkley is not an actor. Or a comedian. Or, really, someone who is remotely comfortable performing as anyone but himself. (And even then, his monologue was a stutter-stepping affair.) Calling in Barkley to lead the charge out of the Olympics hiatus is not exactly leading with a ringer, is what I'm saying, and this episode never found a way to use Barkley's all-presence/no-acting skill set properly. Very few athletes have covered themselves in glory hosting SNL, and while Barkley—now one big game away from the keys to the Five Timers Club—is never going to drag an episode down like your Nancy Kerrigans, your Deion Sanders, or your George Foremans, he's not exactly the way to roar back into the second half of your season.

Barkley's upper and lower limits were on display most clearly in the dating show parody, Hump Or Dump, where the absurdist conceit that his bachelor keeps telling Aiy Bryant he'll kill himself if she doesn't pick him works fine when his Chuck gets to butt in with angry, three-word pronouncements. When he has to go longer, Barkley loses the immediacy in some heavy cue card scanning. The one sketch where Barkley felt at home, oddly enough, was the construction worker piece, where, as one of a gaggle of gruff New York laborers, he, along with his unlikely cohorts, really gets into a speculation of what women's fashions they'd wear. "Women get to echo the seasons in such playful ways," is a fine line reading, no matter your game.
Weekend Update update
I don't know if Michael Che caught Barkley's case of the stumbles when he came out during the monologue, but Che fumbled through a couple of jokes, uncharacteristically. It didn't kill Update, but it did suck the life out of what was shaping up to be another of Che's confidently brash mini-editorials, this one about gun nuts, hunting, and gun control. Other than that, this was another solidly unremarkable outing. Colin Jost had the best line, about departing White House Communications Director Hope Hicks. ("Only in this White House could a 29-year-old with no experience who works directly for the President of the United States think, "I gotta get out of this dead end job.")
Staying with Hicks, Cecily Strong busted out what looks like a one-time impression of the questionably qualified "white liar," Hicks, playing up the self-obsessed dimness while allowing tiny glimpses of self-awareness at the Donald Trump shitshow she's fleeing slip in around the edges. Cecily Strong is a fine comic actor, and while SNL has had a baffling tendency to present the women of this administration as much more reluctant participants than the real world versions ever suggest they are, Strong's Hicks is conceived with a naivete that, yet, draws on harsh truths enough to lend the piece some bite. That Hicks was involved with not one but two Trump associates accused of violence against women emerges here as her first mooning over the "bad boys" of the White House before she reluctantly confesses to Jost that they're "bad men, really bad men," with just the slightest hitch in her otherwise chipper delivery.
Kyle Mooney came on to give his Oscar picks, a bit quickly revealed as a sweaty excuse for Mooney to hint around that he's still looking for an invitation to Jost and Che's rumored Oscar party. While comedy partner Beck Bennett has more comfortably slipped into more regular work on the show, Mooney's remained largely in his own weird little niche, and I like him there. As ever, Mooney plays a character (here, one named Kyle Mooney) whose desperate desire for acceptance and love wars squirmily with the fact that his parade of sad-eyed, ingratiating characters aren't likely to be much fun to be around. Jost and Che do fine work playing cool kid straight men, awkwardly trying to avoid telling the truth that Mooney, with his forced camaraderie ("Big Miiiiike!") and knockoff kicks, just doesn't fit in.
The SNL cast member who benefited most from the Olympics break was Leslie Jones, who came on to give her report on her time as NBC's unofficial Pyeongchang correspondent, bringing along smiling gold medal hockey champ Hilary Knight to help out. Mostly, Knight helped out in shaming Jost's patronizing attempt to teach newly converted hockey fan Jones (or, "Penalty Box Jones," as she casts herself) a few moves from his—I'm guessing—intramural college hockey days. Sure, Leslie still loves her some Jost—he's her "snow muffin" this time out. But it's fun watching Leslie and Colin's relationship admit a few new colors, and, if one suspects Jones has more Olympics material for her standup than she got to here, her sarcastic listening face while using Knight to embarrass Jost was pretty great.
Best/Worst sketch of the night
The construction sketch was the best of an indifferent bunch tonight, taking off from the "sexual harassment is bad" theme into a loopy but well-realized and, in its own way, sweetly human direction. (Chris Redd blurting out that, if men had the same fashion freedom as women, he'd wear "high-waisted harem pants—there, I said it!," was great.) Plus, everyone involved—Barkley included—threw themselves into their briefly-sketched characters with everything they had, Kenan's heaviest-accented worker leading the pack. And Bennett's lone holdout finally revealing his inability to join in stems from "toxic masculinity" robbing him of imagination and courage enough to express himself like his coworkers is, again, sort of sweet.
"The Grabbies" sexual harassment in Hollywood piece, too, went after the issue, the awards show setting picking up bite from the current controversy surrounding allegations against ubiquitous red carpet gadfly Ryan Seacrest in advance of Sunday's Oscars. The jokes here were on target, if unimaginative, with various (fictional) stars showing up to compete for their sex-creep awards while mouthing a variety of the hypocritical excuse-making in vogue with the accused and desperately spinning. The one really funny touch is that co-host Cecily Strong keeps losing male partners throughout the broadcast, each cut back to home base seeing her standing next to another smiling, nervous guy. Chris Redd's anxious interviewer pops in with the smooth segue, "Nice to be here, is this a trap?" (Tune in to tomorrow's Oscar pre-show to see how this all plays out in real life.)
Barkley got to bark amusingly in another sketch tonight, as his well-meaning public access educational host coped with an endless barrage of callers accusing him of having sex with his squeaky voiced puppet sidekick pal. Here, as in the game show sketch, Barkley imbued short, irritated outbursts with effectively funny anger, especially when berating his too-trusting call screener (Aidy). ("Patty, use your head, man!") And Aidy's smug response, "Well, they lie to me and the Lord will judge them for it," packs in a great deal of information about just what else Barkley's host has to deal with every day.
"What do you call that act?" "The Californians!"—Recurring sketch report
Sheila Sauvage. Trump.
"It was my understanding there would be no math"—Political comedy report
And here's Trump. Alec Baldwin was back, here alongside Bennett's Mike Pence and Strong's Dianne Feinstein in a recreation of last week's gun control meeting, where Trump managed to freak out/delight people on both sides, seemingly at random. The cold open, as ever, played out more like a checklist of the week in Trump's gabbling nonsense built around a mediocre impression. (The joke about Trump needing a list of statements to seem human when talking to the student survivors of the latest school shooting provided an apt parallel.) I've said it too often, but Baldwin—tetchily trapped in a role he thought he'd shrug off after 2016—is a resolutely average Trump, the wig and mannerisms less an impression than an exercise in targeted Trump-needling from a slumming star. That being said, these sketches are rarely much more insightful, settling for moderately clever applause lines whose perfunctory punches land hardest simply by virtue of how absolutely infuriated they make the quick-thumbed, tweeting Trump.
There's no shortage of things about this president to go after. And the gun control meeting—where Trump's scattershot pronouncements kept Republicans and Democrats alike looking to grab hold of any single coherent position they could—was ludicrously fruitful enough to fuel any number of comic premises. But this was a checklist. Trump claiming he'd rush any school shooter he saw, Trump inappropriately praising his daughter's looks, Trump imposing tariffs in defiance of economists, both parties, and any semblance of sense—the laughs come from noting and moving on, Baldwin's fish-mouthed impersonation buffooning things along. Kate McKinnon showed up as Jeff Sessions with a creepy flourish, which is always welcome, but Saturday Night Live—with the ear of an audience of one very vulnerable target—keeps settling for the easiest jokes.
G/O Media may get a commission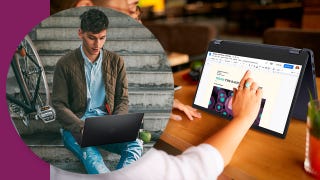 Ends August 15
Best Buy Anniversary Sale 2022
Ends August 15
Best Buy has a number of different promotions happening all for its Anniversary Sales Event. Laptops, tablets, TVs, you names it. Whether you're heading back to school or just trying to fill your home with some new tech, there is something here on sale that you've likely been waiting for.
SNL in the Trump era has found its stride most when turning over less obvious rocks in search of satire. And Barkley's turn as a gung-ho exterminator in the "Ned's Roach Away" commercial found a potently silly metaphor for the school shooting/arm teachers issue in the form of the cowboy-hatted Ned's army of specially trained, AR-15-toting, God-fearing, not-gay cockroach assassins. Sure, Barkley's only slightly more comfy doing lines on tape rather than live, but the jokes are there, from Ned's assurance that the collateral damage of a free-fire cockroach war is far preferable to just having a cockroach problem, to his talk of creating a cockroach gun culture cycle. (The fact that the father-son cockroaches shoot up a gathering of unarmed cockroaches under a tiny piñata registers its point even without lingering.)
I am hip to the musics of today
Migos's tripartite laid-back, auto-tuned groove got the job done, really taking off in their second song, "Narcos," from Culture II. Our own Clayton Purdom had some very complimentary things to say about Migos' last album, and he knows his Migos, people.
Most/Least Valuable (Not Ready For Prime Time) Player
Cecily Strong did some fine character work all through the show, edging out Kenan, who played a variety of solid, deadpan straight men. And his turn as a brain-battered former football star alongside Barkley and a visiting Alex Rodriguez was some fine, broad work, with the sketch's darker undercurrents taking what could have been just a bad taste joke into more interesting territory. Barkley calling out the NFL's serious concussion problem partway through the sketch lends Kenan's blusterous dementia an edge, even as Kenan gets big laughs by blurting out tough guy boasts like "100 yards! That's 100 feet!"
Hi, Luke Null. Got a line, I see. Good on you, Luke Null.
"What the hell is that thing?"—The Ten-To-Oneland Report
Sheila Sauvage is a funny Kate McKinnon character whose disreputable barfly's gleefully gross flirting would be a lot more welcome if she weren't a go-to every time the show can't come up with an originally weird ten-to-one sketch. Here she and Barkley do another variation on the sort of scabrous last call romantic tango that invariably sends beleaguered barkeep Kenan Thompson reaching for the brain-bleach. Or, in this case, the sweet release of a nice, cozy body bag. Barkley gamely sat for McKinnon's admirably grimy attentions, here licking Barley's kisser while they both have their mouth wrenched open by dental equipment in creepy Cenobite rictuses. Still, McKinnon needs a more capable partner to truly make these predictable but reliable pieces land. So does SNL.
Stray observations
Alex Moffat's Anderson Cooper refers to CNN as "your home for impeachment porn."

"In times like this, we look to our leaders for guidance. Instead, we'll hear from Donald Trump."

Baldwin's Trump boasts that he's running America like a business, conceding, however, that that business is "a Waffle House at 2 a.m."

"I'd like to thank guns for pivoting the national conversation away from harassment."

Barkley's accused movie star claims that "all women deserve to be heard" while admitting that, as soon as a woman came forward about his actions, he "called her a lying troll" and had his lawyer publish her home address.

"You all right, man?" "Hey, you're all right, too!"

Jost went for—and definitely got—some coveted gasps and groans with his joke about the Catholic nun teachers of his youth packing heat. Noting that the priests were less crabby because "at least priests were having sex," Jost let the hard-won discomfort wash over him for a long beat.

Same for Che, who—in keeping with his sexist button-pusher persona—joked that Women's History Month is held in March because that's the only month that tells you what to do. There, too, he waited for the audience to catch up, and then basked.

"86 percent of the people arrested in New York for marijuana possession are black or Latino. While the rest are black and Latino."
Next week: SNL will see if having an actual actor host is a good idea, as Sterling K. Brown takes center stage. (James Bay is the musical guest.)