Here's what's up in the world of TV for Friday, March 6, and Saturday, March 7. All times are Eastern.
Top pick
Unbreakable Kimmy Schmidt (Netflix, 3:01 a.m., Friday): When an irrepressibly bubbly young woman (Ellie Kemper from The Office) escapes from her doomsday cult and hits NYC on her own, she faces each Big Apple-y obstacle with good cheer and a lot of day-glo clothing in this much-anticipated sitcom from executive producers Tina Fey and Robert Carlock. Looking to give Kemper some more of their 30 Rock mojo, Fey and Carlock have enlisted Jane Krakowski and Tituss Burgess (that's D'Fwan to you), along with non-30 Rock-er Carol Kane. Kayla Kumari Upadhyaya is looking pretty irrepressible herself, as she prepares to review all 13 episodes of this series, beginning tonight at 6 p.m. (Her daily reviews will be up at noon on weekends and 6 p.m. weekdays until we're all out of Kimmy.) In the meantime, Joshua Alston gives his big picture TV Review of the whole season.
Also noted
House Of Cards (Netflix): With Frank Underwood Underwooding his way into the presidency at the end of last year, Scott Von Doviak says Kevin Spacey's Frank hasn't mellowed with his coveted new, oval-shaped office, pissing on his father's grave (literally) and the Constitution (figuratively) with even more gusto in this third season. Scott continues his four-episode-a-week reviewing pace, bringing us his takes on episodes 3 & 4 of the new season at 2 p.m. (Look for episodes 5 & 6 on Monday.)
Glee (Fox, 9 p.m., Friday): When rival Dalton Academy burns down, he homeless Warblers consider teaming up with the New Directions (possibly having second thoughts when they hear the Directions practicing "We Didn't Start The Fire.") Brandon Nowalk reviews the damages.
G/O Media may get a commission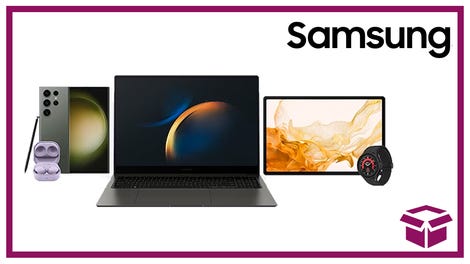 24 hour deals
Discover Samsung - Daily Deal
Plus, they didn't sound this good. (NBC)
12 Monkeys (Syfy, 9 p.m., Friday): The time-travel sci-fi series takes a trip back (forward?) to 2043, fleshing out the blasted, post-apocalyptic wasteland that is our future. Emily L. Stephens fleshes out whether we should be worried (about this up-and-down series, that is).
Banshee (Cinemax, 10 p.m., Friday): After a relaxing vacation full of horrifying fight club violence in New Orleans, Hood returns to Banshee where he finds…horrifying violence?! Les Chappell continues his appreciation of Banshee's horrifying violence.
Comedy Bang! Bang! (IFC, 11 p.m., Friday): The male half of the cutest Hollywood couple you don't want to strangle stops by to show of his acting chops (comic and dramatic) to Scott and Reggie. Plus, conceptual comedy forebears The State are represented by guest Kevin Allison. David (No Relation Because Our Names Only Vaguely Sound Alike) Kallison reports.
Regular coverage
Saturday Night Live (NBC, 11:30 p.m., Saturday)
Elsewhere in TV Club
Are good male role models only a fiction? While your favorite A.V. Clubbers won't go that far, that didn't stop us from compiling a list of our favorite pop culture ideal males for this week's AVQ&A. Then A.V. Club movie guru Mike D'Angelo takes us on one of his signature Scenic Routes through that scene in Boyhood. You know, the one with all the questionable racial politics? Yeah, that one. Then Sean O'Neal dips back into Sopranos lore for his Hear This about one of the most inspired—and unexpected—musical choices in the series' illustrious run.
What else is on
Aziz Ansari: Live At Madison Square Garden (Netflix, 3:01 a.m.): Now that Parks and Recreation is gone forever… Sorry, we just got sad writing that sentence. Anyway, the former Tom Haverford has a new standup special, which should be very funny. Not, Parks & Rec funny, but—fine, fine, we'll let it go. Kayla Kumari Upadhyaya reviews.
In An Instant (ABC, 9 p.m., Friday): ABC's new real-life tragedy exploitation reenactment series premieres, with emotionally scarred victims of sudden, horrible events (a bridge collapse, bear attack, plane crash, unexpected encounter with Mob Wives on late night cable) recount their experiences while the show recreates it from every, conceivable angle. Then, the healing begins.
Helix (Syfy, 10 p.m., Friday): The CDC team gets a helping hand when the Coast Guard shows up to take them to another island? At least plague-America still has a Coast Guard—that's something.
Sex Box (We, 10 p.m., Friday): Wherein people do not have sex while boxing, but instead have sex in a box and are then scolded for having unsanctioned non-box sex by experts on box-sexing.
Vice (HBO, 11 p.m., Friday): The third season of this HBO news magazine begins with some of its signature insightful and depressing brand of journalism, this time taking on that whole global warming/rising ocean levels phenomenon that Congress voted isn't really a thing. So, you know, no worries, people of Bangladesh profiled in tonight's episode—your homes are not knee-deep in water. Also, Vice President Joe Biden is interviewed.
The Jack & Triumph Show (Adult Swim, 11:30 p.m., Friday): The part sitcom, part satire of sitcoms, part guy making rude jokes with his hand up a dog's butt returns for it's third episode, entitled "Something Racist." So, you know, keep an eye out.
Trevor Moore: High In Church (Comedy Central, 11:59 p.m., Friday): Standup and founding member of the sketch comedy group The Whitest Kids U'Know (sort of The Birthday Boys before The Birthday Boys) debuts his new comedy special.
Hot Package (Adult Swim, 12:30 a.m., Saturday): More celebrity scandal news from a dimension that doesn't exist in this even-stranger-than-usual comedy series from Abso Lutely Productions.
Watch Your Back (Lifetime, 8 p.m., Saturday): A happy wife starts receiving evil texts—but they disappear before the police can take them seriously. If only CSI:Cyber were around when they made this.
NBC Sports Special: Premiere Boxing Championships #1 (NBC, 8:30 p.m., Saturday): "Who needs any sitcoms any more—here's some punchin'!"—NBC.
Black Sails (Starz, 9 p.m., Saturday): The pirates discover a massacre—one that they didn't cause for a change.
The Musketeers (BBC America, 9 p.m., Saturday): Porthos discovers a deep, dark family secret and questions his place in the Musketeers, while the Musketeers question whether Porthos' deep, dark secret might have a secret of its own.
In case you missed it
Dig: When Jason Isaacs and Anne Heche get all dusty uncovering mysterious religious artifacts in this new USA series, what could go wrong? "Well, well, here's the thing on that," begins Emily L. Stephens, before pointing behind you, shouting, "Look over there!" and running away.