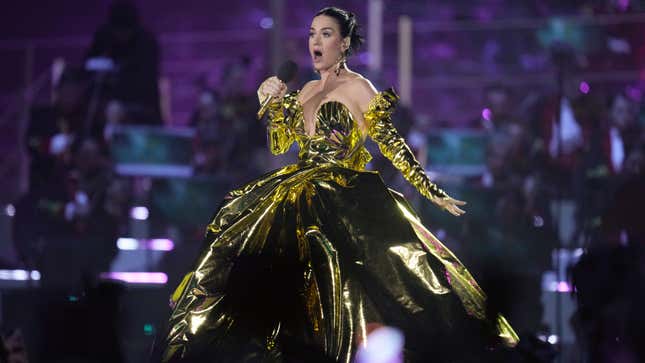 Katy Perry has become the latest musician to cash out while the cash is good. According to Variety, the pop star has sold her back catalog—which includes the albums One Of The Boys, Teenage Dream, Prism, Witness, and Smile—to Litmus Music for a cool $225 million. While Universal Music Group owns the masters for those albums, Litmus has acquired Perry's stakes in the master recordings and publishing rights for the songs.
"American Idol" contender Sara Beth calls it quits
Litmus co-founder and former Capitol Records president Dan McCarroll said in a statement, "Katy Perry is a creative visionary who has made a major impact across music, TV, film, and philanthropy. I'm so honored to be partnering with her again and to help Litmus manage her incredible repertoire."
Litmus is backed by the Carlyle Group, the private equity firm that found itself in Taylor Swift's crosshairs over the sale of her back catalog. Since launching in 2022, Litmus has acquired publishing and recording rights from artists that include Keith Urban and producer Benny Blanco.
Litmus is far from the only company snatching up these valuable assets, and Perry is far from the only performer selling them. Hipgnosis is one of the biggest names in the game, having acquired catalogs from Justin Bieber, Justin Timberlake, Mark Ronson, Timbaland, Kenny Chesney, and more. Then there's Primary Wave, which owns the rights for legendary music from Bob Marley, Smokey Robinson, Prince, Stevie Nicks, James Brown, and Whitney Houston, among others.
Many of the biggest catalog sales so far have been from artists who are deceased or in the later stage of their careers, like Bruce Springsteen's $500 million sale to Sony. Those sales are more or less akin to estate planning. But younger artists like Perry and Bieber have obviously been convinced of the wisdom of striking while the iron is hot. There are tax benefits to such a deal, but there's also the uncertain future of the music industry where streaming has devalued what a song is worth—these artists are placing a bet that cashing out now is a better bet than watching their songs depreciate.
Meanwhile, companies like Primary Wave are making the most of their acquisitions with deals like the Aerosmith lottery campaign in 2009, which "project raked in royalties on both the publishing side, because of the printed lyrics on the tickets themselves, and for the master recording, since the radio and TV spots publicizing the jackpot played the song on-air," per a Pitchfork profile on the company.

Of course, there are crafty ways to capitalize on classic music, and Perry has some bonafide classics. Teenage Dream, in particular, was a hit machine, making Perry the only artist besides Michael Jackson to send five songs from the same album to the top spot on the Billboard Hot 100.