Brother, the little $50,000 Russian hit man movie that could, is a true piece of junk art, equal parts crude and sophisticated, a faux-naïve crime myth with a protagonist as indelible as Travis Bickle. It made a lot of money in 1997, turning writer-director Aleksei Balabanov into one of the country's most famous filmmakers and cementing the stardom of the charismatic and gifted Sergei Bodrov Jr., who would be killed in an avalanche five years later at the height of his fame. It was imitated, it was parodied, and it spawned one of the most deranged sequels in all of filmdom, Brother 2.
To this day, Brother remains the most popular film to come out of the Yeltsin years. It tapped something that went deeper than an economically depressed country's want for homegrown entertainment. How can I explain it? The thing about Brother is that it's stubbornly linear, but so suggestive that it just begs for inconclusive allegorical readings: a plot as simple and elemental as dirt, seeded with Freudian overtones, unaddressed nationalist subtexts, and black humor. The good stuff, in other words. Everything looks salvaged or secondhand. In most cases, it was.
Brother's production backstory is irresistible. The props and costumes (none of which fit right) were borrowed from friends and family or picked out of the rummage piles of Saint Petersburg's Udelnaya flea market. The filming locations were grubby Saint Petersburg street corners and real apartments, dim and piled with heavy Soviet furniture that probably hasn't been moved in about 30 years. The one time the movie shows a crime lord's den, it looks like an accountant's office that went out of business. There isn't one clean window, windshield, or wardrobe mirror in the whole movie. Even the film stock was scrounged from Bernard Rose's Anna Karenina, which had been shot in Saint Petersburg the summer before.
The violence in the movie is abrupt, fatalistic, and almost entirely implied. The way it happens out of frame is actually disturbing. There's a guy who takes a blast from a sawed-off shotgun to the torso and another who takes one to the knee, but it goes down so fast that you have to see the movie one or two more times before you realize that there isn't as much as a dribble of blood to suggest a slug making contact with a body. Other than that, anybody else who gets shot in Brother (which is a lot of people) gets shot off camera. A door will be nudged open or the camera will pan from a smoking gun, revealing another guy with a bad haircut and an oversized black leather jacket convulsing in agony on the ground.
G/O Media may get a commission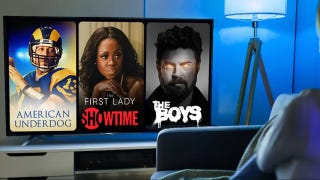 UNDER $1
99¢ Prime Video Channels
The most chilling moment comes near the end, when a couple of goons are executed point-blank just off camera, their deaths coming as two smoky bangs aimed into a patch of floor blocked off by a foldout sleeper sofa. It's all part of a very long take, one of several in a movie that seems designed around getting through every scene in the smallest number of camera setups. And so, before the goons get popped off, the camera holds on the gunman as he orders them down to the ground and then spends an agonizingly long time reloading. Then the two bangs, which actually come seconds apart, just long enough for the viewer to imagine the unseen second victim squirming away on the floor as he realizes what's about to happen.
There's a practical reason for all of this, which is that Brother had little money for special effects. But unlike most shoestring-budgeted breakout hits, which are typically the work of a small unit of amateurs having their first go at filmmaking, Brother was made by an experienced crew and a cast of established actors who worked for very little or free. Throughout, Balabanov uses limitations deliberately and expressively, building suspense from constrained points of view. (There's a great sequence, equally sinister and absurdist, in which a team of hit men wait for their target in an apartment, only to have bohemian guests keep mistakenly showing up for a party that's going on one floor above.)
This stuff is really inexpensive to do but really hard to do right. So take this for whatever it's worth: Regardless of how you read the movie (if at all), Brother's economy of means and ends is still arresting. Let's start with the story. Danila Bagrov (Bodrov), a sheepish small-town bumpkin, recently discharged from the Russian army and currently unemployed, decides to go off to the cold, dirty city of Saint Petersburg to find his much older brother—the golden boy, the pride of the family, the apple of their mother's eye. Said sibling, Viktor, turns out to be a short, bald, sleazy contract killer, nicknamed "The Tatar." He manipulates his baby brother into carrying out a hit on his behalf, pocketing most of the pay for himself and then talks him into taking his place in a setup when he realizes that he's on the outs with a local kingpin.
All of this unfolds quickly and economically, with scenes often ending in a fade to black, like a suggestive ellipsis at the end of a paragraph. Revisiting Brother for the nth time, I'm struck by both the dogged straightforwardness of the plot and just how many characters, incidents, and dichotomies Balabanov manages to pack into the movie's 99-minute running time. Everything is conceived in opposites, beginning with the brothers themselves, who look, sound, and behave nothing alike.
A cultural metropolis with a pseudo-German name (Sankt-Peterburg in Russian), close enough to the Arctic to experience an almost complete state of night in winter and to barely see any darkness at all in midsummer, Saint Petersburg has always brought out the grotesque, dreamlike, and dualistic in the Russian imagination. It's the us-them, East-West, Russia-Europe conflict made into a city. That's all over Brother, a movie where everything is paired and subdivided and kind of symbolic. Danila is a lanky overgrown teenager but also kind of a modern-day peasant hero, handy enough to make a DIY silencer out of a Sprite bottle. Viktor is all put-ons, cynicism, and "business," a homunculus of what was then the New Russia. Did I mention that he's literally artificial, played on screen by one actor, Viktor Sukhorukov, but voiced by another, Aleksei Poluyan?
It goes on and on, like a Goofus And Gallant comic strip. Viktor is supposed to be this feared hit man, but he never once shoots a gun, while Danila is a combat veteran; Viktor's apartment is full of porn VHS tapes and nudie magazines, but Danila somehow finds time to date among all the killing. Of course, he dates two women, and of course they're opposites. Sveta (Svetlana Pismichenko), older than Danila, is a proletarian freight tram driver with an abusive husband and a face straight out of Communist propaganda. Kat (Mariya Zhukova) is younger, a vapid club kid obsessed with all things foreign. With every character representing some kind of counterpoint to another character, it can't help but imply a system of values.
But then there's the ethnic stuff. Danila is a knee-jerk anti-Semite, something he gets mocked for by the movie's voice of dignity and moral reason, Hoffman (Yuri Kuznetsov), a homeless ethnic German who sleeps in Smolenskoye Lutheran Cemetery ("my ancestors"), a forgotten monument to the city's diverse past. Brother is awash in national and ethnic tensions: the Ossetian lowlifes that Danila confronts on a trolley; the way that Viktor plays off Danila's anti-Chechen sentiments when talking him into killing a mobster on his behalf; even Viktor's nickname, "The Tatar," which is meant to make him sound tough, but also non-Russian.
Danila is pure and nearly childlike in his sense of right and wrong, but he is also a remorseless killer, a bigot, and a rube. He is a completely guileless antihero. Balabanov (who died of a heart attack in 2013) was fascinated with ideology, myth, and social decay in a way that made it hard to suss out what was meant to be a put-on and what wasn't. Producer Sergei Selyanov would later say that the reason he and Balabanov had to make Brother on such a low budget, paying for everything out of their own bank accounts, was because the director was reluctant to explain the sparse screenplay to financiers. He liked to re-dub roles with different actors, too. (The sound in Brother was entirely created in a studio.) His process was cryptic, even to a lot of his close collaborators.
Before Brother, Balabanov made a surrealist adaptation of Franz Kafka's The Castle. When Brother became a cultural phenomenon, he used his newfound clout to make Of Freaks And Men, a thoroughly nonmainstream movie about old-time pornography. Then he made Brother 2, in which Danila and Viktor—both behaving as though they suffered serious head injuries in the interim—go off to Chicago to avenge a murdered hockey player and yell at Ukrainians. It is as excessive and demented as the original is minimalist.
There are basically two ways of looking at Brother 2. It's either a Verhoeven-esque subversive pastiche or a rabidly racist "us and them" manifesto of Russian chauvinism, with cultural politics that make Death Wish 3 look like a plea for tolerance. (As the latter, it topped the Russian box office, becoming an even bigger hit than the original.) For Balabanov's critics, it seemed to confirm that the original film's ambiguities were in fact tacit endorsements. Brother 2 treats the Bagrov brothers as exemplary rather than tragic, with Danila as a stone-cold heroic figure of folksy wisdom and an ending that is basically one protracted series of fuck yous to America. Yet I'm not sure that Brother really sustains that retroactive reading: As ingenious as it is as a genre exercise, it remains unresolvable, its doubles and oppositions still tantalizing almost two decades on.
Next guest: Reckless Kelly, in which un-exportable Australian comedy sensation Yahoo Serious goes to America to become a movie star.