Whether you're trying to figure out which movies to watch today or waiting on your Chinese food delivery or still trying to avoid family, we know that the internet never sleeps, so we're back again today with even more of our favorites from 2015. We interviewed John Hodgman and Paul F. Tompkins, examined the first episodes of The Late Show With Stephen Colbert and The Daily Show With Trevor Noah, started a hilarious new feature in which one of our writers tries not to suck at first-person shooters, and, apparently, we wrote quite a few things about dogs. Enjoy this look back at 2015 with us, and Merry Christmas from everybody at The A.V. Club.
G/O Media may get a commission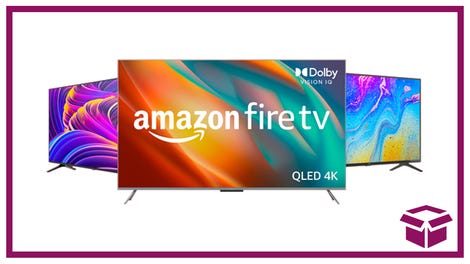 Ooh. stunning.
New Amazon Fire TVs
Calvin And Hobbes was never about hyperactivity and Hobbes himself was never a manifestation of undiagnosed mania: He was a manifestation of pure, unadulterated loneliness.
Cory Popp has been a camera operator on Puppy Bowl for three years and has seen everything from penguins obsessed with a laser pointer to Girls' Allison Williams trying to convince her dad to take home a fluffy little golden retriever. The A.V. Club talked to him about life behind the adorable scenes, puppy kisses and all.
I got to be in Pitch Perfect 2, which was, perhaps short of [getting a Mac ad], the most popular thing I've ever had something to do with.
In the 2000s, lapdogs—especially Chihuahuas and Yorkshire terriers—became the standard for comic punctuation, tasked with reacting to everything from Reese Witherspoon trying on an outfit in Legally Blonde to Mike Myers getting whacked in the crotch in The Cat In The Hat.
Describing his predecessor, Jon Stewart, as "our political dad," Noah pointed out the obvious. "It's weird because Dad has left. Now it feels like the family has a new stepdad. And he's black." But Trevor's not the stepdad in this scenario. He's the kid who's been left with dad's cool, valuable car, and any modifications to the vehicle are so far superficial.
But also like the 2016 U.S. presidential election, talking about The Late Show With Stephen Colbert is too much fun to abstain from.
The Third Man presents a world where everyone knows everyone, a small world of conspiratorial whispers.
The television industry still acts as if it's trapped in the prestigious shadow of the film industry, and television often takes too many of its cues from film. In the case of the anthology boom, television has contracted the film world's hopeless addiction to brand advancement at the cost of good storytelling.
Commemorating the end of a different period on the calendar—the broadcast television season, which runs roughly from Labor Day to Memorial Day—the TV writers of The A.V. Club put their heads back together to salute the very best in television from the past eight months, doling out superlatives for our favorite shows, episodes, performances, scenes, and more.
We conclude the 2014-15 TV Club Awards with picks from the season's best comedies and animated series, gathering surprising transformations, inspired casting choices, and at least two songs that are as infectious as they are hilarious.
A Bill Cosby stand-up performance was once so tame as to ensure its own safety, but now a Cosby set is police-state comedy.
When Mario slides down the flagpole at the end of each stage—it's an act of triumph that doubles as a blood-pressure monitor, visualizing your dropping heart rate as you calm down between levels.
The A.V. Club's biggest Rush fan talks to Geddy Lee about a few of the greats from a remarkable career.
Claim your bunk, grab your rope bracelet and random number generator, and watch out for Skylab as we explore the asides and references that make up our favorite parts of Wet Hot.
The definition of "obscure" proved slippery, given how many characters have grown from an initial cameo appearance to become an integral part of the show's lore. We eventually settled on the Frink Line: A character had to be more obscure, in our judgment, than Professor Frink to be considered for inclusion. (Sorry, Professor.)
Aware that the strongest fear is that of the unknown, the '80s horror anthologyTales From The Darkside began and ended every episode with a thorough explanation of what nighttime is, so viewers were then free to concentrate on the show's comparably lesser fears. "Man lives… in the sunlit world… of what he believes to be reality," narrator Paul Sparer slowly croaked over shots of a peaceful, sunlit countryside, before unveiling the terrors of his big "but."
Who needs Halloween horror movies when Large Marge is around?
Every day for 30 days, Alex will play the Xbox One edition of Destiny in hopes of becoming—at the very least—an adequate FPS player, and each week, both A.V. Club contributor Ryan Smith and staff writer Alex McCown will recap their respective experiences. In this first installment, Ryan lays out his curriculum but learns that his very low expectations may not have been low enough.
Mr. Show was a chorus of young, hungry voices, but its primary point of view stemmed from Bob and David, the "head" of the program whose two halves both had to sign off on a pitch before it moved forward.
Meet Killer Queen—a low-fidelity head trip of an arcade game that defies easy description. It's a ménage à trois of a Super Mario-style platformer with the multi-faceted strategy of European board games and the floaty aerial combat of Joust.
Earlier this year, a very savvy TMZ snooper captured video footage of exiled NSA whistleblower Edward Snowden and his girlfriend. The clip featured the pair hanging out in their kitchen in Russia, cooking dinner just like any other couple. This mundane domestic bliss became notable, however, for its apparent soundtrack: Faintly but distinctly in the background, viewers can hear the strains of Harvey Danger's 1998 hit "Flagpole Sitta."
The soft theology of The Divine Comedy benefits from a structure that complements video game design in fundamental ways: You travel down nine levels of demon-infested hell until you reach the biggest bad guy, Satan.
Mega Man's leap is just one frame of animation (two if you happen to fire a shot in midair), but as it traces across the screen in a high arc, triggered by your button press, that single frame carries an outsized exuberance.
The recent podcast boom took the nattily dressed comedian to a new level of prominence, where he's hosted 'casts like The Pod F. Tompkast and The Dead Authors Podcastand served on the casts of Superego and The Thrilling Adventure Hour.
For a show that proves there's life after death, Full House sure is stubborn about taking its own big sleep.