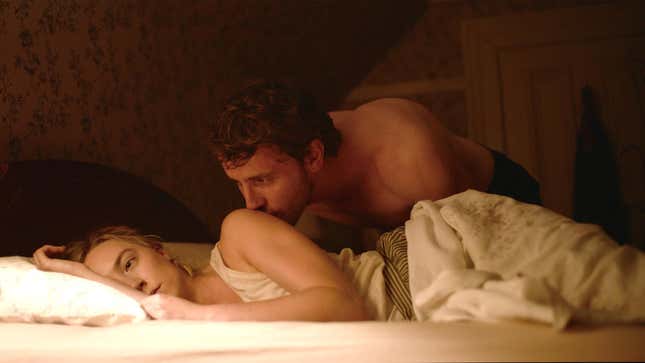 We all love a good Friends With Benefits vs. No Strings Attached moment. Or Bugs Life vs. Antz, or Deep Impact vs. Armageddon, or even Snow White And The Huntsman vs. Mirror Mirror. There's something for everyone.
Russell Crowe is pretty chill about not being in that "Gladiator" sequel
With that in mind: Foe—the upcoming Garth Davis sci-fi drama starring Paul Mescal and Saoirse Ronan—tells the story of a man named Junior (Mescal) living in the year 2065, who gets a surprise offer to fly to space and participate in a program designed to help humanity transition away from life on Earth. The catch? A robot version of himself will be commissioned to stay behind with his wife, Henrietta (Ronan), in the remote farmhouse the two share. What could possibly go wrong?
If this is all a little déjà vu-inducing, don't worry—you're not trapped in a sci-fi flick of your own. Black Mirror deployed almost this exact same conceit—to devastating effect—in the season six episode "Beyond The Sea," in which two astronauts (Aaron Paul and Josh Hartnett) are able to transition their consciousness into Earth-bound robot bodies of their own. Paul's character and his wife (Kate Mara) even live in a strikingly similar farmhouse to the one shared by Foe's two (three?) lovers.
The story for Foe has been around a little longer than "Beyond The Sea," though. The film is based on a 2018 novel by author Iain Reid, who also wrote I'm Thinking Of Ending Things (the inspiration for the 2020 Charlie Kaufman film), if you have any questions about how weird and trippy this film has the potential to be. Ronan, Mescal, and Aaron Pierre, who plays Terrance from the space program (the only other named character in the film) all turn in great performances just in this short teaser, but Mescal really takes the cake with his delivery of "I don't want a robot living with my wife." Sorry in advance, Junior: it really doesn't look like this is going to end well for you (or anyone).
Foe premieres in theaters October 6.