The eerie and elegantly Gothic 1950s-set relationship study Phantom Thread (one of The A.V. Club's favorite movies of 2017) is expanding to hundreds of theaters this weekend. As part of the promotional campaign, writer-director Paul Thomas Anderson has gone on an online publicity tour, dropping into Reddit for an AMA on Tuesday, fielding Twitter questions under the #AskPTA hashtag, and generally giving ordinary moviegoers a chance to ask one of the most obsessively studied American filmmakers of his generation whatever they want.

Questions like: What are Paul Thomas Anderson's favorite Will Ferrell movies?
Who got to keep Mark Wahlberg's humongous prosthetic schlong from Boogie Nights? (C'mon, everybody knows the answer to this one.)
G/O Media may get a commission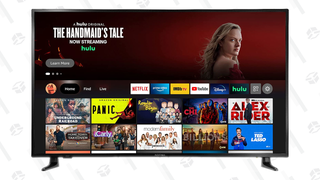 38% Off
Insignia 50" 4K UHD Smart TV
Mind you, there are some minor insights scattered throughout Anderson's terse, good-sport answers, from his favorite characters in his own films (Magnolia's Claudia Wilson Gator and Jim Kurring, Punch-Drunk Love's Barry Egan, The Master's Freddie Quell and Peggy Dodd) to his preferred lenses for close-ups (between 50mm and 85mm with spherical lenses, either a 75mm or a 100mm with anamorphics) to his memories of the young David Foster Wallace, who was Anderson's English professor before he found fame as a writer. ("He looked at us like we were all failing him... sweetly.") His favorite films of the past year? Call Me By Your Name, along with The Lost City Of Z, Baby Driver, City Of Ghosts, Wonder Woman, The Post (which he talked up briefly with the Chicago Tribune's Michael Philips in a recent interview), and The Last Jedi. (He hasn't seen Lady Bird yet, he says.)
Would he work with Tom Cruise again? Of course. Is that live-action Pinocchio movie with Robert Downey, Jr. ever gonna happen? Maybe. But these are the kind of boring questions that journalists and critics ask in sit-down interviews. The Internet wants to know what the director of There Will Be Blood thinks about those surprisingly good Paddington movies (loved the first, seeing the new one this weekend), Prince ("Starfish And Coffee" is his favorite), and children's animated series (he'd make a Teen Titans Go! movie).
But there is one matter that Anderson has yet to seriously address: that of the Resident Evil film series and the work of the English genre maestro Paul W.S. Anderson.
The sneaky bastard.