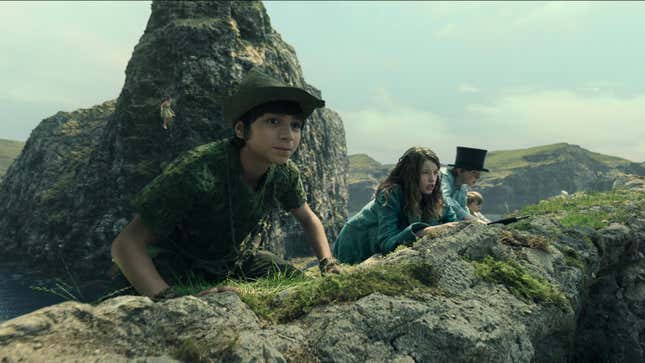 Adapting well-known and much-beloved animated features and making them look and feel refreshed for a whole new generation is a tall order. Many have attempted it, but only a handful have truly understood how to do it properly. Director David Lowery's live-action iteration of Pete's Dragon did the seemingly impossible feat of turning a lesser-known property into a genuinely compelling, charming "boy and his dog" story, revolving around a feral child and his furry dragon finding a family. Lowery innately knew what the practically patented Disney Magic entailed, and he delivered in spades.

Unfortunately, that same sense of wonder and spectacle has not completely carried over to Lowery's second offering for the studio, Peter Pan & Wendy, which has been sent straight to their streaming service, Disney+. This adaptation combines the fundamental building blocks from J.M. Barrie's 1911 novel (and its preceding play) and Disney's 1953 animated film to both greater and lesser effects. By changing elements—for legitimate reasons—it becomes a diverse coming-of-age tale, but it also loses a lot of what made its predecessors memorable and magical. While it's assuredly not one of the worst (Robert Zemeckis' Pinocchio earns that title), nor one of the best live-action remakes from Disney's vault (Kenneth Branagh's Cinderella is up there with Pete's Dragon), it's a lackluster letdown whose potential for greatness goes unrealized.
It's the night before big sister Wendy Darling (Ever Anderson) is being shipped off to boarding school, and her little brothers John (Joshua Pickering) and Michael (Jacobi Jupe) are determined to make it a fun time. Their vivid imaginations are running wild as they play swashbuckling pirates on a fantastical adventure—until a mirror breaks, which catches the ire of their parents (Alan Tudyk and Molly Parker). Mom would rather her daughter start acting her age, but Wendy isn't quite ready to say goodbye to adolescent whimsy.
As the siblings drift off to sleep, they awaken to a clatter and catch the winged fairy Tinker Bell (Yara Shahidi from Freeform's Grown-ish) rustling in their bureau. Peter Pan (Alexander Molony) soon bursts in looking for his missing shadow. Turns out Peter has been stalking Wendy, waiting for her to wish to never grow up. Now he's there, ready to whisk her and her brothers away to Neverland. After getting showered with pixie dust, they fly over London and use a mystical portal to transport into the fantasyland. There, the young Darlings find themselves instantly caught in an escalating war between Peter's sworn enemy Captain Hook (Jude Law) and his crew of vengeful pirates, and Peter's pals, badass warrior Tiger Lily (Alyssa Wapanatâhk) and The Lost Boys, a band of like-minded orphans which also includes girls.
Lowery and frequent collaborator Toby Halbrooks update the story with clever modifications that give characters a refurbished sense of autonomy. Not only does Wendy have a stronger arc than in previous incarnations, her journey holds greater emotional weight than Peter's, whose turn from self-centered to selfless is entirely unearned and stretches credulity. She's courageous and witty while facing down obstacles and figuring out that growing up is an important step towards her happiness. Anderson digs into these deep layers with bravura. Tiger Lily and her tribe are no longer Native American caricatures as offensively portrayed in cartoon form, but authentic people speaking Cree and not being mocked by a bunch of bigoted white kids. The Lost Boys are a diverse diaspora of different personalities, rabble-rousing free spirits who value friendship first and foremost.
That said, the filmmakers do a disservice to their source materials when it comes to other characters. There's a fine line between arrogant and smarmy and this Peter Pan is the latter. His rude attitude grates rather than ingratiates him to us. There's a way to make a character full of himself and have it be entertaining and funny, but these filmmakers fail to do this time and again, detrimentally affecting Molony's performance as he demonstrates no charisma. Shahidi is a capable presence, trapped in an underutilized and underserviced role. Tinker Bell is jettisoned to the background, given little to do—and certainly nothing delightfully irascible—beyond working up to predictably speaking at the end. Her multi-dimensional personality is missing and made worse by the fact she's given two poses the entire time: hopeful and frightened.
Even the spectacle-driven sections disappoint and underwhelm. Bland fight choreography that mimics kids' basic pretend play is repeated during every action scene, from those that take place inside Skull Rock to the big climax on Hook's ship with its simultaneous mini-battles. The Darlings' pixie-dusted flight through London's murky midnight skies is bogged down by distractingly ropey CGI. The sequence featuring the giant crocodile—who pops out of the water to rescue the kids from Hook's wrath and expose him as a bit of a buffoon—doesn't feel, look, or sound immersive. We're always keenly aware of the artifice involved.
It's a shame that no adaptation has ever been able to capture the full cleverness, wit, or creative perspective on childhood and imagination of Barrie's original material. But this film is geared toward those most familiar with the Disney animated film, perhaps understandably so. Not unlike other studios' Peter Pan interpretations, like Steven Spielberg's Hook, P.J. Hogan's Peter Pan, Joe Wright's Pan, and Benh Zeitlin's Wendy, Lowery's version does just enough to make it his own. However, with no real laughs, no genuine thrills, and no memorable scenes, its legacy will soon be forgotten.
Peter Pan & Wendy premieres on Disney+ April 28.