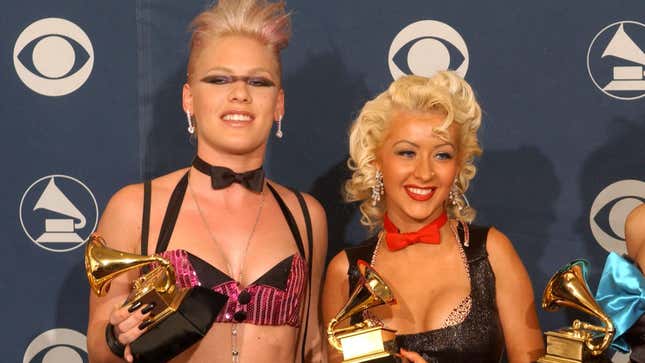 The problem with protesting a narrative, for a celebrity, is that doing so tends to feed into that narrative. (See: Taylor Swift's attempt to navigate out of her Kanye West feud and becoming immortalized as a meme in the process.) Pink acknowledges her part in fueling the fire: "I should say less. Every time. Say less," she admits in a new Instagram post, "Something I'm working on." However, she's still not satisfied with the media's handling of her own decades-old "feud" with Christina Aguilera.
"I'm so saddened and disappointed by the narrative surrounding some of the press I've been doing around my album," the singer shares on social media. Acknowledging her "inability to lie" and "uncanny ability to overshare," she writes that her "real disappointment lies in the fact that the art can never be the focus when you're a woman."
Pink says she's asked "over and over" about "a silly feud from [her] Twenties." She writes, "I wonder when the last time Bradley Cooper or Robert Deniro were asked in interview after interview about any argument they'd ever had. How about Christian Bale? We stick to the art with them, Don't we? I'd like to have the same opportunity."
Who is more to blame for keeping an old drama alive? It's well documented that the media will try to pit female stars against each other. In a compilation video showing examples of Pink's comments about Aguilera on this press tour, she's often asked about the other artist specifically—and in at least one case, responds with praise of Aguilera's abilities. Yet Pink's history of demeaning other women unprompted, from "Stupid Girls" to Snooki, is proof that she has some agency in the narrative.
G/O Media may get a commission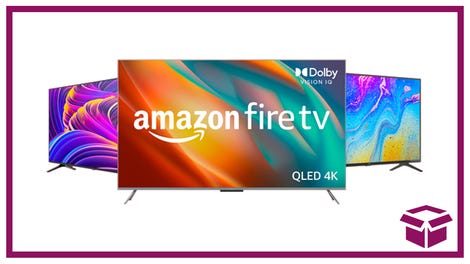 Ooh. stunning.
New Amazon Fire TVs
Pink knows that, too, although as is the case with most embattled celebrities, her occasional callousness is cast as a commitment to candor. "I take responsibility also—I'm out of Practice Dodging the bullshit that gets thrown at us hardworking women. I'm notorious For saying too much. But I've never lied. And for every one or two women I've had issue with—there are hundreds that I've complimented and supported and loved on," she says in her post. "To Christina—you know where we stand. Resolved. Onwards and upwards."