If you're looking to make a last-minute romantic gesture this Valentine's Day, one option available to you is to get engaged at one of the more than 2,000 Panera Bread locations, in hopes of winning free soup at your wedding. Details below:

Now, this obviously comes with a lot of questions marks. For starters, the fine print states that only five people can win this thing. So, there's a very good chance that someone will ask their significant other to commit to spending their lives together, at the same exact time as they are running a hustle to get free soup, only to not even get the free soup.
"So, how did he do it?" this person's friends will ask, and then they will have to tell the adorable story about how their idiot husband or wife asked them to get married while trying, and failing, to win free soup.
Not only that, the winner of the contest must have their wedding within 30 miles of an existing Panera Bread location. So, your idea of a dream destination wedding will need to be "in the general vicinity of soup."
G/O Media may get a commission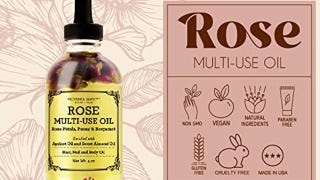 Provence Beauty Rose Multi-Use Oil
None of that matters. Someone is going to do this. Somebody is going to go to a Panera Bread and order some chicken noodle in a hollowed-out piece of bread and then they're going to get down on one knee and maybe they pop the question right there or maybe the ring is inside a big wet piece of soggy bread or whatever, who gives a shit, it doesn't really matter. In fact, probably a bunch of people are going to do this, most likely way more than the five who will actually win the free soup.

But here's the thing: that someone doesn't have to be you. You don't have to do this. You don't have to go to the Panera Bread tomorrow and pledge your everlasting love to someone while someone else films it and then post it to social media with the appropriate hashtag and then wait to be notified within seven (7) days if you have indeed won catering service from Panera Bread for your wedding and then at some point actually have that wedding and get married to the person you proposed to in the Panera Bread at this point potentially years ago, all to get some free soup. As sure as the sun will rise tomorrow some asshole will do this, but this Valentine's Day, reader, that asshole doesn't need to be you.