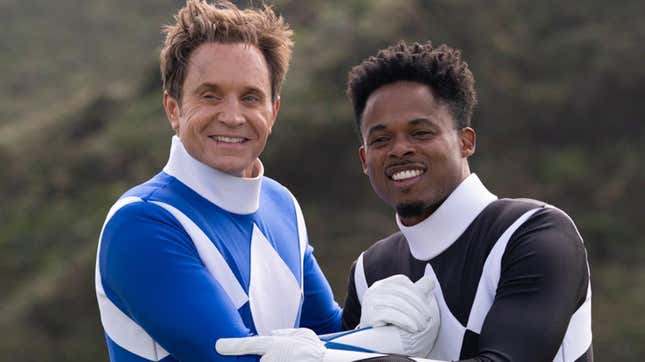 4/20 is coming early this year. On April 19, Netflix is packing bowls with a gift for aging millennials watching their lives pass by one nostalgia cycle at a time: the Mighty Morphin Power Rangers: Once & Always reunion special. Boasting appearances from a pair of original Rangers and several second-generation ones, as well as Rita Repulsa and Alpha 5, the special should scratch whatever itch Gen Y has for revisiting their post-Ninja Turtles martial arts obsession.
Power Rangers never really disappeared, but this is the first time some cast members are suiting up in decades. Aside from David "Blue Ranger" Yost, the star of numerous Power Rangers properties, the special landed several returning stars. Walter Jones, who starred as the Black Ranger Zack Taylor, is reprising the role for the first time since 1994. We'll also be hearing the dulcet tones of Barbara Goodson, who played the villainous Rita Repulsa for 141 episodes and one movie, and Rangers mainstay Richard Steven Horvitz the voice of Alpha 5. Additionally, the reunion wrangled some second-generation Rangers into the fold, including the second Red (Steve Cardenas), Black (Johnny Yong Bosch), Yellow (Karan Ashley), and Pink (Catherine Sutherland) Rangers.
Movies that Matter: The Battle of Algiers - The False Documentary
Sadly, the reunion also teases an appearance by the Green Ranger, originally played by Jason David Frank, who died in November 2022. While unclear how the show will deal with Frank's absence, the trailer teases a storyline around the death of the original yellow ranger Trini Kwan, initially played by Thuy Trang, who died in a car crash in 2001. The plot seemingly revolves around Trini's daughter, played by Charlie Kersh.
Other than that, it looks like a slightly melancholic episode of the original series, complete with stunt people in colorful suits, putties, Zords, and people checking their watches and saying, "It's morphin time." Rita created a "time portal," and she's going back in time to take out the Rangers before Zordon can recruit them into his nebulously legal team of intergalactic crime fighters.
Since everyone in this special left the show, the Power Rangers continued in some form or another. In 2017, a more straightforward version of the team rolled into theaters, with a cast that included Bryan Cranston, Elizabeth Banks, and Bill Hader. Unfortunately, it does not look like they'll be showing up for this one.

Sorry, Morbius, Morbin time is officially over.