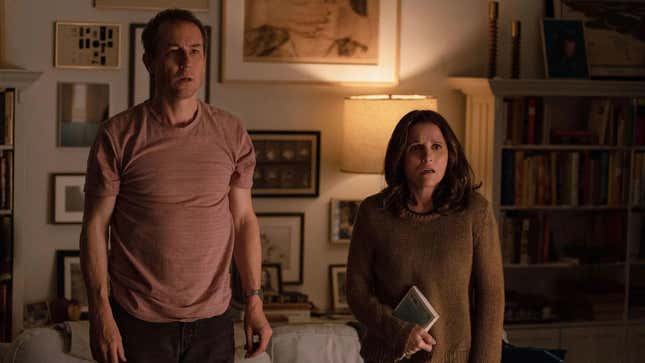 You Hurt My Feelings stars Julia Louis-Dreyfus as a writer named Beth sent into an existential tailspin over a negative response to her latest work. There is, however, a twist. The pan does not come from a stranger in an online pop culture journal, but, instead, from her husband. What's worse—or, at least, what makes this an unusual situation—is that Beth's husband Don (Tobias Menzies) is supportive and says "the right thing" to her face, but when he's having what he thinks is a private conversation while shopping for socks, he tells his buddy (Arian Moayed) that he thinks Beth's book stinks.
If Jesse Armstrong wanted Jeremy Strong to jump in a river, he would have put it in the script
Let me say here and now that this movie is very good. It's not likely to end up on my top 10 of the year, but maybe the top 25? And, in a way, that's even more perfect. What Holofcener has created is the ne plus ultra of low stakes cinema. The lives of Beth and Don—a burned out therapist who has begun getting his patients' problems mixed up—are in no peril. They are wealthy New Yorkers who live in a brownstone and get their bagels at Zabar's. But you know very well that little things can eat away at your brain and cause just as much consternation as real problems. (And there's no amount of telling yourself "this isn't that big of a deal!" that will make it less of a big deal.) As such, a movie like You Hurt My Feelings is a work of art that is probably more reflective of our actual lives than 99 percent of what we watch. And thank God for that!
There's a wonderful little moment in the middle of the film; Beth and her sister Sarah (Michaela Watkins) meet at their mother Georgia's (Jeannie Berlin) apartment for lunch. The scene lays the groundwork for sitcom shenanigans, especially with the deadpan, slack-jawed Georgia swooping into the dining room. The trio chit-chat and Beth says she'd like to take some potato salad with her. Despite a surfeit of Tupperware-style products, Mom suggests she just plop some of the stuff directly into some aluminum foil and carry it home. Beth sighs, Sarah shrugs, and the topic eventually gets changed.
In real life, your mother telling you to bring home potato salad in aluminum foil is funny and the type of thing you'd grouse about to your friend. But what most screenwriting teachers would tell you that just because something is zany in life, it isn't likely to come across as zany on screen. You need to raise the stakes. If this were an episode of Seinfeld, Jerry and Elaine would start shouting "the foil! She wanted it in the foil!" and turn it into a bit, which doesn't work in a droll indie comedy. But this is why Holofcener is a genius. Her whole movie (and, really, her oeuvre going back to Walking And Talking in 1996) is potato salad in aluminum foil—little observations that aren't overblown, just amusing and real. Examined bit by bit, it doesn't seem like much, but the essence of that silvery wad of potato salad eventually transforms into something meaningful.
Julia Louis-Dreyfus, a treasure as always, basically plays it straight and is terrific. She's a caring mother, teacher, and spouse, and probably a good writer, too. (Her first book was well received, even if it didn't sell that much.) It's impossible not to like her. The character is also smart enough to know that she shouldn't be so wounded by her husband's slight, but lack of intent doesn't prevent the outcome.
Tobias Menzies is hilarious in the more passive role. Did he really do anything so wrong? The two of them try to work through this episode (he is a therapist, after all) but there are other issues at play, as there are with any aging couple. The funniest scenes are actually of Don at work, especially with David Cross and Amber Tamblyn as a miserable married couple seeking his counseling. The days of DVD extras are mostly gone, but there are probably many great unused takes of the two of them riffing on the couch that, if this were a just world, would make their way to YouTube.
But life isn't fair! You know that by now. Or, if you don't, it takes a good melancholy movie like You Hurt My Feelings to remind you. Luckily things basically work out in the end and it only takes 93 minutes. Nothing about this hurts at all.
---
You Hurt My Feelings opens in theaters May 26, 2023