Rogue One, a new standalone Star Wars film that ends around the point where the original movie began, doesn't exactly subvert the light-and-dark mythos of that nearly 40-year-old multimedia franchise, but it does find the fatalism buried in its space-opera heroics. It has undeniable weaknesses: an underwritten protagonist, a generic villain, a shortage of interesting personalities. (No knock against the large cast, which is mostly very good, but underused.) But in many other respects, it is a better film than last year's Star Wars: The Force Awakens: leaner, darker, with a distinct visual style and an actual ending that feels like a denial of blockbuster expectations simply because it shows basic narrative integrity. Returning to the movie influences and more limited color palette of A New Hope, director Gareth Edwards (Godzilla) has created the rare Star Wars property that can be appreciated as a film. And it is about as violent and downbeat as Star Wars gets on the big screen—more downbeat than The Empire Strikes Back, in fact.
The irony is that it is also so slavish to George Lucas' initial conception of the series that it could almost be called an official fan film, dealing as it does with the backstory of a minor plot point from A New Hope: the Rebel Alliance's theft of the plans for the Galactic Empire's Death Star super-weapon. This dwarf-planet-size orb of gray metallic death has been destroyed twice in the Star Wars movies—three times if you count The Force Awakens' Starkiller Base, which is just like the Death Star, only much bigger and more boring. Yet Star Wars has resisted using this potent image of looming malevolence as a metaphor. This is part of what has made the films so indelible, but it is also their major limiting factor: The good guys represent good, the bad guys represent evil. Rogue One doesn't rectify this. What it does is recognize that the original Star Wars was a work of pastiche. In lieu of another hero's journey, it presents a motley crew on a desperate mission.
Felicity Jones plays the lead role of Jyn Erso, a thief who is broken out of a prison camp by the Rebel Alliance and led to believe that she is being sent to rescue her father (Mads Mikkelsen), one of the architects of the Empire's secret death machine. The truth is that the Alliance wants him killed. The task falls upon the Rebel intelligence officer Cassian Andor (Diego Luna), who travels as Jyn's handler and pilot, accompanied by K-2SO (Alan Tudyk), a reprogrammed enemy droid who provides droll comic relief. Eventually, they are joined by the Imperial defector Bodhi (Riz Ahmed), the blind monk Chirrut (Donnie Yen), his heavily armed and armored buddy Baze (Jiang Wen), and, later, by a squad of grizzled Rebel soldiers. Rogue One—which takes its title from the call sign of their spacecraft—recognizes these men as lost souls. Some are atoning for misdeeds; others, like Chirrut and Baze, simply have nowhere left to go.
G/O Media may get a commission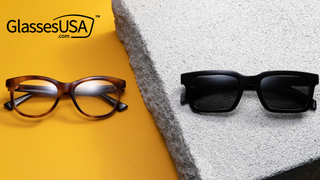 60% off frames
GlassesUSA.com Back to School Sales
The thing the film has down cold from the start is a look and a sense of mass and scale that seemed to elude J.J. Abrams, the director and co-writer of The Force Awakens: the Death Star eclipsing a sun at noon, a flotilla of small Rebel vessels crashing into the bow of an Imperial Star Destroyer as it pops out of hyperspace, toppled statues lying half-buried in sand. The Star Wars world is large, and the events of Rogue One play out in its cracks and shadows—very literally. Presented without the films' customary opening crawl or John Williams fanfare, it is Star Wars in a minor key. Its alien landscapes seem more forbidding. The desert planet Jedha resembles Afghanistan crossed with Tibet. Other worlds bring to mind the glacial terrain of Iceland or the island battlegrounds of the Pacific theater of World War II.
On the jungle moon called Yavin 4—the home base of the Rebels, first seen in A New Hope—there are massive ancient step pyramids in a Mesoamerican style. One can't help but wonder: Where did these people go? Some hubbub was made of the fact that The Force Awakens was shot on film like the original three movies. But Rogue One, shot digitally (albeit with vintage Ultra Panavision lenses) by cinematographer Greig Fraser (Zero Dark Thirty, Killing Them Softly), has a more consistent and well-developed sense of texture. Narratively, it is more of a mixed bag. The film underwent extensive reshoots, and based on some mismatched lighting and the absence of particular lines of dialogue heard in its early trailers, one can surmise that these were focused on making Jones' heroine more relatable. As it stands, she seems to have no motivation: a hard-edged loner one moment, a Rebel idealist the next. One might chalk it up to witnessing a test firing of the Death Star firsthand (an impressive sequence), but the movie doesn't.
Despite its length, Rogue One is faster-paced and more straightforward than any Star Wars film since the original trilogy—which, admittedly, isn't saying much. Adding members and eventually shifting focus to the schematics of the Death Star, Jyn and Cassian's team is pursued by Director Krennic (Ben Mendelsohn), a careerist Imperial who answers to Darth Vader (voiced, as always, by James Earl Jones) and to A New Hope's Grand Moff Tarkin; the latter is portrayed by an off-putting and stiff CGI model of Peter Cushing that gets far too much screen time and is destined to become a standard example for discussions of the uncanny valley in special effects. It's one of only a few missteps in a film that is otherwise very good about relating its effects to an illusion of reality. Framing two differently sized objects together to establish scale is such a basic and effective filmmaking tool, and yet so few modern effects-driven blockbusters seem to grasp it. Edwards' Godzilla did, and so does Rogue One.
Krennic's spotless white uniform and cape present an obvious visual contrast to the film's murkier choice of heroes, and the fact that Mendelsohn adopts a less refined accent than is customary for villainous Imperial officers suggests a hint of background. But otherwise, Krennic isn't much of a character. The same could be said of Jyn's band; they look rugged, but aside from the odd couple pairing of Chirrut and Baze, don't hold attention. They are secondary to the film's aura of futility and dirtied idealism. Perhaps something less carefully managed might have had a chance to go "full Peckinpah" (for lack of a better term) with this premise. But within the established Lucasfilm framework of hopeful good and powerful evil, Rogue One finds a place for friendly fire, violence between moderate and extremist anti-Imperialist factions, Rebel corvettes being ordered into kamikaze ramming attacks against Star Destroyers, and characters facing down their own imminent destruction.
The politics of Star Wars have long been cynical: The choice of government in the "galaxy far, far away" comes down to shaky, corruptible republics or space Nazis, and all ideals come from the mythic past. One can take issue with the video-game-esque plotting of Tony Gilroy and Chris Weitz's script, which was developed from an idea by visual effects supervisor John Knoll; too much of the climax comes down to hitting a series of inconveniently placed switches. But in a series as clean-cut and populist as Star Wars, it takes some guts to suggest that the heroic Rebellion might make people question its goals. The path to A New Hope is littered with bodies, wreckage, and sacrifice.
For thoughts on, and a place to discuss, plot details we can't reveal in this review, visit Rogue One: A Star Wars Story's Spoiler Space.