In Hear This, A.V. Club writers sing the praises of songs they know well. This week, we're picking our favorite Christmas songs about mind-altering substances.
Squirrel Nut Zippers, "Santa Claus Is Smoking Reefer" (1997)
I have no idea whether "Santa's Secret" is the earliest recorded song that suggests Santa Claus likes to get high (though surely there is some webpage with flashing rainbow GIFs that will tell me). I only know that it is the earliest I became aware of, and so it spent the longest tenure on the "alternative Christmas" mixes I used to make, right next to Run-DMC's "Christmas In Hollis" and The Waitresses' "Christmas Wrapping."
Of course, I didn't know it as "Santa's Secret," which the Internet tells me was recorded by Johnny Guarnieri and Slam Stewart for the Savoy label way back in the 1940s. I was much more familiar with the Squirrel Nut Zippers' version with the far more descriptive title, "Santa Claus Is Smoking Reefer," which I happened upon in my mid-'90s swing revival phase that, as a Christmas gift to me, I would love it if you would pretend I never told you about. (Perhaps you could smoke some reefer.) Anyway, the Zippers' version is so faithful to Guarnieri's version, it's like I've listened to it for years.
In a giddy rasp over a piano rag that's meant to be a tribute to Fats Waller—a cat who loved to sing about weed—Guarnieri gets goofy about Santa's 100-foot reefer, which keeps him jolly and mellow, yet somehow not so wiped out that he can't deliver all those toys in a single night. His tossed-off asides about how "he's setting music back 20 years" and improvised "moral of the story" at the end suggest Guarnieri recorded "Santa's Secret" as a lark that was never meant to see the light of day—and it didn't, not until it was tacked onto the Mr. Santa's Boogie compilation released in 1985. But it's become one of the Christmas songs I'll always remember, except under certain circumstances.
G/O Media may get a commission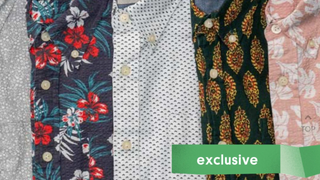 Grab three styles!
JACHS NY Summer Pack