Sarah Winifred Searle has been steadily building a reputation for herself as a cartoonist, thanks to her talent for character-driven stories with rich emotion and gently evocative artwork. She's grown with each new project, whether it's longer stories like Rosy Press' Ruined (written by Sarah Vaughn) or short comics like the recent "Fatness, Femininity And The Media We Deserve" for The Nib, and Searle is applying her skills to a new graphic novel coming from Lerner Publishing's Graphic Universe in fall 2019: Thimble. Telling the story of a 12-year-old girl, Harriet Flores, who moves to Chicago from rural Indiana, Thimble has been on Searle's mind for half a decade, and she gave The A.V. Club first details on why she wants to bring Harriet's story to the page and how she's pushing herself with this latest endeavor.
Sharon Stone made a fraction of what Michael Douglas did for "Basic Instinct"
"Thimble has evolved a lot since I began writing it over five years ago," said Searle. "It began pretty straightforwardly as a comic about a girl in a strange old house, but quickly turned into an outlet for me to process some complicated feelings and relationships in my own life. I'm fascinated by how we perceive the world, and how concepts like history and truth are so subjective depending on who's experiencing and curating those narratives. Stories have such great power over us as human beings, even in fiction. That power is wonderful and fascinating and scary all at the same time, and that's what Harriet learns in this book."
History plays a big role in Thimble, which isn't a surprise given Searle's previous work on comic-book period pieces. The main action takes place in 1996, and the landlord of Harriet's building, Pearl, opens the door for Searle to venture even further in the past. "Readers who expect historical comics from me won't be disappointed," said Searle. "[Thimble's] a period piece in itself, now that 1996 is a whole 20 years ago, but it also touches on Pearl's past, which deepens the scope of the story to the 1950s during the polio epidemic."
G/O Media may get a commission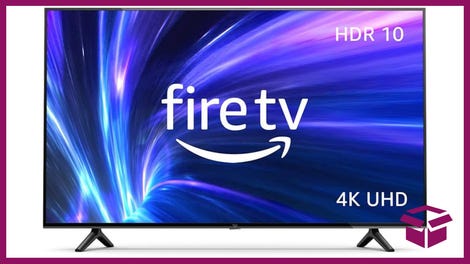 42% Off
Amazon Fire TV 50" 4K Smart TV
Searle is pulling heavily from her own youth to inform Harriet's story, and she's taking this opportunity to offer the kind of representation she wishes she saw growing up, particularly in terms of same-sex romantic relationships with Harriet's crush on another girl. "I drew on my own experiences as far as Harriet's crush," said Searle, "because I truly believe that if I saw another kid feel that way in the media I consumed at that age, I would have grown up a lot more open about and comfortable with those feelings. I really hope my book makes it into the hands of even just a few kids who need to see reflections of themselves like that."
Searle is still pinning down the visual aesthetic of Thimble, and pushing herself with recent projects has given Searle more confidence to move outside of her comfort zone. "I'm lucky to be working on a lot of short comics lately, which means I've been able to experiment visually in ways that I can't on longer projects," said Searle. "While the results aren't wildly different from what people have grown to expect from me, I think this has helped me loosen up and get just slightly cartoonier, more expressive, which will suit Thimble well. As you'll see in the art samples I shared, I haven't settled on one look yet—I want to make sure I try a whole bunch of different things to find just the right nuances to do this story justice."
"Right now, I'm infatuated with the idea that Pearl's house itself is a character, and it deserves the same level of thought and care as the people in the story," said Searle. "The house plays an important role in the plot—almost the entire book takes place inside it—so it needs to not just be well-planned, but interesting. I've spent a lot of time sketching out floor plans of how it has evolved over the decades since Pearl first moved in with her family. It's like a time capsule, and it has a lot to share if you're willing to look for clues." Readers will have to wait three more years to discover the hidden secrets of Pearl's house, but in the meanwhile, readers can check out Thimble's official synopsis and preliminary artwork and visit Searle's Twitter page for future updates on the book's progress.
Harriet Flores, a twelve-year-old only child, finds herself alone, bored, and stuck at her family's new apartment after a move from rural Indiana to Chicago. While learning how to manage the change of scenery, a one-sided pen-pal situation, and a health issue she's trying not to think about, Harriet uses her imagination to deal—for better and for worse. She creates a more vivid world inside the apartment by deciding that the place is haunted, the mailman is up to something, and her elderly landlady has stored a dark secret on the unoccupied top floor. Only after Harriet forms a bond with the landlady, a retired librarian named Pearl, does she begin to truly understand the power of storytelling. But maybe she wasn't wrong about something being trapped upstairs…

THIMBLE follows Harriet across a restless late summer in 1996, exploring her first crush (which just happens to be on a girl), chronic illness, and different ways to be a storyteller. Graphic Universe, an imprint of Lerner Publishing, will publish the book in fall of 2019.
[NOTE: Sarah Winifred Searle has worked for The A.V. Club as an illustrator, including images for our Best TV of 2015 coverage last year.]