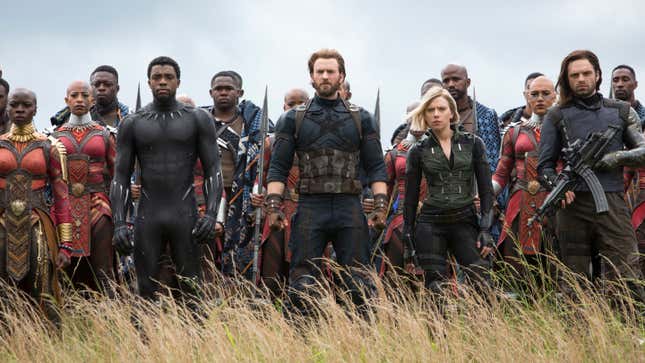 Now that spring has finally arrived, many of us are rejoicing over the warmer temperatures and the glorious gift of leaving work when the sun is still out. But soon, a select brave (er, insane) few will venture out of the daylight and into darkness to complete an honorable (again, insane) mission: watching every Marvel movie back-to-back for a whole two and a half days.
The feud between Howard Stern and the world's smuggest man, Bill Maher, has come to a tentative ceasefire
AMC knows MCU fans care little about maintaining healthy vitamin D levels or normal sleep patterns, and are practically incapable of seeing a Marvel movie too many times. (Never forget the fan who saw Infinity War 100 times in the theater). Such has been proven by previous AMC Marvel marathons before — one nearly sucked the last remnants of sanity from The A.V. Club's own Alex McLevy — but now the theater chain is getting truly fucking bonkers. Starting on April 23, AMC will show all 22 MCU movies in a massive Marvel movie marathon that asks the true diehards to prove their fandom once and for all by sacrificing sleep and body hygiene.
If you're worried about feeding yourself and staying properly hydrated during such an endeavor, thankfully the Alamo Drafthouse has you covered. If you're lucky enough to live near an Alamo location, the chain is also hosting a marathon of every MCU movie.
Both marathons will kick off with 2008's Iron Man, leading up to Captain Marvel, and of course ending with Avengers: Endgame. That's a whopping 59 hours and 7 minutes in total, according to Slash Film, which is a fuckton of Marvel to put into your eyeballs in one sitting. That also means you'll need to sit through 56 hours of movies before you even get to the final three-hour Thanos showdown. So please, begin stocking up on Red Bull and deodorant now and planning which movies (Thor: The Dark World, obviously) you'll be taking some quick naps during.
If you choose to accept this mission, get your tickets over at AMC's website or the Alamo Drafthouse website.