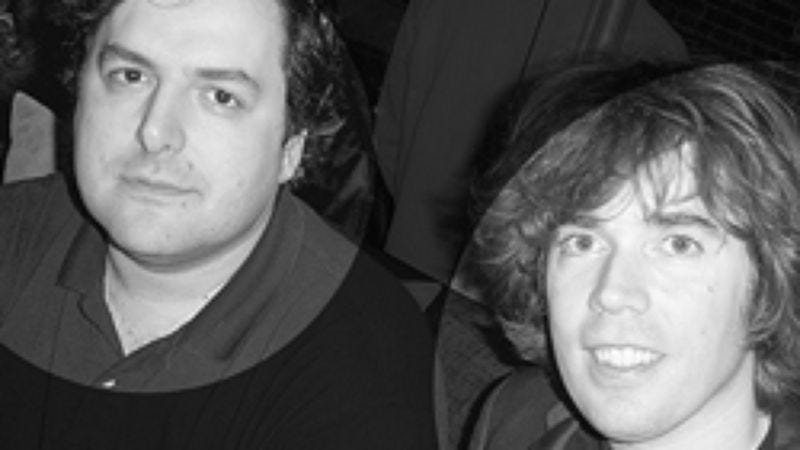 In November 1997, author Ronald Thomas Clontle called New Jersey radio station WFMU during DJ Tom Scharpling's weekly "Best Show On WFMU" to discuss his book Rock, Rot & Rule, a compendium of opinion about various rock bands that places each into one of the title's three categories based on some questionable research. Scharpling humored Clontle's bizarre arguments—The Beatles rock ("a lot of bad songs"), David Bowie rots ("too many changes"), Bruce Hornsby rules but doesn't rock because he plays piano—through a barrage of flustered calls from listeners exasperated by all the specious reasoning.
Those not blinded by the ridiculousness of it all recognized that Clontle was too bad to be true: In fact, he was Superchunk drummer Jon Wurster, a longtime friend of Scharpling's. The duo had set up the call as a lark, and cassettes of the dry and hilarious Rock, Rot & Rule made the underground rounds and helped launch what would become a regular feature on "Best Show." In the years since, Scharpling and Wurster have created some incredible characters in a radio-comedy format that seemed long dead. Scharpling has played the straight man to amazing fictional call-in guests from The Gorch, who claims to be the inspiration for Fonzie, to The Music Scholar, a rocker who saw The Beatles in grade school and worshiped The Velvet Underground at age 8. The latest batch of S&W material is New Hope For The Ape-Eared, a double-CD set that collects the best calls from recent years, including the biting story of doomed alt-rock band Mother 13, whose lead singer calls in to brag about his major-label contract, his ace manager, and his group's summertime slots at prestigious festivals like the Heineken/Chips Ahoy Fun Rally and the Earthlink/Pringles Summer Slam Jam. Wurster recently spoke to The Onion A.V. Club about preparation, inspiration, and the music of Mother 13.
The Onion: How far back do you and Tom go?
Jon Wurster: I met Tom around 1993, through Superchunk. We were both big fans of that Chris Elliott show Get A Life, so that was sort of the first common bond. He was the only guy I knew and I was the only guy he knew who had a weird fascination with this VJ on MTV, the first host of Headbanger's Ball, Smash. He was only on for about six months or so, and he was this insane kind of redneck dude, very out of place in the whole MTV context. For some reason, we both had a perverse fascination with him. That sealed it.
O: Rock, Rot & Rule was the first call you did?
JW: We got lucky on the first one. We gave it out to bands on tour, and it just became a little bit of an underground… not sensation, but it became known.
O: How much preparation goes into the calls? You get pretty elaborate and specific.
JW: It's usually an outline, and then, back to Rock, Rot & Rule especially, we would take calls, and a lot of what makes that thing so good is the calls that come in from real listeners who were outraged. As we did more things over the years, people would call in to say, "This isn't real." For Rock, Rot & Rule, we did have a fairly good-sized outline, and I had prepared who was going to be in what category. When people called in, I had to make up where bands would fall. With a couple of them, I didn't remember what I said the first time—I think Kansas rocked and then ruled.
O: Are you constantly thinking of ideas?
JW: We don't do it so much anymore, but we used to actually watch TV together over the phone and just be like, "This is so stupid." [Laughs.] Remember when Oprah Winfrey was up against the beef council in court? She ended up winning her case, and she came out of the courtroom and said, "Freedom not only rings, it rocks!" We just thought that was the dumbest thing we'd ever heard, and it snowballed into the discussion of, "What constitutes something that rocks, and what rules?" It's always something that we see on TV, or that happens in real life, that we think is horribly insane but touches us all.
O: Is there a particular band that inspired Mother 13?
JW: I had been out on tour drumming with Caitlin Cary for about six months, and we were playing in Atlanta at one of those festivals, like the Earthlink/Coca-Cola Fest. Her music is very folk-country, a little bit of rock, but we'd get sandwiched between a band that sounded like Green Day and a band that sounded like Weezer. That's depressing enough, but then the person comes out to introduce you, and you're on this giant stage, and there's maybe 500 people watching, but the space is humongous. So the DJ comes out and mangles the name and then throws out Earthlink starter CDs. I remember calling Tom that day and saying, "I think I've got a good idea for this."
O: Did you just brainstorm all those fake corporate sponsorships? It seems like about half of them could be real.
JW: They're all fake, I guess. There is an event called the something-something Summer Slam Jam. Originally, when that went out over the air, that bit was a lot longer and I actually played three songs. At the time, I had a part-time job at a used-record store, and I found a CD by a band… I shouldn't name the band.
O: Sure, you should.
JW: I will name it, because we didn't end up using it on the finished product—we felt bad about using a real band's music, so I recorded a song instead. It was a band that I think is still around called Vertical Horizon. So we used three little bits of their songs, but the way it ended up on the CD, we wrote an original song and put it on there.
O: What was the songwriting process for the Gas Station Dogs song on the new disc? ["Rock 'N' Roll Dreams'll Come Through" is a gloriously convoluted rock 'n' roll epic performed by a deluded wannabe. —ed.]
JW: That was written in a fit of desperation or misery or frustration. Back in 1998, through the tape that was circulating, we were able to get some meetings with Comedy Central and MTV to pitch show ideas. We pitched one to MTV and ended up getting hired to write a pilot. It literally came within 14 hours of shooting—it had all been cast—and the executive producer pulled it at the last minute. We were just devastated. We were in shock, and we ended up walking to Ray's Pizza on St. Marks. Tom never drinks, and he just went and bought a Corona. So we sat there, and we wrote that song over the course of half an hour, eating pizza at a table. We thought, "What if there were a song that was two minutes long that had 14 characters in it, and all the names sounded the same?"
O: You guys wrote a screenplay, too?
JW: Tom and I had actually gotten hired to write a screenplay for a movie called Rock School, of all things. It was based on the Yo La Tengo video that David Cross and Bob Odenkirk were in. A studio thought that that would make a movie, and the director of the video is a good friend of ours, and he was attached to be the director of the film. So we wrote this screenplay, and as happens 80 to 90 percent of the time, it just kind of fell apart and ended up not being made. But I would secretly like to think that School Of Rock was called that because they couldn't call it Rock School.
O: Have you thought about doing stand-up?
JW: I emceed the Magnet magazine 10-year anniversary party last year, and that was just insane. I don't want to say I overestimated the audience's ability for discernment… I thought it'd be funny if I did characters, almost like the radio-show thing, so I grew a full beard and came out before My Morning Jacket as a morning DJ named Bobzilla, and the gist of the bit was that Clear Channel had purchased Magnet and I was announcing changes that were going to be made, like that Zakk Wylde was going to be on the cover. People sort of got it, and then I shaved the beard in between sets so it was an Amish beard the second time. I came out as a guy named Jarrett McKinney, the "Don Rickles of Indie Rock," with cut-off dress pants, black socks, a trucker hat, the Amish beard, and a record-store T-shirt, and just made jokes on Magnet and Guided By Voices. Good-natured, but a Don Rickles approach, like "How adventurous that Magnet put Radiohead on the cover!" Those guys thought it was funny, but the crowd—oh my God, they thought I was a real guy, and they were booing. It was kind of a thrill to ride the wave of negativity that 800 people can generate. Then I came out before GBV as myself and people cheered. They had no idea that I was the guy that had been out there before. So I'm a little reluctant to pursue the live thing as a result.
O: You've done bit parts as an actor, too.
JW: Every now and then, I'll do a little bit on Conan O'Brien, little sketches. The way it works is that the actors just kind of sit out in this long hallway all day, and you wait to see if your bit got cut. So one time I'm just standing there, and I hear someone say, "Mr. Gorch?" I look up and it was Conan. He was apparently a big fan of the stuff—he was kind enough to do a testimonial for the back cover of the new one. He said, "I listen to the stuff in my car. I was driving around with my dad the other day listening to The Gorch." That was the biggest thrill and compliment, having him say that. That was sort of the high point of my comedy life, I guess.