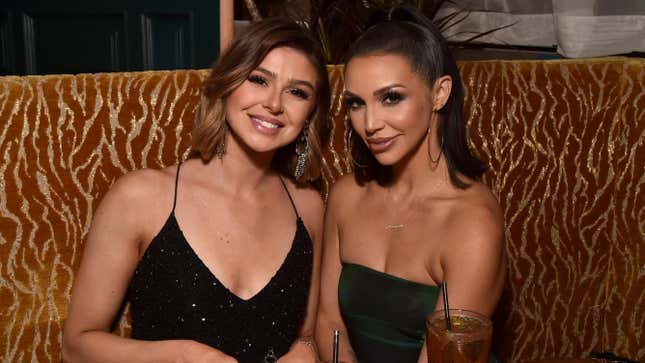 On Wednesday, Vanderpump Rules stars Scheana Shay and Raquel Leviss stopped by The A.V. Club office in New York to talk filming the new and improved season of the reality show. While VPR has had a tough couple of seasons, fans have noticed an increase in the quality of the show, which centers largely on the petty relationship drama of a group of (mostly former) servers at Lisa Vanderpump's Los Angeles restaurants. "Season ten is giving seasons one through three," Scheana told us. "The essence of the original cast and show is back."
Sharon Stone made a fraction of what Michael Douglas did for "Basic Instinct"
Oh, how right she was. In the days since we spoke to this duo, the VPR world has exploded with its most exciting drama in years. According to the rumor mill (Page Six, mostly) Raquel, who is currently having her feet held to the fire on TV about an illicit kiss with co-star Tom Schwartz, has actually been hooking up with her other co-star, Tom Sandoval, for months. Sandoval's long-term girlfriend, Ariana Madix, has reportedly dumped him and has since been spotted flipping the middle finger at paparazzi during McDonald's runs. Ariana reportedly heard about the affair Wednesday evening, while Raquel and Scheana were still in New York to film Watch What Happens Live. The two allegedly got into a potentially physical "heated confrontation" when Scheana found out after the show. This is the kind of thing that DeuxMoi was made for.
All of a sudden, the whole ordeal of when-did-or-didn't-Raquel-kiss-Tom feels like exceptionally small potatoes, and it seems that the show is aware of this. People reported on Friday that cameras were up and rolling again within hours of the news breaking; Despite it currently being off-season for filming, the content was clearly too good for the show to ignore. "We have a new showrunner," Scheana innocently offered last Wednesday. Raquel added: "Our showrunner, Jeremiah [Smith], is amazing. He's really hands-on, and he's done everything possible to make this show a success."
Reality shows like VPR always face accusations of being staged, and a comment like Raquel's certainly doesn't help. That said, a nine-year public relationship and breakup would require near Truman Show levels of staging. The comment feels more in line with production springing into action to get this latest development included in the currently-airing season. It's now a fairly safe bet that the climax that Scheana and Raquel teased last week—a kiss between Raquel and Schwartz at Scheana's wedding—is suddenly not the climax anymore. We're used to reality show drama playing out on social media before it makes it to air, and that's clearly still happening, but we haven't seen a curveball like this from VPR in seasons.
G/O Media may get a commission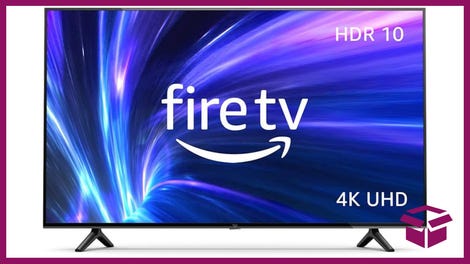 42% Off
Amazon Fire TV 50" 4K Smart TV
In years past, VPR has shifted from being a show about striving 20-somethings to a show about 30-somethings settling toward middle age. They have traded dumpy West Hollywood apartments for homes in Valley Village, quit drinking, got married, had kids. The show's attempts to integrate new, younger cast members in recent seasons have largely flopped. Putting the emphasis back on the tenured cast members has been the right decision, even if fans had grown accustomed to their dynamics. Scheana and Katie would fight, Schwartz and Katie would fight, James and Raquel would date and breakup all over again, Ariana would remain mellow about Sandoval's temper and steadfast defense of Schwartz.
"Nothing surprises me with this cast, to be honest," Scheana admitted last week. "Everyone feels pretty predictable," Raquel added. "It's going to be entertaining to watch." Presumably, they meant that these personas have learned—perfected—their roles within the show, offering an optimum balance of chaos and camaraderie to keep things chugging along. "We know how it's going to end, but it's still fun to watch it," I offered. "Totally," Scheana said. But in the days since, it's clear that I was wrong. Even if everyone else has fallen into a role, Raquel has managed to genuinely shake up the show. For the first time in years, we don't know how it's going to end—and thank goodness for that.