Crimes:
• Proving yet again that real-life lovers (in this case, Madonna and Sean Penn) make the worst onscreen couples
• Miscasting Madonna as a '30s missionary
• Limply, tardily trying to cash in on the success of the Indiana Jones movies
Defenders: The DVD's "Fans Unite!" commentary brings together an aggregation of regular Joes who, by their own admission, "aren't necessarily fans of the movie," but are "Madonnaholics." (In other words, "gay.")
Tone of commentary: Schizophrenic, giggly, gossipy. The commentators are split between fans apologetically "defending" the film, and jeering detractors: "He thinks that guy is going to promote him with that tie? Please! As if!" The commentators periodically dispense semi-interesting nuggets of info, but those are rare and sometime wildly incorrect. (For instance, this wasn't the last film from George Harrison's Handmade production company.)
What went wrong: The "fans" stop issuing catty comments and acid-tongued put-downs just long enough to blame the hype surrounding Penn and Madonna's relationship for critics' "catty" reviews and "put-downs." They acknowledge that a 1930s missionary might not have been the best role for Madonna. The script, direction, acting, production values, cinematography, and editing are singled out as prominent flaws. What does that leave? Not much.
G/O Media may get a commission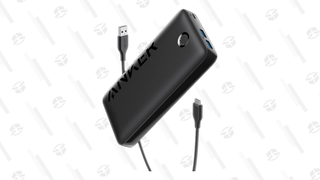 20% Off
Anker 335 Power Bank
Comments on the cast: One of the fellas points out that "the fat one" (Richard Griffiths) in an early scene played Harry Potter's uncle. During a chase scene, another notes that Madonna's missionary is wearing "a really tight dress" and "more makeup than a prostitute." A supporting player is praised for having "hair that is so Kyle MacLachlan in Showgirls!" When Penn is being bathed, one commentator muses, "I wonder how hung he is?"
Inevitable dash of pretension: The film is hailed as an homage to The African Queen and Shanghai Express.
Commentary in a nutshell: Somebody asserts that Madonna "blinks nonstop" and apparently "mistakes that for a form of acting." Zing!