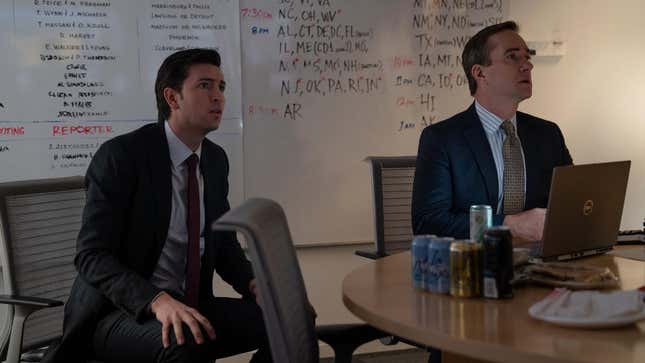 For three seasons and change, Logan Roy did everything in his power not to give his company to his kids. His reasons for this were myriad, and mostly evil, the petty tantrums of a tyrant who felt far more love for his sense of control than he ever did for flesh or blood. But one of the awful things about Logan Roy was that he was so frequently correct in his ugly assessments of people. And tonight's episode of Succession, "America Decides," is a horror story built to remind us of that fact. Because despite his best efforts, Logan Roy still left his kids a loaded weapon in his will. And tonight they picked it up, fumbled with the trigger for 60 minutes, and then shot America in the head.
Succession has flirted, from time to time, with taking a deep dive into the sheer destructiveness that the various failsons and -daughters of the Roy family wreak upon the world—most notably in season 3's "What It Takes," the episode that first introduced Justin Kirk's presidential candidate Jeryd Mencken in all his deal-making, dog whistle symphonizing glory. But it's never played the Roys' incomprehensible/irresponsible power for quite so much queasy fear as it does tonight, building to the point where Greg Hirsch, on multiple occasions, holds the fate of the nation in his big, stupid hands.
Even Greg, never a deep well of self-awareness, is cognizant that he shouldn't have this kind of power, pausing for a moment—in one of the only scenes of this entire episode in which nobody is spectacularly awful to anybody else—to reflect, with Kendall's assistant Jess, about the fact that he's currently got custody of ATN's deeply premature decision to call the national presidential election for Mencken. Juliana Canfield, always good as the face of regular humanity getting swept up in the Roy family's backwash, is great here, softly playing the angel on Greg's shoulder and hinting that he could, should, just vanish for a few precious minutes to reduce the potential impact of the call. But this is Succession, not The West Wing, and so Greg glumly follows orders instead. (Not that it matters all that much, since Tom barges into the ATN control room like 30 seconds later to confirm the call.)

But the grimly hilarious thing is that this isn't even the moment when The Egg most aggressively impacts the democratic process—because the ATN control room isn't where that's actually happening tonight. No, the real action is upstairs, where Roman and Shiv spend the night vying hard for a swing state of one: Kendall Roy, who's rendered nigh-catatonic by the power in his hands, and who has both siblings trying to get him to throw ATN's weight behind one candidate or the other. Roman's pitch is nakedly self-interested (even if, as he's revealed with upsetting frequency over the last few weeks, it falls perfectly in line with his own ideologies): If Mencken wins, he'll kill the hated GoJo deal with a tip of the hat and a subservient smile. Shiv, meanwhile, plays on Kendall's human side, asking him if he really wants to be the guy who sells the country to a hard right-winger like Mencken in order to score some meager personal advantage.
And she almost pulls it off, too. After all, there are few forces more aggressively at work in Kendall Roy than his desire to believe he's a better man than his father was. (And how chilling and sad is that moment when he hollowly asks her "Maybe the poison drips through?" about their father's piss-poor parenting—not realizing he's asking it of his very pregnant sister?) But then a catastrophic misjudgment on Shiv's part triggers Kendall's suspicions, which are then confirmed by Greg (never trust Greg!), sending Shiv right into the teeth of the other force that has always dominated Kendall's personality: "Fuck you, for trying to fuck with me."
It doesn't matter that Kendall and Roman have been boxing Shiv out for days at this point, "protecting" her from their desire to kill the GoJo deal. Doesn't matter that Ken was, just last week, plotting to cut his sibs out of the conversation entirely—or that Roman has quietly admitted he was scheming with Daddy behind all their backs just a day before his death. Once Shiv is undeniably caught colluding with Matsson, the death of the Kids Alliance is placed entirely at her feet, and "Fuck you" becomes the order of the day. Three men—Tom's there, too, grinding his own axe against his wife with a lot of evil eye contact and ugly glee—talking over and down to the one "hysterical" woman in the room, as she pleads for someone, anyone, to pull their heads out of their asses and not let "Who's feeling pissy at Shiv today?" decide the fate of the world. Thus are national elections made.
Shiv Roy is no saint. Her brothers aren't wrong when they point out that her Democratic beliefs, and her desire for the GoJo deal, were in comfortable alignment all throughout this episode. And she fucks up horrifically tonight, first failing to properly manage Matsson's drunken fling with Greg, and then lying to Kendall in such an easily catchable way. (To quote a line frequently misattributed to Talleyrand: That whole faked Nate call was worse than a crime: It was a mistake.) But Succession isn't so cynical a show as to not genuinely believe that the dull, ethical Daniel Jimenez wouldn't be genuinely better for America than deal-happy Mencken, who peppers his victory speech—which Kirk nails with perfect, self-righteous smugness—with plenty of language about "cunning men" and the importance of "something clean," just to remind us all of who he really is. "America Decides" is unabashedly a tragedy, one that steadily accelerates through the evening as more and more power lands in the laps of people manifestly unequipped to wield it.
That steady build of dark momentum is bracing, horrifying, irresistible, as we begin laser-focused in on Tom and Greg and their various ATN drones (including a welcome guest spot from the fantastic Adam Godley, here playing the latest person desperately trying to tell the Roys that numbers aren't just numbers). But as the pressure mounts, it's not just touchscreens that break: It's the thin, largely imaginary wall between Waystar's owners and ATN's editorial floor, as the Kids start flooding down to make their opinions known. By the time Roman—who is monstrous from stem to stern here, suggesting that his Logan-esque alliance with Mencken finally has him feeling comfortable and powerful enough to let the mask truly slip at last—is sneaking out to slip ranting conspiracy theories to ATN's resident Mein Kampf fan, all hell breaks loose, and the tempo of the episode only escalates from there.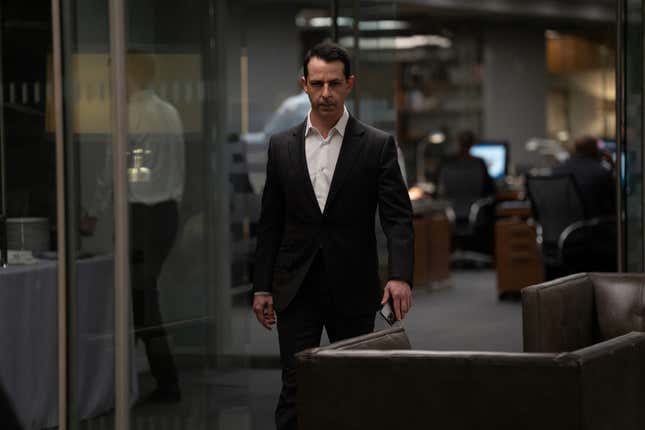 By the end, I found myself strangely nostalgic for the relative calm of Greg and Tom surreptitiously doing coke in a dimly lit ATN conference room; at least it was quiet, in an episode where Jesse Armstrong's script rarely leaves anyone with room to genuinely breathe. The last 15 minutes of "America Decides" move with a speed and intensity that are the most compelling, propulsive television this show has produced since "Connor's Wedding," barreling forward into a hell of the Roy family's very particular devising. (You might notice that the Stray observations fall off down below around the point where Kendall catches Shiv in her lie; it's because, even on a second watch, I was too busy experiencing the maelstrom to pause to write down lines.)
Kudos, then, to veteran Succession director Andrij Parekh, who allows "America Decides" to feel chaotic but never incomprehensible, allowing the electoral maneuvering to breathe, and letting the rare moments of silence stand out. Like, say, the horrifying pause when Shiv blows up her cousin's brain with a cold "Do you find me attractive, Gregory?" Or Kendall's silent stalk around the glass walls of the ATN conference room as he susses out Shiv's betrayal (and, before that, the muted sounds of her faking the lethal phone call.) And especially the gaps stretching out between Tom and Shiv as they get in one quick little addendum to last week/last night's vicious balcony fight, before shit truly hits the fan. (Matthew Macfadyen's face is never crueler, and Sarah Snook's never more open and wounded, then in the moments after he answers her news about the pregnancy with a flat "That even true?") All of these moments of ugly quiet work to make the moments when the noise kicks back in—the yelling, the mocking, the endless talking-over and sneering "False flag!"s—feel all the more awful, an endless family squabble with implausibly vast consequences.
As we round the corner on the final episodes of Succession, I find myself reaching for ever-more synonyms for "brutal" and "draining" to describe the viewing process. Last week was rough, with its fever-dream visions of a cocktail party from hell. But tonight was so much more exhausting, not least because of all the real-world parallels the episode comes dragging along in its wake. (Nobody at HBO could have predicted last week's disastrous CNN town hall, of course, but it's hard not to view big chunks of this episode in light of Fox News' recent legal woes connected to their election coverage—or the high-profile departure of the network's own most prominent Mark Ravenhead-type.) There's comedy here, obviously, including Greg's awful, hilarious confessions about his night on the town with Matsson, and the slapstick sequence that leaves Godley's poor pollster with wasabi and lemon LaCroix mixing in his eyes. (Is there a slight tendency to make these moments a bit too silly or glib, as when Roman fires a ready-made quip back at Connor's impromptu concession poetry? Perhaps. But it's Armstrong's show, and the jokes themselves do land.)
But "America Decides" is also, yes, a brutal demonstration of why Logan, for all his evils great and small, was right to judge his kids incapable of actually handling the responsibilities they so thirstily craved to pluck from his grip. And now we find ourselves with a brand new status quo, and just two episodes left to go: Shiv's out for blood. Kendall can't even negotiate a visit with his kids. And Roman and Mencken are in the driver's seat, over the road and into the bar, and god knows where we all go from there.
Anyway: Funeral next week. At least that should be calm!
Stray observations
Godley's Darwin is, at least, a comforting presence from the jump—reassuring Tom that he won't need adult diapers to cover election night.
"With Matsson? Pretty monstrous. His crew know some unseemly venues… I danced with an old man. He didn't want to dance, but they made us dance… he was so confused. I drank things that aren't…normally drinks." What an amazing early monologue for Greg, that also sows the seeds for Shiv's complete destruction.
Jess Watch: Out here trying to save America.
"I wont let the world push you, okay, sweetie?" God, Kendall is never more pathetic than when talking to his kids.
Wait, no, maybe it's when he's saying "stay hydrated" to a presidential frontrunner who desperately wants off the phone with him.
By contrast: Rome's flirtations with Mencken are genuinely slick, in a queasy way. "If I lose, I want it correctly characterized, as a huge victory." Kieran Culkin and Kirk played this as a courtship back in "What It Takes," and they pick that energy right back up here.
"Shut up, Greg, don't be mom. It's medically good for your brain. It is. What, are you saying, all Aztecs are stupid? Don't be a racist little bitch about it, come on." Nothing like peer pressure, Wambsgans-style.
"No, no… I shan't become that. Alas, Kentucky, Willa. Alas, vanity."
"You also sort of killed him." Fuck, Tom.
"Your rhymes are compelling, but what's in it for him, Con?"
Zack Robidas is so good at hitting that very specific "Aren't they all stupid?" Fox News tone that I could genuinely feel my fists start to curl while Ravenhead rants.
Darwin has a price, turns out—and it appears to be getting some on-camera time to "explain" his call, which Tom ultimately nixes anyway.
I could genuinely have used more time with the old Waystar bros tonight. "Connor was running for president?" Count on Frank to get the laugh.
Con's concession speech is pretty legendary. "I happen to be a billionaire. Sorry! But honestly, America, you flunked it. I guess you're gonna have to find some other poor mook's paps to suckle on." Followed by Willa's face when he starts threatening that "The Con-heads are coming."
"Nothing matters, Ken. Nothing fucking matters. Dad's dead, and the country's just a big pussy waiting to get fucked."
"We just made a night of good TV." Between those two quotes—and the casual racist joke in the ATN control room—we at least have a pretty good idea of where Roman's head is at post-Dad.