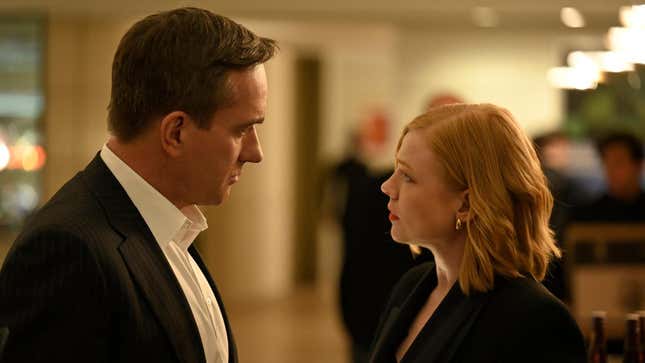 Who's the bad guy here?
It's a question that's dogged Succession since its first few episodes, which took such seeming glee in holding up every single character in the show's main cast and revealing them to be some flavor of ragingly toxic and deeply self-interested asshole. Whenever I bring this show up—as, you can imagine, I often, irritatingly, do—with my friends who don't watch, it's the obvious point of repulsion: Everybody sucks. Nobody is likable. It's all scorpions here.
Dwayne Johnson reveals how he transformed into Black Adam
That's the thread running through the pre-election party shenanigans of "Tailgate Party," which fails to rank as the most disastrous Roy family gathering in recent memory only in so far as everyone in attendance literally survives the night. (Although, I won't lie: For half a second, I thought Tom might send himself over a balcony railing by the end.) It's present from the first, ominous moments, as we see our man Wambsgans already reverting back to the servile perfectionism that's defined so much of his relationship with Shiv: the backwards delusion that if he pours enough fawning niceness on her, everything will be okay, regardless of the bitter grudges lurking right beneath the surface. Which become crystal clear right in that opening scene, when she opens his "joke" "gift" to her at breakfast (ahead of the regular Roy family pre-election party, which they'll be hosting together that night), revealing a pretty profoundly passive-aggressive expression of his seething anger: a scorpion, in glass. (Or lucite, whatever. I don't know from properly preserving scorpions.)
Because Succession is a good show, made for grown-ups, nobody bothers to call explicit attention to the "Frog And The Scorpion" allusions here. But it'll become clear at the end of tonight's episode—when a seething cauldron of tension in the shape of a cocktail party finally, finally explodes into that "full accounting of pain" Tom hinted at back in the season premiere—that both Tom and Shiv are operating on the incredibly blinkered belief that they're the frog in this story, i.e., that a series of betrayals and heartbreaks and self-serving moves from their partner has given each of them a sort of invulnerable spot on the high ground from which they can righteously defend themselves. It's an illusion, of course: They're both scorpions, stabbing as needed when threatened, and desperately trying to use the other as a life raft while the waters rise.
But it's a bad night for romantic—or formerly romantic—alliances all around, honestly, as the combined pressures of the GoJo deal and the election force everyone to make calls that put themselves, and only themselves, first. (You know you're in a deplorable situation, love-wise, when Connor is your exemplar for something resembling respectful romantic behavior.) That includes a quick check-in with Kendall's ex Rava ahead of the party (hey, Rava!) as she hammers home a rare reminder that the media empire he's now literally the chief executive of, and which regularly spews racist hate for his own enrichment, has a massive negative impact on real people, including his own multi-racial daughter, Sophie. Later on, Kendall will try to leverage this "personal investment" as part of his life-long quest to present himself as the slightly less-shitty of two evils. But in the moment all he can do is fail to impress Rava the way he always does: by reminding her of all the big, important moves he's doing instead of parenting his kids.
Roman, meanwhile, offers up a truly pathetic attempt to patch things up with Gerri, which amounts to little more than a reminder of how powerless he's always been in this relationship—and even moreso now that the only person hypothetically capable of keeping Gerri Kellman cowed has been rotting in a funeral parlor for the last four days. (And consider that your regular reminder that Succession is continuing to stick to its "one day per episode" structure for season four, which only helps the impending horror of both the upcoming election, and Logan's funeral, build throughout the night.) When he's not being rightly excoriated by a former mentor/semi-consensual masturbation partner, Roman spends most of the rest of the evening playing middleman for right-wing presidential candidate Jeryd Mencken, who's found himself in the frankly humiliating position of needing help, in a national presidential election, from Connor Fucking Roy.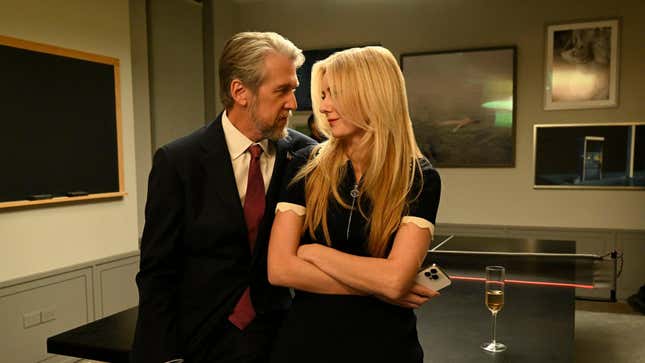 Who is, frankly, a breath of welcome fresh air, arriving in the midst of one of the most aggressively oppressive episodes this show has ever levied. (Back in the season premiere, I referred to Shiv and Tom's place as a "beige-brown hell"; filling its winding corridors with 200 extremely rich assholes and a bizarre collection of foosball and ping-pong tables doesn't lessen that perception here.) It's not just that Connor, as previously alluded, breaks with all Roy family precedent and actually listens to Willa when she suggests she might not want to live in any of the countries Mencken is offering him an ambassadorship to, in exchange for telling his Con-Heads to switch their votes. It's also the glee Alan Ruck injects into Connor's acceptance of the offer to horse-trade in the first place—including bringing in his old pal Maxim Pierce (a welcome return visit from Mark-Linn Baker) to evaluate Somalia or "The Slo's" as potential landing spots. Sure, it's transactional and mercenary. But part of what makes Connor so consistently affable—and his siblings so frequently miserable—is that years of Logan Exposure have left him as the only one of the bunch who's truly internalized that the lives of the ultra-rich are, inherently, transactional and mercenary.

Which brings us, eventually to the incredibly complex set of pressures at the heart of both the tailgate party and "Tailgate Party" and which all center, in one way or another, on Siobhan Roy. No one's helping, mind you: Not Roman nor Kendall, who push her to invite her old fling Nate to the party so they can try to talk him into regulating the GoJo deal out of existence. Not Tom, who—even before having to grapple with that little jab—is coming apart at the seams under the pressures of running a right-wing news network that might literally be destroying the country. And most especially not Lukas Matsson, who barges into the party during a moment of silence for Shiv's dead father, equipped with a shit-eating grin, a dirtbag-chic jacket, and his own alternate universe version of Succession, complete with his own crew of vitriolic frenemies and a whole host of business fuck-ups trailing along in his wake.
Kudos to those of you in the comments who've been calling it for weeks: GoJo is, indeed, in trouble, with flaky subscription numbers that would only make sense if there were "two Indias" to support that many customers. That's why Matsson has been so desperate for a fast Waystar deal he mostly despises, hoping to hide the fraudulent numbers in the mess of the acquisition. It's head of comms/blood-brick recipient Ebba (Eili Harboe) who leaks the info to Kendall and Roman after yet another deeply unpleasant (and Greg-assisted) blow-up with her boss; the creeper vibes as the two brothers zero in on her, as she smokes alone on a balcony, are profound. But Ebba's pissed enough to give them a weapon they might be able to use against Matsson anyway, one the boys are happy to casually share with Shiv, because neither of them seem to be giving her even the bare minimum of thought it would require to notice she's blatantly betraying them at this point.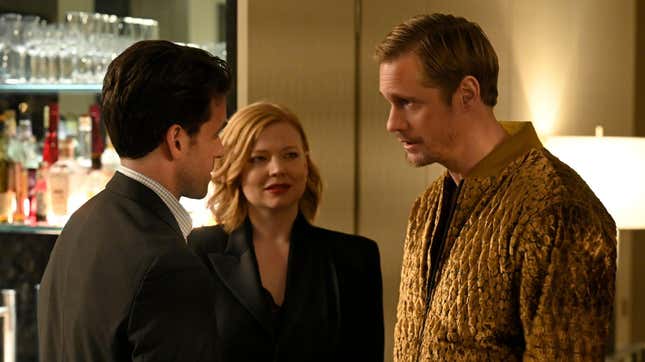 And that's the headspace Shiv's in—realizing that she's hitched her star to one more bullshit artist while her brothers treat her as an afterthought—when Tom declares he's too tired to party anymore. There's other stuff that happens at the end of tonight's episode—including a public pissing contest disguised as a bear hug between Kendall and Matsson, and the reveal that Kenny's going to try to acquire GoJo all over again—but the balcony where Shiv and Tom retreat to talk things out is where the real action is happening. Matthew Macfadyen and Sarah Snook start it slow, as an entire night of dumping sand in the gears finally sends the delicate machinery of Shiv and Tom's reconciliation careening wildly out of alignment. In the ensuing argument, nobody lies, except by omission—and oh, the blend of victory and hate in Shiv's eyes when Tom tells her she'd be a terrible mother—and that's what kills them. Because for all the talk of fine silk shirts and Bitey and dick-breaking sex, the truth is that this is a relationship between two people who have chosen, at almost every turn, to back themselves instead of each other. (There's something deeply sad in the fact that Shiv doesn't appear to have ever told Tom about "Just not Tom. Please. For me," which may be the one moment of actual, loving sacrifice she's ever performed for him.) The two of them say every truth, except the ones that might ease the pain, and the end result is another gorgeous, ugly performance from the toxic pair who've become this show's unlikely heart. Call it a portrait of two scorpions drowning, together.

And that's "Tailgate Party," one of the darker installments of this show's whole run, a claustrophobic gauntlet of planetary elites who treat national politics like a literal game, slowly working to grind each other down. The effect is unrelenting, a little disorienting, undeniably affecting. I'm aware I've ended practically every one of these last few reviews by asking "How dark is this going to get?" But that's just because the dread is getting more palpable by the minute: democratic offices burning, Kendall gearing up for another big stupid betrayal, Greg being openly praised. It's dark times in Succession Land.
And tomorrow? Tomorrow's Election Day. No wonder Tom can't sleep.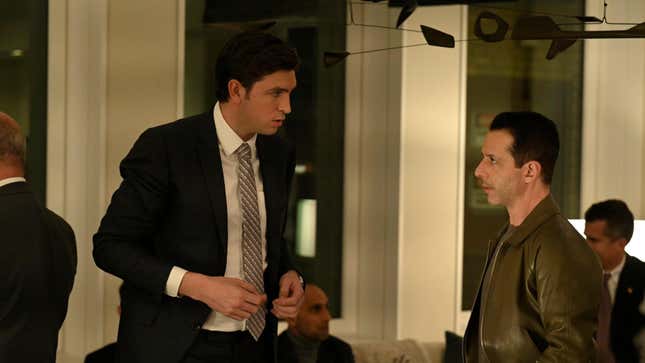 Stray observations
If anyone says "I like it" to a gift in the tone with which Shiv accepts her shiny scorpion, feel free to pre-emptively delete them from your phone contacts.
Jess Watch: There is no Jess in this episode. A pettier reviewer would deduct half a letter grade.
"It's all for them!" Kendall asserts to Rava about why he's "breaking his back" on "six continents." "To make the world safe!" There was a conversation in the comments last week about whether Kendall's using again, but I think he's genuinely just high on his own supply.
Connor, on visiting their dad: "The weird thing is how much…he's not there. I find that consoling."
The only thing less dignified than being mass-fired by Greg would be being mass-fired by Greg while he loses his place in his notes and "tu-du-du-du"'s at you.
An early "Oh you assholes" moment: Seeing that the Roys are serving tiny, rich people versions of "regular people" foods like burgers and fries. Meanwhile, the wine from Shiv and Tom's vineyard "smells like wet dog," according to Frank.
"And they want what? ATN to go full 'We're coming to give all your guns hormone therapy, all your guns are gonna be ladies?'"
Connor shoots down Mogadishu: "Little bit car-bomb-y."
"Hey, I'm about to take a shit in your husband's mouth, and I'm pretty sure he's gonna tell me it tastes like coq au vin."

Alexander Skarsgård gets to have a ton of fun this episode, but maybe never more than when he dismisses Greg with a casual "Yeah, you too, Gary."
"Con, they're not going to put you anywhere with nukes."
"I can't wiggle my way in there. He's just slobbering up Nate with Shiv."
"They're just talking, Greg." Matthew Macfadyen makes that line sound so sad.
They really dial in on the Matsson/Elon Musk parallels tonight, with Ebba claiming he's basically a figurehead for pre-assembled tech.
Best facial acting of the night: Snook as Shiv works through pretending to be angry about Matsson's bullshit numbers for her brothers while also genuinely being angry about Matsson's bullshit numbers for herself.
Greg on the Greg appeal: "HR says I'm the right guy for the job because it looks like I care…but I don't."
"I could have got you there. But nope. Nope." The little laugh J. Smith-Cameron tosses in there. So brutal, so good.
Wait, no, the most fun Skarsgård has tonight is sarcastically pointing to himself in the background of the shot where Connor says "There's one person here who doesn't think I'm a joke."
"You don't deserve me and you never did. And everything came out of that…" And then she takes a pause to hear herself, the raw honest brutality of it. "So fucking flat…" There are so many quotable cruelties in that last fight, but that one drilled me.