Hey, remember Survivor? That show that we covered back when TV Club debuted in fall of 2007, and then never covered again because nobody read the write-ups? Well, ever since then, twice a year I've said to myself, "This has been an interesting season. Maybe I'll write about the finale." And every time, something has come up, and I've changed my mind at the last minute.
But not this time! After one of the craziest seasons of Survivor ever—an All-Star season, with some of the game's most annoying villains pitted against some of its best-loved heroes—I could hold my tongue no longer. We've got to talk about this, people.
To me there were two main storylines this season:
1. The utter ineptitude of the Heroes. They lost early, they lost often, they made stupid moves (none stupider than J.T. misreading the Villain dynamic and giving an idol to Russell), and they were so rude to each other along the way that I often wondered why exactly they were supposed to be "the heroes." Throughout the season, I've felt much better about Boston Rob, Parvati and even Jerri (a player I despised back in Season Two) than any of the Heroes. At the start of tonight's finale, only Colby remained from the Heroes, but his play had been comically bad. I loved the montage at the start of this episode of Colby losing challenges in seconds flat.
G/O Media may get a commission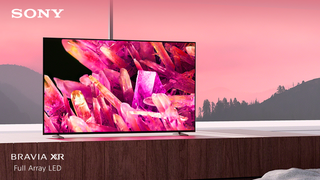 $400 off
Sony 55 Inch 4K Ultra HD TV X90K Series
2. The continued success of Russell. Each season I'm surprised by how long certain people last, out of little more than their own force of will. This season I was glad to see the Heroes wise up and vote out Cirie early on, rather than letting her be the decision-maker as she has in her other seasons. But just as happened in Season 19, Russell was able to manipulate people in Season 20 to do what he wanted them to do—even though he's personally unpleasant and not all that helpful around camp or in challenges. Yes, he's good at finding immunity idols, and sure, he was outmaneuvered fairly often this season by Parvati. But there were still plenty of moments when players could've gotten together, realized that Russell was pushing them around, and pushed him out instead.
The logic—I suppose—is that since Russell is such a jerk, it makes more sense to take him to the jury vote. But the Survivors hardly ever say that outright. Instead, they act like they're powerless to do anything but follow Russell's lead, even when he looks them in the eye and says, "You're the next to go." And Russell has a case—maybe not a great case, but a case—when he says that people should vote for him because he's the best player. Though he may have overstated the matter when he said tonight, "Sandra didn't play the game at all, and Jerri didn't play the game all. The jury doesn't even have a decision. They almost have to vote for me."
Tonight's finale wasn't as fun as it might've been, given the contestants involved, though it certainly had its exciting moments, and twists. And the Final Three offered an interesting choice, and thus a wild jury vote.
In the first challenge—a reasonably tense plate-stacking challenge,  repeated from Season 15, the last season I covered—Colby made it to the Final Two, then lost to Parvati. So that was that. Good-bye Colby.
The next challenge—a maze that the Survivors had to navigate blindfolded, to retrieve five necklaces—could've used a few more overhead shots from the production team, just to give some sense of where everyone was and how close they were to the necklaces and the finish line. That said, it was an exciting last challenge, with Jerri, Parvati and Russell all right next to the Immunity Necklace before Russell grabbed it.
Before the episode started, my wife told me that all she wanted was to see Russell get voted out, just once. One blindside. One comeuppance. When he won his spot in the Final Three, she swore a little.
But then Russell made the first of two surprisingly dumb moves. Rather than use the leverage of his Immunity to vote out Parvati, as he himself argued he should do, he cast out Jerri instead. I don't think he would've won either way, but his now-biannual "I played the best game" speech in front of the jury might've gone over better if he weren't sitting next to the one person who most definitely outplayed him. Last season, I had a change of heart about Russell as the season went on. I hated him at the start, then began to root for him a little by the end. I still think Natalie was a worthy winner, because the game is partly social. But I would've voted for Russell. This year though? No way. Russell made some bold moves—and none bolder than engineering Danielle's exit a few episodes ago—but too often he was a follower, not a leader. And all while making enemies, unlike Parvati.
Russell's second dumb move was the same one he made last season. The man has no idea how to work a jury. Rather than boasting about how he manipulated everybody—which this time wasn't even true… at least not fully—he should've come forward more humbly, making a clearer distinction between game play and how he is in real life. (That is, if there is a difference. And if there isn't, he should've pretended.) In fact, I'm amazed every season that more people don't answer the jury's accusations by noting—chapter and verse—every devious move that the jury-members also made along the way. In each Survivor, the jury gets awfully self-righteous, even though every single one of them back-stabbed somebody at some point to get to where they ended up. I think if Russell had cracked a smile, shrugged his shoulders, and asked the jury to answer for what they did, he might've worn them down. Maybe gotten a vote.
Instead, the ultimate winner was Sandra, which, I have to say, is total bullshit. Sandra made one strong move in this game, which was to walk right up to Rupert the day of the merge and tell him not to trust Russell. For that, she won a million dollars, in large part because during the jury statements Rupert praised her for trying to warn all of them. (And by the way, here's another strike against Russell: Voting out Courtney on Day 24 instead of Sandra was the pivotal mistake in this season. He should've known that Sandra would work overtime to upset any leverage he was gaining with the Heroes. Courtney, on the other hand, was no threat at all.)
But beyond that move, what did Sandra do? She found an Immunity Idol and played it on her own behalf when she didn't even need to. Outside of showing up Russell, that play accomplished nothing. A stronger player—like Parvati—would've used that Idol strategically, possibly by finding a way to save Rupert and send Russell home.
That would've made my wife happy anyway. As it was, she had to settle for her second dream: for Russell to get zero votes at the final Tribal. So that's something at least. Me, I'm unsatisfied all around. Parvati played the best game, in all facets. She should've won 9-0. Booooo.
Season Grade: B+
Stray observations:
-The footage of Russell from the beginning of last season was stunning. So, so chubby.
-Russell must've learned at least one thing from Season 19: He didn't tell anyone he was a millionaire oil tycoon this time.
-I liked the idea of bringing back challenges from seasons past, but too many of them this season were my least-favorite kind of challenge: the "how long can you stand in one place" and/or "how long can you hold this thing" kind. Doesn't make for exciting TV, in my book. If the challenges had been better—and Parvati had won instead of Sandra—this could've been the best Survivor season. Instead, I have to dock it a half-point for the challenges, and another half-point because a weak player won.
-Would Survivor ever just let a Tribal Council be the slam-dunk decision we're expecting? We all knew Colby was going home. Colby knew he was going home. But still we got the dramatic pause in his confessional interview, and him sidling up to Russell, just to plant a little seed of possibility. I know it's part of the show, but whenever the Survivor producers/editors do that, my wife and I turn to each other and say, "Misdirection."
-That said, Colby might've had a shot if he'd picked the right co-conspirator. Russell was the wrong choice. If he'd allied with Sandra against Russell, that would've been a smart play.
-During all the canoodling this season between Russell and Parvati or Coach and Jerri, I kept thinking about Russell's wife and Coach's girlfriend from past reunion shows. Made those scenes kind of tough to enjoy.
-Had Russell finished shooting Heroes Vs. Villains before he sat through the Samoa reunion show? If so, no wonder he was so cranky last time. He seemed less bitter this time, even though he was still pretty defensive.
-The problem with how fascinating Russell is—to Probst at least, although I confess I find him pretty fascinating myself—is that he dominated tonight's reunion show, which was bad only because there were so many colorful characters on stage who didn't get their due.
-Colby had an interesting behind-the-scenes insight about this season: The camps were "quarantined" and weren't allowed to explore the jungles or the water, which made it less of an adventure.
-What was up with Probst's dimples at tonight's reunion show? Dude looked like The Joker.
-Probst at the reunion asking Amanda about her lack of a killer instinct reminded me of the blog he writes for the Entertainment Weekly site during each Survivor season, in which he reveals maybe more than he means to about the shallowness of Hollywood in his unsurpassed appreciation of sexy dames and ruthless assholes.
-The composite Survivor? Stupid.
-I don't think Smokey The Bear would've approved of The Villains burning down their shelter. Sandra burning Russell's hat, though? Smokey would approve.
-They would've told Sandra if her husband was killed in Afghanistan, right? They wouldn't just leave her out there on the beach, in the dark, would they?
-Is there anyone out there who only watches the Survivor finales, and not the rest of the season? Also, does anyone like the finales' montages of fallen Survivors?
-King Arthur's journey has officially ended.