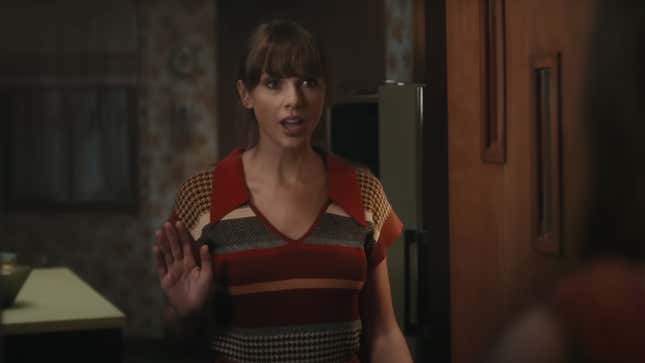 Taylor Swift, indisputable titan of her industry, has broken another record—this time her own. "Anti-Hero," the first single off her latest album Midnights, just hit eight weeks at #1 on the Billboard charts, toppling her previous record of seven weeks for "Blank Space" from the 1989 album. (Several artists have surpassed the eight-week mark, including Mariah Carey, Drake, and Lil Nas X). The new personal record comes after Swift made history by taking every spot on the top ten with tracks from Midnights.
Taylor Swift speaks at NYU graduation ceremony
"What on earth I love you guys," Swift posted about the latest victory on her Instagram story. "PS - Been listening to SZA nonstop," she added about her current chart rival, who slotted in at #2 for "Kill Bill" from her album SOS. "Absolutely adore her music. So much love and respect for her!!"
Fans are clearly responding to the self-deprecating "Anti-Hero," which delves deeper into `Swift's psyche than perhaps any of her previous songs. Interestingly, the track shares some thematic similarities with "Blank Space" in its meta-commentary on the singer's public persona. But while "Blank Space" is a satirical take on the persona that the media crafted for her (the man-eating serial dater), "Anti-Hero"—a portrait of an aging pop star with narcissistic tendencies—is a dissection of the persona she herself has crafted.
Part of what makes "Anti-Hero" so shrewd is how clearly it draws from the blueprint of "Blank Space." Yet while "Anti-Hero" now wears the crown, "Blank Space" may have been a more pure victory. Midnights is certainly the spiritual successor to 1989 just as the two singles share a certain kinship, but Taylor Swift and the music industry as a whole have changed in the intervening years. Not to mention how stan culture has evolved: it's not unusual, now, for fans to stream a single continuously on multiple devices just to boost their favorite artist's chances in the charts.
And if the songwriting on "Anti-Hero" is Swift at her most cynical, it's reflected in her business practices. The rollout for Midnights was a full-court press, encouraging fans to buy multiple copies of essentially the same vinyl (if you buy four different copies, Midnights can function as a working clock!). Swift's new strategy to support her singles includes promoting an endless string of remixes, like the Bleachers remix featuring Jack Antonoff which was originally released as an exclusive download through her online store. All of those actions not only put money in her pocket, but increase her music's standing on the charts.
All this to say: When "Blank Space" ruled the charts, Swift didn't have the same savvy nor the concentrated standom that would inflate its success. It was successful purely on the merits of it being a smash hit. Not that "Anti-Hero" isn't a fine example of Swift's songwriting prowess in its own right, because both songs are standouts in her extraordinary catalog. It's only that here, as is so often the case, Swift's best competition is herself.