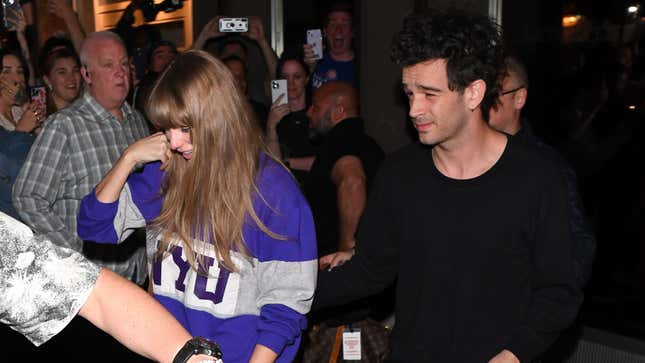 Unfortunately for Gaylor truthers and the availability of Jack Antonoff's studio, Taylor Swift and The 1975 frontman Matty Healy have reportedly begun dating in the wake of Swift's split from Joe Alwyn, her now-former partner of six years. So far, the celebrity relationship has manifested itself in ways both usual and unusual. The blurry viral pictures of rooftop bar hand-holding are familiar; the Swifties' surprisingly regimented attempt to no-confidence vote the relationship is new.

Taylor Swift speaks at NYU graduation ceremony
Alwyn and Swift's April breakup both devastated and mobilized fans, creating the perfect conditions for what may be the first organized public call for a celebrity breakup in modern history... seriously. Uncharmed by the lore-friendly nature of the relationship, some fans have rallied behind an open call for Swift to break up with and publicly distance herself from Healy, denoted by the hashtag "Speak Up Now." The campaign, which has been circulating social media, urges Swift to "reflect on the impact of your own and your associates' behavior and engage in genuine reflection." So, what's the problem? Matty Healy, whose decade-long quest to master edgelord showmanship has started to lean racist.
Although onstage shock stunts like an obnoxiously winking false start racist tirade and a straight-up Nazi salute made Healy's bed, a February appearance on The Adam Friedland show found him snuggling up in it. During the segment, Friedland jokingly recalled an alleged encounter with Healy where Friedland found the singer masturbating to videos from the pornographic site Ghetto Gaggers, known for dealing in content that centers on the humiliation and dehumanization of Black women. In the same episode, Healy also managed to impersonate Japanese people working in concentration camps; disparage the indigenous Scots language while conflating it with the Scottish accent; and mock Hawaiian, Inuit, and Chinese accents in an attempt to guess Bronx rapper Ice Spice's heritage. (Healy has since said he's "kind of a bit sorry" for that last part.) When other jokes weren't directly racist, they felt parroted from a PlayStation chat room troll; at one point, Healy yelped "Shout out!" after one of the hosts brought up child pornography.
Although The 1975 has gone thoroughly mainstream over their decade in music, Healy built his career on a rakish, imperfectly sparkly identity, a tried and true product of the early 2010s. Known these days for eating raw steak onstage and generously doling out kisses to wide-eyed audience members, Healy positioned himself as a provocateur from day one, howling "She's got a boyfriend anyway" on "Sex," one of the band's early hits.
But, given the consistency of Healy's brazen remarks, his alliance with artists like Swift, Phoebe Bridgers, and Jack Antonoff can only take him so deep among youthful, liberal-leaning fandoms usually more interested in Harry Styles' empty fluidity than any hint of sleaze. For generations, the allure of an imperfect and volatile persona has often catapulted problematic men into a stratosphere usually reserved for superheroes. If Swift and Healy ever get a ship name, let it derive from Swift's own song "Nothing New."
The Swifties are fair in allowing the things Healy says and does to define him—what better way exists to assess someone's character? But their collective disappointment in Swift doesn't feel actionable, or even worthy of its momentum. Tweets, Biden-Harris cookies, and the "You Need To Calm Down" music video do not a revolutionary make, and Swift never positioned herself to be political over being career-minded or strategic. Moreover, as dedicated as she is to true fan service, she's definitely never positioned herself as insusceptible to a "bad boy."
As galvanizing as the relationship has been, there's nothing that subversive about riding on a trend cycle, and there's nothing less provocative than something that's been done before. What will be interesting is if and when Swift addresses her fans' frustrations, and how she chooses to proceed. Can your fans really impeach your boyfriend? If you care about optics enough, maybe.