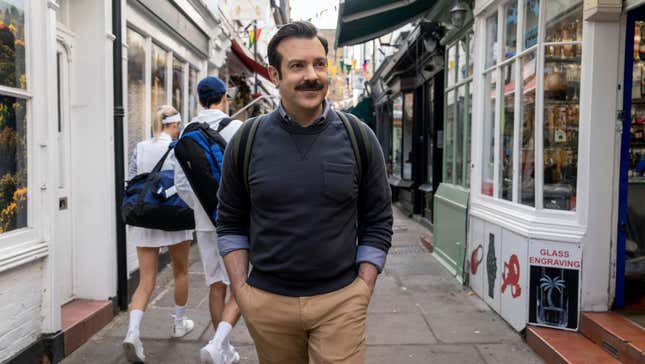 Ted Lasso is at its best when it remembers it's a soccer comedy. And while it's clear that these three seasons have seen the sitcom morph into something more melancholy and more dramatic—not to mention obscenely longer—the show can still find ways of rekindling what it was that first drew so many of us to its charms.
"Ted Lasso" gets into the (video) game
"Mom City" has bits and pieces of a killer Ted Lasso episode. But it has just as many of its many foibles. As a penultimate episode, it works perfectly to begin tying up many of its season-long (if not outright series-long) arcs all the while setting up what may be on the horizon in next week's finale episode.
The title of this episode refers to the two main storylines we were egged on to follow: Ted and his reunion with Momma Lasso and Jamie's with his own mom back in Manchester. Both plots found these grown men needing to reevaluate their relationships with their moms, with Ted finally able to voice the resentment he's nurtured about his upbringing and Jamie finally allowed to let go of the pressure his father's influence has on his playing.
I'll admit that I wasn't as sold on Ted's plot as I was on Jamie's. Mostly because, either by design or unintentionally, Ted has felt like an outlier in his own show. Even this episode, with his mom randomly showing up like some deus ex machina plot device, meant he spent the episode's HOUR AND TEN MINUTES (!) in his own little personal side-quest that eventually brought home the central tension of his character for this entire season: his guilt at parenting from afar. I will say, though, that Sudeikis truly found a way to make that Thank You/Fuck You scene works as a beautiful payoff for Ted's long-running work on himself.
And yes, we're all aware of the news he likely gave Rebecca at the end of the episode, yes? But that's for next week…
Meanwhile, Jamie, returning to Manchester after leaving the team to pursue a career in reality TV only to then end up back at Richmond, gave our beloved star player a chance to reassess who he wants to be and how he wants to play. As a foil to the narcissism of Zava, Jamie has found a way to be a key player for Richmond without thinking of himself as indispensable—though that's clearly how everyone around him sees him. And yet it's the nagging taunts from Man City fans (and his father alike) that eventually get to him, forcing Keeley and Roy to team up to help buoy his spirits.
And that involves, as the many (many!) references to The Wizard Of Oz throughout the episode reminds us, returning home. (You can't have missed them right? Ted and Coach Beard were playing on a pinball machine themed after Dorothy and friends; You've Got Mail, which the team watched together, ends with a rendition of Judy Garland's famed "Somewhere Over The Rainbow"; and the end credit song this week was, aptly, The Wiz's "Home," perhaps a blunt a hint about where Ted himself may be headed next week.)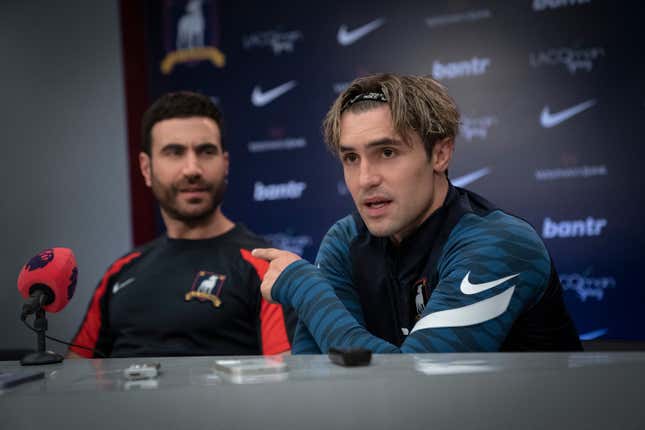 But it's Jamie who returns home and has a lovely heart to heart with his mother first, finding the strength to face his haters in his hometown and emerge (surprise!) a hero as he leads Richmond toward a nailbiter of a win against Man City—and yes, setting the underdog team for a win for the ages in next week's episode.
Elsewhere, Nate, having quit his job at West Ham is now seemingly thriving as a waiter alongside his girlfriend. Though, and you'll never guess this, he's kind of unhappy. Or, rather, unsatisfied—so when three of Richmond's brightest come and tell him how much the team wants him back (huh? Yeah, I don't quite follow how that would've happened but okay!), he spends the episode reassessing whether going back to Richmond with Ted's blessing, of course, would be something he'd even consider. And yes, both he and the show know that such a return would require an about-face from Coach Beard, who gets a lovely speech with the wonderkid where he gets to lecture us all about the beauty of second chances.
That all these storylines were threaded and came to fruition during the Richmond vs. Man City match (we saw so many amazing plays!) only made this penultimate installment feel all the stronger. Its cast of characters always feel most solid and funny and touching when held together by a match, or a practice, or even a common enemy—and that was definitely the case here where issues of motherhood, grace, and kindness came to the surface as everyone from Ted to Nate to Jamie and even Roy and Keeley and Rebecca continued to realize that more important than winning is knowing how and with whom to win.
Moreover, Momma Lasso tells Ted that even while you sometimes win and you sometimes lose, what you always do is keep playing. Again, much like the best Ted Lasso moments, sports are used as a helpful metaphor with which to approach life. What's key is understanding where it is you want to spend your life playing. Ted and Nate may have two very different (if complementary) choices to make next week, but they'll both come down to finally letting themselves own up to what it is they've long wanted to do.
Will the show's season (series?) finale stick the landing as it likely sets up Nate as Richmond's coach while Ted opts to head home to be a father to his young boy? I sure hope so.
Stray observations
Becky Ann Baker remains such a welcome screen presence, here making the most out of Momma Lasso with just the right blend of folksy passive aggression that makes it clear that the apple didn't fall too far from the tree. The impulse of the show to illustrate just how insidious that honeyed sweetness can truly be may be one of the most inventive aspects of Ted Lasso's premise.

Can we all agree that Rebecca's "Freddie Mercury's greatest talent was flipping straights" is easily the funniest joke we've had maybe all season? (Also, don't mind me, I'll be listening to "Fat Bottomed Girls" for the rest of the day.)
Am I the only one who's getting throuple vibes from Jamie, Keeley and Roy? (I am, aren't I?)
Who do we think is the musical aficionado in the Ted Lasso writers' room? In addition to those The Wiz/Wizard Of Oz moments we even got a callout to Les Mis and a Hair reference with that "Manchester England" needle drop. (Also, I'm half counting "The Unsinkable Jamie Tartt" as a passing reference to the 1964 film about Molly Brown, and there's nothing you can do to stop me.)
Would you rather have a poster of Keeley or of young Roy in your childhood bedroom?
I'd hoped we'd get more from Rebecca this episode (don't I always?), but it seems, from those visitors she got toward the end, that we may be seeing Rupert getting his comeuppance once and for all sooner rather than later.